Bin 14 Trattoria Wine Bar, Hoboken, NJ:
A Restaurant Review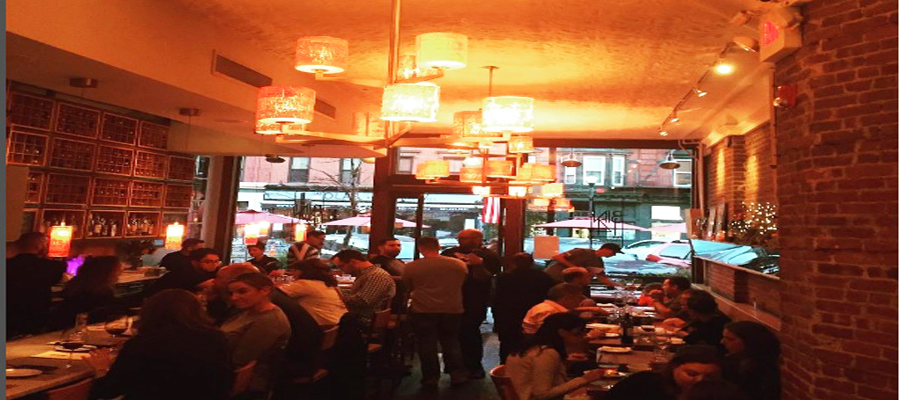 Bin 14 Trattoria Wine Bar
1314 Washington St.
Hoboken, NJ 07030
Website
---
Restaurant Highlights

Fare:  Italian Influenced Tapas

Price:  Expensive

Food Quality: 3 Stars

Service: 2 Stars

Decor: 3 Stars

Overall Rating: 3 Stars

Note: Four star Rating System from 1/2 Star = Poor to Four stars = Best in Class


A great date place and the best place in Hoboken to have quiet conversation --- except on the busier Friday and Saturday Evenings.


Vibrant bar and social scene, mostly young urban professionals


They do not have a lounge area with comfortable seating.

Value:  Excellent

Noise Level:  Moderate - High

Dress:  Casual

Recommended For:  Diners who enjoy a sophisticated wine bar with a good menu of taps and entries.

Not Recommended For: Diners who prefer large food portions with many fine dining amenities.

Recommended dishes:  When available, for dinner entries, The Osso bucco, celery root puree, wild mushrooms, gremolata; The Duck risotto, butternut, wild mushrooms, pecorino, pumpkin seeds; and The Diver scallops, celery root, chestnuts, pomegranate .

Liquor:  They offer more than 100 wines by the bottle, and 75 wines by the glass. Wines by the glass may be enjoyed in 2 oz. tastes or 6 oz. pours, also serves speciality cocktails.

Restaurant Review

Bin 14 Trattoria Wine Bar is a small, attractive, 42-seat bar/dining area with a a long narrow layout. It was built with recycled items from other Hoboken buildings and landmarks.

The interior has an elegant, chic, industrial, communal ambiance, with exposed brick walls, weathered wood, floor-to-ceiling windows, dark wood flooring, tin molded ceilings, and a marble top bar.

Unlike, other typical wine bars, they do not have a lounge area with comfortable seating.

Bin 14 Trattoria Wine Bar is a great place for a date or for getting together with a group of friends. The music is kept to a low key, background level conducive to conversation, though on busier Friday and Saturday evenings, it generally is over taken by the noise of the crowd.

Chef and Owner Anthony Pino, also the chef and owner of the nearby Dining Room at Anthony David's, now operates the only wine bar in Hoboken catering to the more sophisticated tastes of the young urban professionals.

The bartenders and wait staff are knowledgeable and are very helpful in assisting you with a selection of wines. Be forewarned if you are on a budget, be sure to ask for the prices as many wine selections can be pricey.

The menu is prepared with Italian and French influences. While the selections are mostly tapas (for small plate sharing) with innovative bruschettas, cheese plates, and eight-inch pizzas (gluten-free pizzas available) with some limited selections of full size entrees. Pastas are made fresh daily. Desserts are not available.

They also have an attractive heated back patio. Quieter and offers more privacy than the inside, it's a great place to be seated for a date or a romantic occasion.

Bin 14 is open seven days/week.

(updated: November, 2016)

How Do We Review (analyze) Restaurants?
New Jersey Leisure Guide strives to provide analytic restaurant reviews.
The methodology used is research, analysis driven --- as opposed to that of a single restaurant critic or a social media platform, viewer comment posting board.