Prime 13, Point Pleasant, NJ:
A Restaurant Review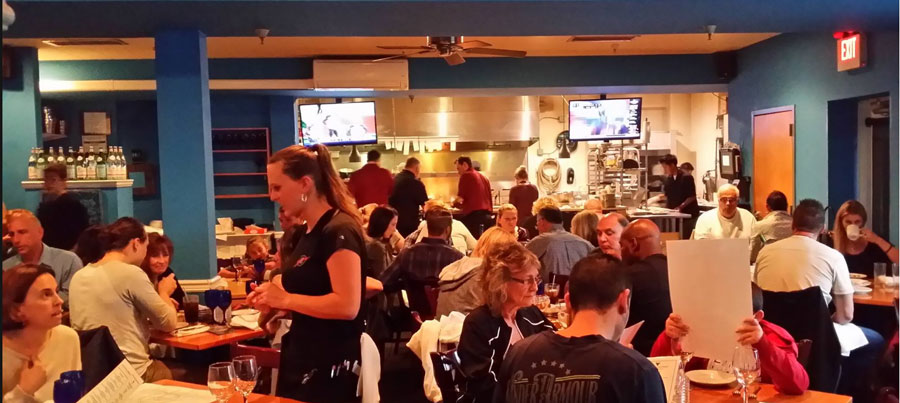 Prime 13
710 Arnold Ave
Point Pleasant, NJ 08742
Phone: (732) 202-6483
Website
Restaurant Highlights

Fare:  Steakhouse

Price:  Very Expensive

Food Quality:  3 1/2 Stars

Service:  2 stars

Decor:  2 Stars

Overall Rating:  2 1/2 Stars

 Note:  Four star Rating System from 1/2 Star = poor to Four stars= Best in Class


Features a menu of Certified Angus, USDA Prime beef.


Tables are spaced close together and the noise level can get exceptionally loud making quiet conversation difficult.

Value:  Good

Noise Level:  Moderate to Very Loud

Dress:  Very Casual

Recommended For:  Diners who enjoy high quality steaks with a very casual, BYOB, family/sports bar ambiance.

Not Recommended For:  Diners who enjoy quality U.S.D.A Prime aged steaks with elegant, fine dining steak house amenities in a quiet setting.

Recommended dishes:  When available, The Delmonico, a Wood Fired Grilled "Cowboy" Rib-eye; The,Prime Rib Eye with house mixed greens salad, slow roasted Prime Rib with au jus, whipped potatoes, charred asparagus and horseradish sauce: and The NY Strip, Wood Fired Grilled Prime, Saudeed Mushrooms and Onions.

Liquor:  BYOB

Restaurant Review

Prime 13 is a very popular Steak House serving some of the highest quality steaks in the Point Pleasant area. However,  they are a glaring anomaly of what U.S.D.A Prime aged steak foodies come to expect from a "steakhouse".

While the quality of steaks ranks high, the decor, ambiance, and service, are more in tune with a very casual family/sports bar vibe --- without a full service bar and alcohol.

Prime 13 is owned and operated by Gerard Tortora with the kitchen run by Executive Chef, Jeremy Karp. Both are graduates of the New York Restaurant school in NYC, and combined, they have 40 years of culinary experience. Both men previously worked together at Firefly in Manasquan, with Karp working at the Boathouse Bar and Grill in Belmar before they teamed up to open Prime 13. The team is also complemented by their talented Alberto Argudo with expertise in cooking high end steaks over a wood burning grill .

Prime 13 features a menu of Certified Angus, USDA Prime beef. USDA Prime is the superior grade of beef with exceptional tenderness, juiciness, flavor and fine texture. It has the highest degree of fat marbling and is derived from younger beef.

Their Wood Fire Grill burns hard oak & mesquite seasoned wood for optimum flavor. The steaks are cooked with a minimum of seasoning to preserve the natural flavor of the beef, using only a small amount of rock salt and garlic.

Prime 13 is also committed to supporting local purveyors with fish and produce, delivered daily.

The restaurant decor has a simple, rustic, modern look. The dining area consists of a square room with a with blue, tables spaced close together, large bay windows, and an open kitchen, with two large mounted TV's on each side of the open kitchen airing a variety of sports events, a grill cam, and an occasional Food Network show.

The noise level can get exceptionally loud. The acoustics are poor. There are no noise abatement or soft furnishings to muffle the noise and conversations from nearby tables.

Service can be inconsistent. While the owner Gerard Tortora is very personable and can often be seen visitng tables to ensure the dining patrons are satisfied, the wait staff, depending on the server, can vary with in level of menu knowledge, friendliness, and attentiveness. The wait staff dress code is very informal, more like Jersey Shore boardwalk  including shorts, T-shirts, and jeans.

During the warmer months there is outdoor dining on the patio.

Prime 13 has ample on-site parking.

Prime 13 is open six days/week. Tuesday to Thursday, 5pm to 9pm., Friday and Saturday, 5pm to 10pm., and Sunday, 5pm to 8pm.

(updated:January, 2018)


How Do We Review (analyze) Restaurants?
New Jersey Leisure Guide strives to provide analytic restaurant reviews .
The methodology used is research, analysis driven --- as opposed to that of a single restaurant critic or a viewer comment posting board.

Data is gathered from our viewers e-mail restaurant comments, Internet research, and professional restaurant critics. The data is sorted, (weeding out the obvious biased, "bone to pick",  and out of consensus comments), analyzed, and the review is created.

Learn More
---