Best Presidents Day Weekend Things To Do In New Jersey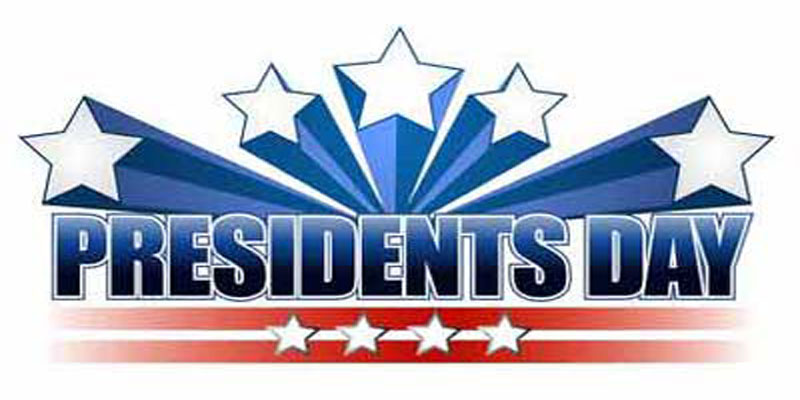 Your Guide to New Jersey's Popular Presidents Day Weekend Celebrations

President's Day is a United States federal holiday that was initially created to honor and celebrates the life and achievements of George Washington, the first President of the United States (1789-1797) and 'The Father of his Country'. More recently In 1971, it was changed to the third Monday of February to honor and remember all past US presidents, and in particular Washington, Abraham Lincoln and Thomas Jefferson. The celebration of President's Day has become a three day weekend event and an occasion for community celebrations and parades. Many stores and businesses hold special sales.

This year President's Day is Monday, February 15, 2021

---
NJ COVID 19 Update:
At this this time, New Jersey has lifted all COVID-19 Restrictions.
We  continue to recommend viewers contact the event sponsors before heading out to a listed event to confirm their status.
---
Northern New Jersey President's Day (weekend) Events

Maple Sugaring Demo & Festival

Saturdays, January 23, 30, February 6, 13, 20, 27, March 6, 13, 2021; Times: 1 p.m. – 2 p.m. AND 2:30 p.m. – 3:30 p.m.
Great Swamp Outdoor Education Center .
247 Southern Boulevard
Chatham, NJ
Cost: $5 per person age 3 & up.Unsder 3 Free
Preregistration is required. For more information, 973.635.6629.
Website/Registration
Learn how to identify and tap maple trees, collect sap, and make syrup over a wood-fired evaporator. Taste-test different syrups at the end.
Journey of Sap to Syrup
Saturday, Sunday, & Monday, February 13, 14, & 15, 2021: 11:00 AM - 12:30 PM (Weather Permitting)
Watchung Reservation
Old Museum
452 New Providence Road
Mountainside, NJ 07092
Website
908-789-3670
Cost: $5 resident, $6 non-resident
This programs is recommended for families with children ages four and older,
Pre-registration is required. Meet at Old Museum. Small groups to permot social distancing
See how 100% real maple syrup is made from the sap of a sugar maple tree. Find out what equipment is needed to collect sap and take part in a taste test to see if you can identify the real thing. Dress for the weather. There will be a short walk to the tapped tree.

Maple Sugaring
Sunday, February 14, 2021 (10am)
Visitor Center
Tenafly Nature Center
313 Hudson Ave.
Tenafly, NJ
Website/Pre-registration
Cost: Member – $8.00 Add additional attendees as guests ---Member-Family – $20.00 up to 6 people Non-member – $12.00 Add additional attendees as guests --- Non-member- Family – $35.00 Up to 6 people
This is a great, family outdoor winter experience. Learn how to identify a maple tree and the history of syrup making and how technology has changed the way we gather sap over the centuries. The group will check Tenafly Nature Center's tapped tree and boil down sap to make fresh, warm maple syrup, a sweet treat for all to taste. All ages are welcome.
Social distancing in effect. Masks required when distance cannot be maintained. Space is limited and pre-registration is required.






Central New Jersey President's Day (weekend) Events
Celebrate Lincoln's Birthday (President's Day) at iPlay America
February 12, 2021: 4pm - 11pm
iPlay America
110 Schanck Rd
Freehold, NJ
Web Site
732-577-8200
info@iplayamerica.com
Event Cost: $29.99
Special Offer: $29.99 for an Unlimitied iRide Plus Band and Video Games.
Plus add on $5 Bonuses:
$5 Laser Tag Session
$5 4D Theatre & Bowling

Cutting, Splitting and Hewing
Saturday, February 13, 2021; from 12 - 2:30 p.m
Historic Longstreet Farm
44 Longstreet Road
Holmdel 07733
732-946-3758
Website
Cost: Free
Come out to Longstreet Farm and get warmed up using a two-man saw and splitting wedge; learn how farmers used a froe to rive shingles or a broad ax to hew beams.

Maple Sugaring Hike
Saturday, February 13, 2021; 10 am - 11 am & 2:00 PM - 3:00 PM
The Watershed Center
31 Titus Mill Road
Pennington, NJ 08534
609-737-3735
Website/registration
egallos@thewatershed.org
Cost: $10.00 per Adult $10.00 per Child (5 years and up)
Ages 5 and up. In-person program.
Join Pat Heaney, Assistant Director of Education, and discover the history, folklore and science of maple sugaring. During this hour-long, outdoor program you will visit our maple trees, find out how we tap them using drills and spiles, and try a sample of sweet maple sugar. Learn about the evaporation process and how sticky sap transforms into sweet maple syrup. The operation of our outdoor evaporators is dependent on the amount of sap the trees produce and the weather. They may not be running during all program sessions. Dress for sitting outdoors and wear your boots! . Sign up for one session – registration and prepayment are required.

A Virtual Party for George Washington's Birthday
Sunday, February 14, 2021; 1:00 PM - 1:30 PM
Washington Crossing Historic Park
Registration
info@washingtoncrossingpark.org
Cost: FREE Event
Join in for a virtual celebration of George Washington's 289th birthday.
Sing "Happy Birthday" to General Washington, show him your homemade card or drawing, and enjoy dessert with him if you'd like.
At the end, George Washington will take questions from children in the audience, so be sure to think of a good question!
The party is free and will be held on Zoom. Capacity is limited, and registration is required to participate. Zoom meeting details are sent to you in a confirmation email as soon as you register. The email comes from FareHarbor – please save that email so that you have the Zoom link. If you don't see that confirmation email in your inbox, check your junk/spam folder. If 24 hours pass and you still don't see that email, please write to info@washingtoncrossingpark.org and we'll look into your registration. We will have limited ability to help you on February 14, so don't delay.






Southern New Jersey President's Day (weekend) Events
Celebrate President's Day Weekend in Cape May
February 13, 14, 15, 2021
Schedule of Events & Ticket Purchase
Cape May opens up for Presidents Weekend! If you've already had enough of winter and can't face the thought that it's only half over, you've come to the right place for a cure during Presidents Weekend in Cape May.
There will be a variety of events and things to do including: Ghosts of Cape May Trolley Tour, Emlen Physick Estate Tour, Cape May Lighthouse, the Historic District Trolley Tour, the carriage House Museum shop, and more.

Maple Sugaring for Scouts
February 15, 10am - 1pm & February 20, 2021, 12:23pm - 3:30pm
Rancocas Nature Center
794 Rancocas Rd.
Westampton, NJ 08060
Cost: $13 per Scout & Participating Siblings
Website
​Maple Sugaring is the oldest continuous industry in North America. Learn about the sugar maple tree & the history of maple sugaring, observe a tapping demonstration & enjoy a maple syrup tasting! Scouts will receive a keepsake Maple Sugaring badge. To ward off the chills, they'll have a campfire burning. ​Social distancing and masks are required.