New Jersey Bed and Breakfast
Popular New Jersey destinations with attractive inns and B & B's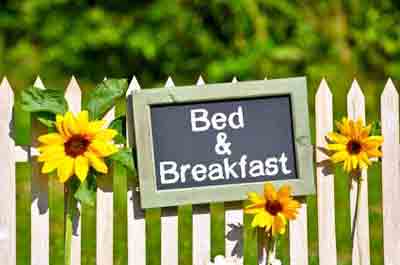 From charming Victorian Inns in scenic shore towns to the Western and Northern New Jersey historic towns with rolling hills and mountains, there is information and listing available for all travelers needs for a romantic or relaxing short trip. over-filter causing you to miss an issue
Haven't stayed at a B& B before?
They are an excellent to hotels. Often less expensive, with more being at home amenities and a feel of the local character.
Bed & Breakfasts Offer Great Value and Local Character

The amenities include an excellent home made breakfast, free snacks, Wi-Fi, parking and friendly service without the pressure to tip the cleaning service staff, waiter, concierge, and others.

With the inclusion of a homemade breakfast, B&B's often offer more affordable rates than hotels, especially when visiting a charming or historic destination.
Top New Jersey Bed and Breakfast Destinations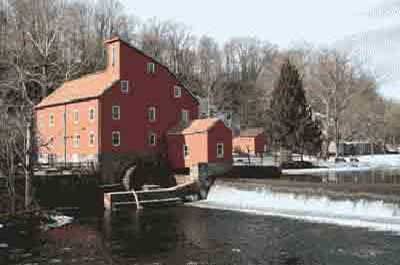 Clinton, NJ
Clinton is a picturesque, widely photographed small town with a tree lined downtown filled with shops and restaurants and an attractive river with an old grist mill and 200 foot wide waterfall winding through it
Situated on the south branch of the Raritan River, Clinton's historic Red Mill, is widely popular with photographers and visitors and is rich with circa 1880 history having 6 historic districts and 72 state registered historic places, historical museums, and wildlife trails.
Discover Clinton's attractions, things to do, and B & B's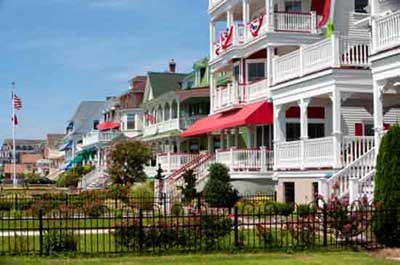 Cape May, NJ
This popular destination is not the type of resort that you visit just once. There is a charm and special warmth about the town that pulls you back again an again. While cape May comes alive in the summer, the fall and winter seasons are very popular with many theme weekends, and good restaurants.
The fall season is very popular with many theme weekends and the water is still warm enough to visit the beach. Not a beach enthusiast? There are many activities that are in full swing right up until New Years Day.
It's charm lies in it's tree-lined, gas lamp streets, it's quaint shops, authentic Victorian homes and Bed and Breakfasts. One of it's claims is that it possesses the largest collection of authentic Victorian homes in the nation.
Discover Cape May's attractions, things to do, and B & B's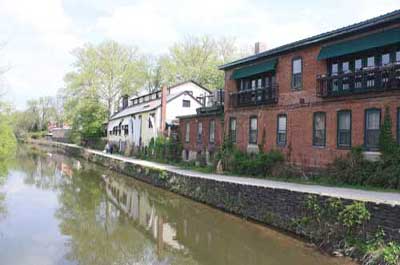 Lambertville, NJ
 Lambertville is a quaint town on the Delaware River with plenty to do.

The curious visitor will find antique shops, art galleries, specialty stores, bed and breakfasts, a brewery and plenty of good restaurants.
The canal path offers cyclists a place to ride for people of all skill levels.
Discover Lambertville's attractions, things to do, and B & B's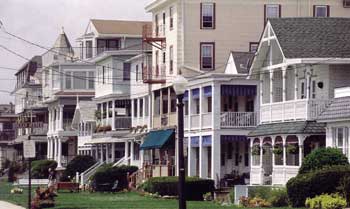 Ocean Grove, NJ
Ocean Grove is a charming New Jersey Shore town where recreation, history, and religion all prosper in "God's square mile"
This Jersey Shore town is unique with its charming tree lined village, Victorian breakfast and breakfast inns, a beach with a rustic boardwalk, and a large, attractive historic wooden auditorium that provides an atmosphere and friendliness from a past era.
The town is steep in religious tradition and welcomes visitors who seek to stay in lovely cottages and enjoy quiet summer evenings and peaceful strolls along the boardwalk without the 21 st century commercial, honky-tonk, noisy attractions found in other beach destinations.
Discover Ocean Grove's attractions, things to do, and B & B's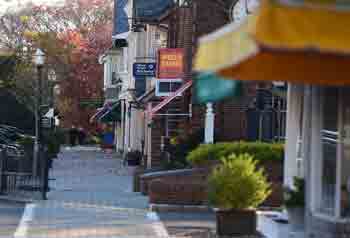 Spring Lake, NJ
Spring Lake is a treasure, it's an elegantly classic beach front town that's never been corrupted by honky tonk.
Spring Lake, affectionately referred to as the "Irish Riviera", is a small beach resort town with huge Victorian houses, manicured lawns, tree-lined streets, flower filled parks, and a well managed beach that's never been corrupted by honky tonk.
In the mid 1800's, Spring Lake was a summer getaway for well healed leaders of industry, and up until today, this small community has retained much of the exclusive atmosphere of that era.
Discover Spring Lake's s attractions, things to do, and B & B's
You might be also interested in ....