Mistral, Princeton, NJ:
A Restaurant Review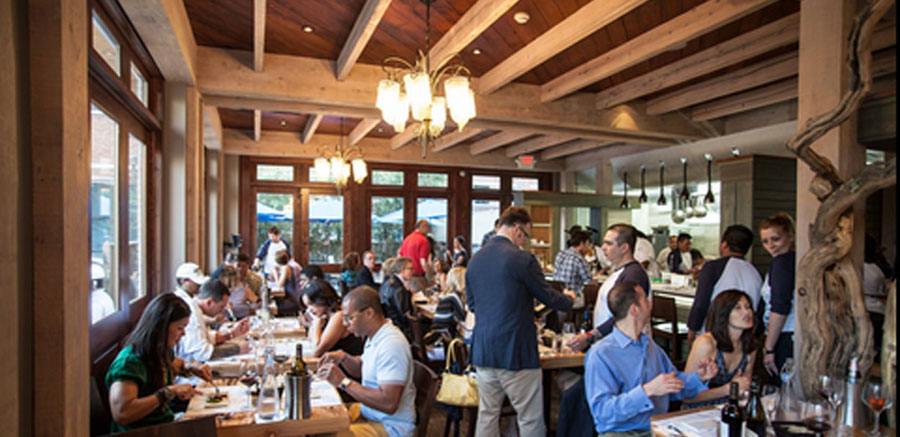 Mistral
66 Witherspoon St
Princeton, NJ 08542
(609) 688-8808
Website
---
Restaurant Highlights

Fare: New American

Price: Expensive

Food Quality: 3 Stars

Service: 3 Stars

Decor: 2 1/2 Stars

Overall Rating: 3 Stars

Note: Four star Rating System from 1/2 Star = Poor to Four stars = Best in Class


Exceptional quality ingredients and  creative food preparations, sourced from fresh, local, organic ingredients and sustainable raised meats and seafood.

Value: Good

Noise Level: High

Dress: Casual

Recommended For: Diners who enjoy creative food preparation with fresh farm to table ingredients in a casual, chic setting.

Not Recommended For: Budget conscious diners who prefer traditional food with fine dining amenities in a more formal atmosphere.

Recommended dishes: When available, Lamb Merguez Sausage with chickpeas fresh and dried, harissa, sheepsmilk cheese; The Korean Short Ribs with Morel Kimch; and the Grilled Octopus.

Liquor: Full service bar. For guests who prefer to bring their own wine, a corkage fee of $15 Per bottle will be added.

Restaurant Review

Mistral is the creation of co-owners famed chef Scott Anderson and Steve Distler, the team that created top rated Elements Restaurant also in Princeton.

While there are many similarities to Elements, especially in the quality food, style of cooking, and customer service, Mistral differs in being a BYOB, cafe-style, international small plate restaurant with a more relaxed, casual setting than Elements

Prior to his success at Elements and now Mistral, Scot Anderson honed his skills with many outstanding restaurants including having been the chef de cuisine at the Ryland Inn, Les Copains, and the Lawrenceville Inn.

The kitchen is run by chef de cuisine Ben Nerenhausen who Scott Anderson hired away from 3-Michelin-starred restaurant at Meadowood in Napa Valley, California.

The team at Mistral is rounded out with General Manager Fia Berisha, a graduate of the Culinary Center Art Institute in NYC, and formerly with Daryl Wine Bar & Restaurant in New Brunswick.

Chef Nerenhausen is adept at preparing a seasonally-changing small plate menu divided into four sections: " From the Fields", "From the Water", "From the Land", and "Desserts". The dishes exhibit influences from a variety of international styles including Thai, Korean, Japanese, Indian, and Mediterranean.

Many dinners find that the small plate servings are best enjoyed by ordering 2-3 small plate selections per person.

Mistral is committed to the use of the fresh farm to table ingredients, many of them organic, and selectively introduced to provide very creative, flavorful, and attractively presented dishes. During the winter months, the locally grown produce comes from the greenhouses of nearby Terhune Orchards.

Mistral seats 44 indoors and during the warmer months, another 40 outdoors. in a covered patio.

The decor is rustic chic, done up with light-toned natural materials featuring the use of wood and stone along with stainless steel and wood-trimmed French doors on two sides providing an open air atmosphere. The ceiling is highlighted by the use rough-hewn wood beams lined with reddish wood slats. the flooring also features wood and reclaimed products from old barns. Seating is on unstained, wood bistro style tables.

During the warmer summer months, outside dining on the patio is recommended if high indoor noise with uncomfortable indoor warm temperatures are bothersome. The outdoor patio is open year round with heating from an outdoor fireplace.

The wait staff is well trained, professional, knowledgeable, and attentive.

Mistral is open for lunch and dinner seven days a week; Monday - Thursday: 11:00 am - 9:00 pm; Friday & Saturday 11:00 am - 11:00 pm and Sunday: 11:00 am - 9:00 pm

(updated January, 2017)


How Do We Review (analyze) Restaurants?
New Jersey Leisure Guide strives to provide analytic restaurant reviews .
The methodology used is research, analysis driven --- as opposed to that of a single restaurant critic or a viewer comment posting board.

Data is gathered from our viewers e-mail restaurant comments, Internet research, and professional restaurant critics. The data is sorted, (weeding out the obvious biased, "bone to pick",  and out of consensus comments), analyzed, and the review is created.

Learn More
---