Lambertville Station Restaurant, Lambertville, NJ:
A Restaurant Review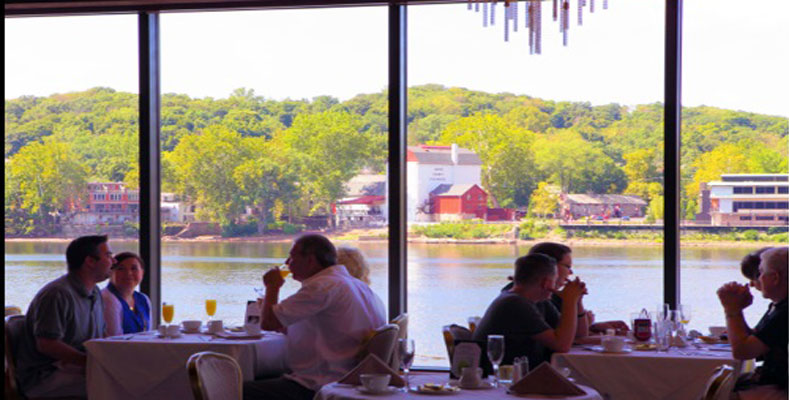 Lambertville Station Restaurant

11 Bridge St
Lambertville, NJ
609-397-8300
Website
Restaurant Highlights

Fare:  Traditional American

Price:  Moderate - Expensive

Food Quality:  2 1/2 Stars

Service:  2 Stars

Decor:  3 Stars

Overall Rating:  2 1/2 stars

Note:  Four star Rating System from 1/2 Star = poor to Four stars = Best in Class


Uses healthy grass fed beef and fresh, local farm to table ingredients.


On-site parking available, one of the most convenient places in Lambertville.


Service is inconsistent, especially during busy weekends

Value:  Good

Noise Level:  Moderate

Dress:  Casual

Recommended For:  Diners who are visiting Lambertville and are looking for good traditional American food, convenient parking, and a scenic Lambertville experience.

Not Recommended For:  Diners who prefer casual comfort food, lower prices, and fast service.

Recommended dishes:  When available, Chesapeake Jumbo Lump Crab Cakes, Dijon-Rosemary Encrusted Rack of Lamb, Rare Ahi-Tuna with Wasabi puree, and Wild Game from January through March.

Liquor:  Full Service Bar

Restaurant Review

The Lambertville Station Restaurant is the most popular, largest, and touristy of the Lambertville's restaurants.

The restaurant is located in a restored train station sitting prominently at the end of Bridge Street, overlooking the canal and the Delaware River.

Ask to sit downstairs along the windows where you'll have a dining experience with nice views of the canal and the Delaware River..

There is also casual dining and live entertainment downstairs at the Station Pub.

While healthy grass fed beef and fresh local farm to table ingredients are used, the preparation consistency and creativity.

Expect to wait for a table during the peak seasons.

The service is attentive and friendly, although rushed during the peak hours and tourist seasons, especially in the Spring and Fall.

They are kid friendly

During the warmer months, there is scenic outside dining at the beautiful canal side terrace

The Lambertville Station serves Sunday Brunch: 10:30am – 3:00pm and are open 365 days a year including Easter, Mothers Day, Thanksgiving, Christmas Eve, Christmas, and New Years Day

(updated: July, 2018)


How Do We Review (analyze) Restaurants?
New Jersey Leisure Guide strives to provide analytic restaurant reviews .
The methodology used is research, analysis driven --- as opposed to that of a single restaurant critic or a viewer comment posting board.

Data is gathered from our viewers e-mail restaurant comments, Internet research, and professional restaurant critics. The data is sorted, (weeding out the obvious biased, "bone to pick",  and out of consensus comments), analyzed, and the review is created.

Learn More
---