July Events: Our Top Picks To Plan Your Day Out in New Jersey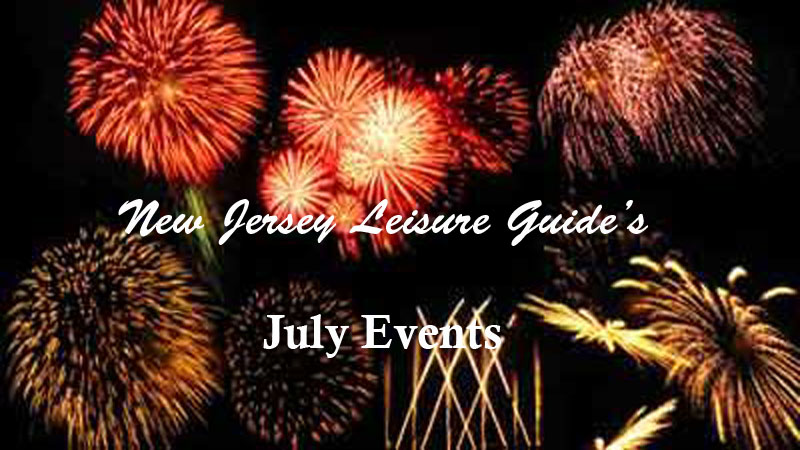 Discover New Jersey's Best July Events: Uncover The Month's Top seasonal attractions,
popular events, and hidden gems

The New Jersey July events calendar is packed with exciting things to do.

It includes the popular destination concerts, theatre, and entertainment, that have appeal to people of all ages and interests.
Note: Sometimes conditions require cancellations or changes of dates, times and location which are not reflected in the original schedule. Before planning a trip to visit one of the listed events, it is suggested that you call the event sponsor to confirm the event schedule or for additional information on the event.

July 2023 North Jersey
Festivals and Themed Events

State Fair Meadowlands
June 22 - July 9, 2023
State Fair Meadowlands
1 MetLife Stadium Dr.
East Rutherford, NJ 07073
Website

201-355-5911
Cost: $38.99
The State Fair Meadowlands is dedicated to providing the best value in family entertainment.  With over 100 rides, free shows, 50 food options, awesome fireworks displays on Monday July 3rd, & Tuesday, July 4th, and more! The Fair has something for all ages.


Bridgewater/Somerset County Independence Day Family Festival
Tuesday, July 4, 2023: 6pm - 11pm (rain date fireworks July 5th)
North Branch Park
355 Milltown Rd
Bridgewater, NJ
908 722 1200 x225
Website
North Branch Park gates will open at 6:00 P.M. to allow vehicles to enter the park and families to picnic on park grounds. The fireworks display will begin at 9:30 P.M. Visitors should plan to arrive early. Milltown Road will be closed at approximately 9:00 P.M. Heavy car and foot traffic is expected.
The New York Bee Gees will perform the classic 70's Bee Gees favorites along with other disco classics from that era at 8:30 PM - 9:30 PM and 10:00 PM - 11:00 PM. Park visitors should bring lawn chairs or blankets while they enjoy time in the park before the Independence Day fireworks begin at dusk
Food trucks will be available and picnic baskets are allowed, but alcohol is prohibited.
Twice 5th World Tour 'Ready To Be' More Info Thu • July 6, 2023 MetLife Stadium, East Rutherford, NJ - Ticketmaster
The K-pop girl group will be making their fifth world making stops across North America.
You also can find seats on secondary market sites like
StubHub
and
SeatGeek
.
Maplewoodstock Music & Arts Festival
Saturday and Sunday, July 8, 9, 2023
From noon to 9 pm
Memorial Park
Dunnell Rd.and Jefferson Avenue
Maplewood, NJ
Website
A two day family festival celebrating of community music and art. the event feature local music from more than 20 performers and arts put on by friends and neighbors of Maplewood. The event also includes art, collectibles, crafts, clothes, provided by local artists and merchants, food from many local food vendors. For kids there is a Kidzone with bouncy rides, face painting, arts and crafts, and ice cream.
This year's featured performers are: Mihali and Louis Cato will be our headliners, and Red Baraat and Remember Jones will be the Featured Acts.
Fanwood Summer Fan Jam
Sunday, July 9th, 2023: from 11am - 7pm
LaGrande Park Pavillion
Fanwood, NJ
Website
Admission is Free, Park for free at the Fanwood Train Station South Side Parking Lot on South Avenue!
This family festival features Live Bands, Food Trucks with specialty foods for all tastes, a Kid Zone with rides and activities, and a Classic Car Show.
Performers include:
Radio Petty (Tom Petty Tribute), Christina and the Gents, The Funktion Band (Funk, Soul & Pop), Kings of Pain (Police Tribute), and Macho Men.
Jersey City Restaurant Week
July 15 - July 28, 2023
Discover deliciously prepared meals from a host of restaurants offering a wide range of cuisines all over Jersey City—from Greenville to Grove Street.
For Information and participating restaurants
St. Ann's Festival
Friday, July 21 through Wednesday, July 26, 2023
On the streets around
St. Ann Church
704 Jefferson Street
Hoboken, NJ
(201) 659-1114
Website
Enjoy Italian food like St Ann's famous zeppole, music, rides, crafts, a beer garden, raffles, and games. Nightly entertainment on 2 stages. Feast Day Mass on July 26 followed by the Procession with a 600-pound statue of St. Ann will be carried through the streets of Hoboken.
July 2023 Central Jersey
Festivals and Themed Events
North Brunswick Youth Sports Festival
June 16, 17, 18, 19, 23, 24, 25, 29, 30, July 1, 2, 3, 4, 2023
Route 1 North, next to DeVry University.
North Brunswick, NJ
Website/Tickets
Cost: $8
This festival features lots of entertainment including: Rosaire's Royal (Pigs) Racers, High Flying Pages Thrill Show, Motorcycle Stunt Show, Gossamer Magic Show, spectatucular fireworks, and more. Fireworks on Saturdays June 17, 24, July 1, 2023.
All proceeds from the Youth Sports Festival go directly towards the Youth Sports groups of North Brunswick.

Celebrate our Stars & Stripes - Concert & Fireworks
Saturday, July 3, 2023; 5pm - 10:00pm (The rain date is July 5th)
Fireworks @ 9:20pm
Perth Amboy Waterfront
Sadowski Parkway & High Street.
Perth Amboy
South Amboy fireworks viewed at
Raritan Bay Waterfront Park.
Keenen Way
South Amboy,NJ
Website
This celebration features a 25-minute fireworks program over the Raritan Bay. The launch will have over 3,000 shells and effects, including glittering, strobe, and whistling, with various colors synchronized to a patriotic musical compilation produced by Garden State Fireworks. The best views to enjoy the Celebrate Stars & Stripes Fireworks Spectacular Show will be from Sadowski Parkway in Perth Amboy, the Raritan Bay Waterfront Park in South Amboy,
The celebration will also feature food trucks, arts and crafts vendors, and live music at 3 PM on Sadowski Parkway in Perth Amboy and at the Raritan Bay Waterfront Park in South Amboy.
Annual Oceanfest at Long Branch

Tuesday, July 4, 2023; 1pm - 10pm
The Oceanfront Promenade
228 Broadway
Long Branch, New Jersey
Website
732-222-0400
This all day fun family event, with crowds in the hundreds of thousand, have turned out for the most memorable sights, sounds and sensations of the summer season.
At Oceanfest, visitors can stroll the famous beachfront, take in the wonderful views, enjoy performances by dancers, musicians, clowns and musical acts, sample from a smorgasbord of food vendors, and check out the wares of crafters from all over the northeast. You can even see a fabulous sand sculpture, meet a familiar costumed character, and catch some cool ocean breezes.-- and caps it all off with the most spectacular fireworks display at dusk.
Fireworks Cruise to New York Harbor
(Macy's fireworks)
Tuesday, July 4, 2023
Seastreak
Depart Belford, NJ or Highlands, NJ
Website
Cost: $99 / person departing Belford, or $159 / person departing Highlands
Here is your chance to see upfront, without the hassle of crowds, driving and parking, the Nation's most awesome fireworks display! Depart shortly before sunset, cruise to the East River to watch the show on our open air top deck, and then check out your favorite Manhattan sites aglow in the city lights.
Parking is free.
Counting Crows: Banshee Season Tour with Dashboard Confessional Thursday Jul 6, 2023 PNC Bank Arts Center, Holmdel, NJ - Ticketmaster
'90s icons Counting Crows are returning to the road this year with special guest Dashboard Confessional on their 54-concert 'Banshee Season Tour.'
Ocean County Fair

July 12th - 16th, 2023
Robert J. Miller Air Park
The intersection of Pinewald-Keswick Rd/Rt 530 and Mule Road
Bayville, NJ
Website

Cost: Fair Admission $10.00. Kids Under 10 Free! Free Parking!
This five day family event features entertainmant, rides, food vendors, 4-H Animals & Displays, and more.
Sourland Mountain Festival
July 15, 2023; 3pm - 8:30pm
Unionville Yards
9 Rocktown Road
Ringoes, NJ
201-543-9752
Website
(Line-up & tickets)
Event Cost: On-line $35 Adult, $15 Young People (age 12 – 18)
Every year the Sourland Mountain Festival brings the communities of the Central New Jersey region together and presents the best in musical talent, local food and drink, family fun – and a spectacular view. Bring all your friends and family, lawn chairs and blankets and plan to sit back and enjoy the party with a powerful lineup of the region's most exciting musicians. Festival-goers get several hours of music, food, wine, spirits, craft beer, vendors, family activities, history, critters and wildlife education.
Jurassic Quest
Friday, July 21 - Sunday, July 23, 2023 (Friday 10a-8p, Saturday 9a-8p, Sunday 9a-6p)
Edison, NJ
New Jersey Convention and Exposition Center
97 Sunfield Ave.
Edison, NJ

Tickets
Jurassic Quest is the world's largest, most popular dino event with unique and exciting experiences for the whole family. Observe our herd of life size animatronic dinosaurs including Apatosaurus, Spinosaurus, T-Rex and an incredible 50-foot long Megalodon. Interact with our trainers, baby dinos and watch a live Raptor show. Join us on "The Quest", an all new interactive adventure with clues throughout the exhibit. Explore our dinosaur rides, giant fossil dig, inflatables, fossil science exhibit, "Triceratots" soft play area, and MORE!
FilmOneFest
Saturday, July 22, 2023: 6pm - 11pm
SeaStreak Parking Lot
Atlantic Highlands, NJ
Website
(732) 291-1260
[email protected]
Cost: Free
FilmOneFest takes place in a beautiful outdoor setting with the majestic Manhattan skyline as the backdrop. FilmOneFest (a production of the Atlantic Highlands Arts Council) is the Jersey Shore's preeminent showcase for all forms of short films under two minutes in length. FilmOneFest also promotes local and international filmmaking through the use of new media and technology, educational activities and screenings, and supports its local food bank. The Atlantic Highlands Arts Council is comprised of a team of dedicated volunteers who include professional artists, educators, business leaders and community organizers. There will be Artist Vendors, Food Trucks, Live Music, 50/50 Raffle, and more!
Monmouth County Fair
Wednesday-Sunday, July 26-30, 2023
East Freehold Fairgrounds
1500 Kozloski Rd
Freehold, NJ
Website
This fun family event features:
Free Entertainment • 4-H Shows & Exhibits Rides by Campy's Blue Star Amusements • Live Music on the Main Stage Robinson's Racing Pigs • Bwana Jim Wildlife Show • The Raptor Project Hilby the Skinny German Juggle Boy • Mutts Gone Nuts Horse Shows • Aaron Bonk's Fire, Whips & Danger Tricks Flying Fools High Diving Show • Goodwin's Good Time Photo Booth Crunchy the T-Rex (Thursday & Friday) Living History Displays • Home & Garden Demonstrations & Displays Monmouth County Park System Interactive Display Commercial Vendors • Delicious Food Vendors.
The New Jersey Lottery Festival of Ballooning

July 28 -30, 2023
Solberg Airport
39 Thor Solberg Road
Whitehouse Station, NJ
973-882-5464

Website (Events Schedule & Tickets)
Cost: $28 for adults, $10 for kids aged 4-12, kids 3 and under free. includes access to the spectators' lawn and the entertainment performances.
One of the largest summertime hot air balloon and music festival in North America. Features twice daily mass ascensions of up to 125 special shape and sport hot air balloons, headlining music concerts, continuous family entertainment, crafters and vendors, food, a balloon glow, and spectacular fireworks. The concerts feature top performers for each of the three nights. This years featured performers include KC and The Sunshine Band, Fitz and the Tantrums, Everclear, Lit, and Laurie Berkner.
Admission does not include seating, suggest bringing pop-up chairs.
Mercer County 4-H Fair & Wheat Threshing
Saturday & Sunday, July 29, 30, 2023
Howell Living History Farm
70 Woodens Lane
Hopewell Township, NJ
Website
This event features animal shows and exhibits, homemade ice cream, hay rides, pony rides, music magic shows and farm tours.
On Saturday, Howell Farm's 2022 wheat sheaves will be fully dried and ready to be "threshed" to separate the grain and straw.
live music fFeaturing the Jugtown Mountain String Band, Magnolia Street String Band, and Crown Acoustic.
Soulsational Music Festival
Saturday, July 29, 2023; 11:00 am to 8:00 pm (rain or shine)
Veterans Park
Bayville, NJ
Website
This family event features live music on two stages, crafters, vendors, free yoga, vegetarian and organic food, food trucks, a beer garden, and a kids' village.
July 2023 South Jersey
Festivals and Themed Events
Craft Day by the Bay

July 1, 2023: 10:00am - 4:00pm ( This event is rain or shine!)
Sunset Park
3 W. Salem Ave.
Harvey Cedars, NJ 08008
(609) 361-6000
Website
Start your 4th of July weekend with Craft Day by the Bay on July 1st with 70+ vendors with something for everyone. Free admission and free parking. Food available for purchase from Chick-fil-A of Manahawkin.
Cape May Fireworks Cruise
Monday, July 3 & Tuesday, July 4, 2023; Departure time 7pm
Aboard The Cape May Whale Watcher
1218 Wilson Drive
Cape May, NJ
(609) 884-5445
Website/Tickets
Cost; Adult $50.00, Child 12-4 $20.00, Child 3 & Under $0.01
Their fireworks cruises includes FREE pizza and hot dogs. A cash bar will be available for fountain sodas, bottled water, hot beverages, and other snacks. Alcoholic beverages will also be available for purchase at the cash bar.
On July 3rd, Lower Township's fireworks display can be seen in the Delaware Bay near North Cape May.
On the 4th of July, the fireworks cruise will be on the Cape May beachfront in the Atlantic Ocean.
Atlantic City July 4th Fireworks

Two Shows - Tuesday, July 4, 2023
@9:20 pm at the Borgata Hotel Casino & Spa This which lasts about 20 minutes, is best seen from the Borgata's north surface parking lot. Fireworks are launched from the vacant land between The Borgata and Harrah's. The Bogata also sets up The Beer Garden and provides live music from 6pm to 9 pm
@10pm at the Tropicana and at the Steel Pier. The show is produced by the famous fireworks company Grucci.
Website
Battleship New Jersey July 4th Fireworks Show
Tuesday, July 4, 2023: @ 7:00 pm – 9:30 pm
Battleship New Jersey
62 Battleship Place
Camden, NJ
(856) 966-1652
Tickets
or call 866-877-6262 x108.
Cost: $10 - $100 Donation
Watch the July 4th Fireworks from the Battleship like an Admiral! Beer, wine, soda, appetizers and the unique viewing location of Admiral's and Captain's decks, one level above the main deck. Limited to 150 guests. A $100 donation per person. Or watch the fireworks from the main deck, with live music, temporary tattoos for kids, food concessions and bar service. Just a $10 donation for general public fireworks viewing. Admiral VIP guests can also experience activities on the main deck.
Camden - July 4th Freedom Festival
Tuesday, July 4th, 2023 @ 5:00 pm - 10:30 pm
Wiggins Waterfront Park
2 Riverside Drive
Camden, NJ
Website
1-866-226-3362
This year's Camden County Waterfront Freedom Festival will feature entertainment by the Tri-County Symphonic Band, Tara Hendricks, and The UB40. Enjoy food, beer, music, and concludes with a spectacular, world-class fireworks display over the Delaware River.
Ocean Casino's Resorts Fireworks Every Friday In July
July 7 - July 28, 2023: @9:00PM
At The Park
Ocean Casino's Resorts
500 Boardwalk
Atlantic City, NJ
Website
This event features an extravagant Fireworks display at The Park every Friday in July in celebration of Ocean Casino's Resort 5th Birthday! The Park, located on the Lobby level of Ocean Casino Resort, offers three acres of lush landscape and firepits overlooking the Atlantic Ocean. Be sure to raise a toast with friends while taking in the amazing view! Don't miss out on the Drone & Fireworks show on Friday, July 7!
Haddonfield Crafts and Fine Art Festival
Saturday, Sunday, July 8, 9, 2023
Downtown Haddonfield, NJ
Website
[email protected]
This event features more than 200 artists showcasing the best of best of fine art and craft from the region and beyond. 200 artists showcasing the best of fine art and craft from the region and beyond. This two-day outdoor festival will be held along Kings Highway between Washington Avenue and Haddon Avenue and along Tanner Street to Euclid Avenue and on Kings Court. As always, a curated selection of artists and crafters will exhibit a wide range of work, including ceramics, glass, jewelry, wood, fiber, paper, drawings, paintings, photography, and wearable art. What is usually a busy main artery through the center of town is transformed into a festive corridor, alive with a panorama of artists' tents, outdoor cafés, and more.
Burlington County Farm Fair
Tuesday, July 18 until Saturday July 22, 2023; 4pm - 10:30pm
Burlington County Fairgrounds
1990 Jacksonville-Jobstown Road
Springfield Township, NJ.
Website
This annual family event promotes agriculture, social life, and youth as well as educating the general public by conducting a yearly agricultural fair with exhibits, livestock, and farm products. The activities include: carnival rides, 4-H events, animals, food, vendors, live entertainment, pig races, tractor pulls and much more. Guests on Opening Night will also be treated to a special fireworks display.
The Doo Wop Project
July 21, 2023
Resorts Casino Hotel
Superstar Theater
1133 Boardwalk
Atlantic City, New Jersey
Tickets
Cost: $39
This concert features Old School, New Generation, Classic Doo Wop to Modern Hits
The Doo Wop Project begins at the beginning: tracing the evolution of Doo Wop from the classic sound of five guys singing harmonies on a street corner to the biggest hits on the radio today. In their epic shows The Doo Wop Project takes audiences on a journey featuring foundational tunes from the Crests, Belmonts and Flamingos through the vocal artistry of Smokey Robinson, The Temptations, and The Four Seasons all the way to DooWopified versions of modern hits from Michael Jackson, Jason Mraz, Maroon 5, and Sam Smith.
Snoop Dogg, Wiz Khalifa, Too $hort & More - H.S. Reunion Tour Sunday July 30, 2023 Freedom Mortgage Pavilion , Camden, NJ - Ticketmaster
Entertainment Industry mogul and rapper, Snoop Dogg has reigned for nearly three decades as an unparalleled force who has raised the bar as a globally recognized innovator. The Snoop Dogg High School Reunion Tour with Wiz Khalifa, Too $hort, Warren G, and Berner featuring special guest DJ Drama.
Upcoming Ticketed Events