Hiram's Hot Dog Roadstand
A Fort Lee, NJ Restaurant Review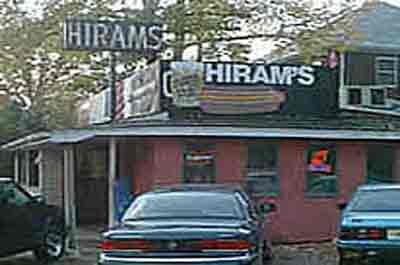 Hiram's
1345 Palisades Avenue
Fort Lee NJ
(201) 592-9602
facebook page




Restaurant Highlights
Fare:  Hot dogs-burgers-beer
Price: In-expensive

They serve an outstanding deep fat fried, a pork beef blend, Texas wiener chili dog.


A great place to enjoy an inexpensive hot dog, burgers, and beer


The decor is dated and sparse, along the lines of a shack.

Value: Excellent

Recommended For:  Value conscious diners who enjoy a good inexpensive hot dog and a beer --- without all the trimmings.

Not Recommended For: Diners who are not into hot dogs and prefer a larger, casual dining area with a larger menu.

Recommended Dishes: The Texas Weiner Chili Dog; The Chili Cheeseburger; and the Chili Cheese Fries.

Alcohol: Beer is available

Restaurant Review

Hiram's, a landmark hot dog stand,  is the place to go for exceptional hot dogs and a beer, without all the fancy trimmings that can drive the price up.

Their hot dogs are deep fat fried, a pork beef blend, and the roll is toasted. The onions have a bite and their chili sauce has a spicy kick to it.

Hiriam's also serves burgers, and awesome chilli cheese fries!

You can eat at the counter, or at one of the tables, or during the warmer months, they have outdoor picnic tables arranged for eating.

(updated: August, 2016)

How Do We Review (analyze) Restaurants?
New Jersey Leisure Guide strives to provide analytic restaurant reviews.
The methodology used is research, analysis driven --- as opposed to that of a single restaurant critic or a social media platform, viewer comment posting board.