Fox and Hound Tavern at The Lebanon Hotel:
A Restaurant Review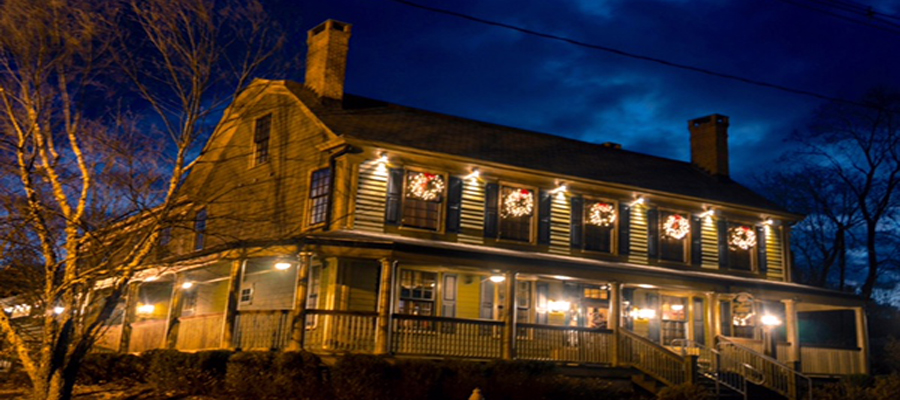 Fox and Hound Tavern at The Lebanon Hotel
69 Main St
Lebanon, NJ
(908) 437-1300
Website
---
Restaurant Highlights

Fare:  American Traditional Tavern

Price:  Expensive

Food Quality:  2 1/2 Stars

Service:  2 1/2 Stars

Decor:  3 Stars

Overall Rating:  3 Stars

Note:  Four star Rating System from
1/2 Star = poor to
Four stars = Best in Class


Cozy, warm,historic ambiance, especially during the winter holiday season with fireplaces and holiday decorations.


Outdoor dining on the attractive garden patio.

Value:  Excellent

Noise Level:  Moderate

Dress:  Casual

Recommended For:  Diners who enjoy high end American tavern food with attractive warm, cozy, historic Ambiance.

Not Recommended For:  Diners who prefer a a large menu food in a casual family setting

Recommended dishes:   When available, The Pan Roasted Filet Mignon with lobster mashed potatoes, asparagus, sun dried tomatoes, and cabernet sauce; The Sesame Crusted Tuna with sticky rice cake, tempura scallions, and wasabi honey; and The BBQ Rubbed Pork Tenderloin with black beans, rice, grilled pineapple, and chipotle ranch

Liquor:  Full service bar an extensive selection of American Craft and imported Beers

Restaurant Review

The Fox and Hound Tavern at the Lebanon Hotel (formerly the Cokesbury Inn) is an historic restaurant dating back to the 1800's when it served as a stagecoach Inn.

The tavern is owned and operated by George Owen and George Donzella with Brian Spagnola running the kitchen as Executive Chef.

Chef Spagnola received his formal culinary training at the Culinary Institute of America and  honed his skills at a variety of restaurants in New Jersey, Florida, and South Carolina. They  include the Hilton at Short Hills and the Brunswick Hilton in NJ, The Grove Isle Club and Resort in Coconut Grove, Florida, and the AAA Four Diamond Award-winning Dining Room at Osprey Point at Kiawah Island Resort, South Carolina.

Prior to coming to the Fox and Hound in 2008, Chef Spagnola returned to New Jersey and served in different capacities at the Grand Summit Hotel in their Hunt Club Grill, the Glen Gardner Inn, and the Ocino Sala Italiana.

The menu at the Fox and Hound is high end, traditional American tavern, with a decent selection of well prepared , steaks, lamb, pork, chicken, and seafood entrees . The menu also offers burgers (both meat and veggie), clams, oysters, salads, sandwiches, and desserts.

Both the quality and the prices of the menu items are high, and both being higher than that typically found at other NJ taverns.

Having said that, the Fox and Hound Tavern is more than a rustic neighborhood bar, it's a destination restaurant with a historic past that has been beautifully renovated for dining patrons to enjoy in a warm, cozy, historic setting.

The front exterior of the historic building remains from the original hotel and has a circa 1850's section that connects two older structures. The interior is rustic and upscale with the original brick and beam walls, fireplaces, restored wide-plank pumpkin pine floors, a copper-top bar.

There are three dining areas with each providing an attractive setting for dining.
The main dining room is the more formal of the three, quieter and upscale.
The bar area is also upscale with a large Chicago-style bar, hi-top tables, banquette, and fireplace surrounded by wainscoting and antiqued tin.
The main dining room on the first floor features two fireplaces surrounded by rich red damask-papered walls, creamy alabaster moldings and restored wide plank pumpkin pine floors. 
The Second floor has an intimate dining area with fireplaces.

During the warmer months there is outdoor dining on the attractive garden patio, and on the front porch. The garden patio dining area is surrounded by trees, shrubs, and flowers, and tables covered with attractive umbrellas.

The Fox and Hound Tavern is open 7 days/week for lunch, dinner and cocktails, and on holidays for Thanksgiving and Christmas Eve. The ambiance, especially during the winter holiday season, is very warm and welcoming with fireplaces and holiday decorations.

(updated October, 2016)


How Do We Review (analyze) Restaurants?
New Jersey Leisure Guide strives to provide analytic restaurant reviews .
The methodology used is research, analysis driven --- as opposed to that of a single restaurant critic or a viewer comment posting board.

Data is gathered from our viewers e-mail restaurant comments, Internet research, and professional restaurant critics. The data is sorted, (weeding out the obvious biased, "bone to pick",  and out of consensus comments), analyzed, and the review is created.

Learn More
---