Duke Farms -  A Model of Environmental Stewardship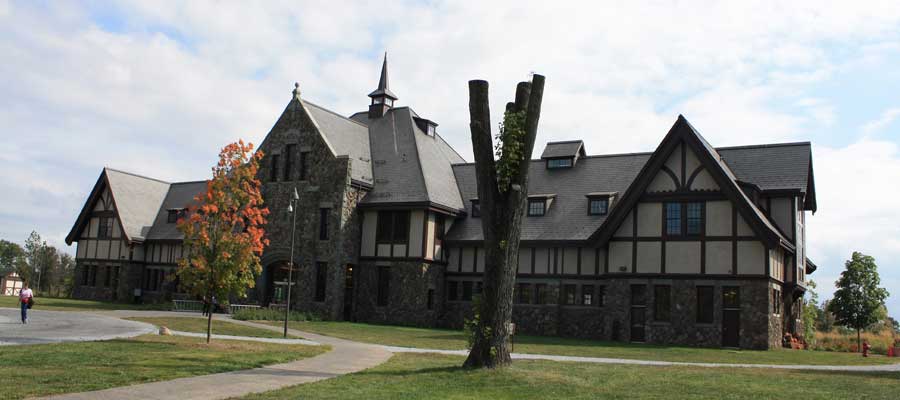 Duke Farms
80 Route 206 South
Hillsborough, NJ 08844
(908) 722-3700
Website
Hours of Operation

Open six days/week - Closed on Wednesdays, Thanksgiving & Christmas
8:30am - 6:00pm (April to November)
8:30am to 4:30pm (November to April)
Day. Admission is Free
Duke Farms is a tribute to environmental stewardship and showcases its natural, horticultural, and historic resources to inspire visitors to become informed stewards of the land. The estate is also home to four of New Jersey's largest trees, including two that are over 300 years old.

Duke Farms is spread over a 2,700-acre estate and showcases a variety of wildlife and habitat tours, educational programs and recreational activities for people interested in nature and the environment. The activities are designed for participation by families, children, and cyclists.

Activities And Tours

The Orientation Center
Begin your visit at the Orientation Center located in the restored historic barn. Information, maps, and material are free to help you enjoy your journey. Learn about schedule programs and events, tour the interactive exhibits, to learn about the history, ecology and mission of Duke Farms. Don't miss the short film. Here you can borrow an eco-kit to take with you as you explore the site. Refreshments are available at the cafe.


Walk and Hike
Casually walk along the more than 18 miles of paved ways, stone lanes and mulched paths. Explore up close the different habitats where you can experience a variety of wildlife, and learn about Duke Farms living laboratory with ongoing restoration projects.

Bicycle
A great way to enjoy the entire landscape. The bike paths are flat and easy to navigate. You can bring your own bike and headgear or rent it on-site for a modest fee.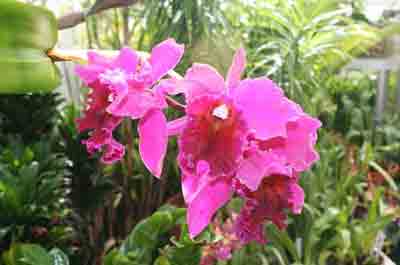 The Orchid Range
Created in the form of a palm house, the Orchid Range is an energy efficient and environmentally friendly environment containing a subtropical display and a tropical orchid display of plants native to the United States. The Orchid Range is a two mile round trip from the Orientation Center. Visitors can either hike or bike from the Orientation Center.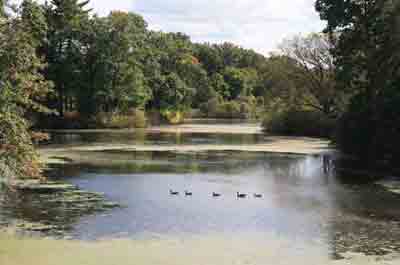 Lakes and Streams
Deep, unpolluted lakes are clear in the summer when nutrients are trapped in the cool, dense water on the lake bottom and are unavailable for algae growth
At Duke Farms, the shallow lakes contain high levels of nutrients, so algae blooms are common on lakes in the summer.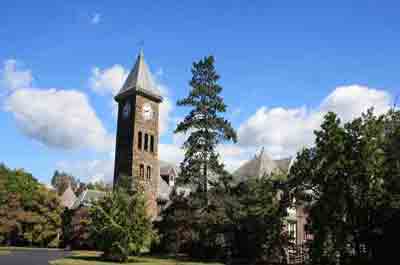 The Coach Barn
This distinctive clock tower and rustic walls is made from field stone gathered from local quarries, set the architectural tone for many subsequent buildings at Duke Farms.
The Coach Barn. built in 1903. It contained stables for horses on one end and office space for J.B. Duke and his estate manager at the other.
On the second floor, there was an apartment originally for a carriage coachman, and later an automobile chauffeur.
Located three miles round-trip from the Orientation Center.

Volunteer Opportunities
Duke Farms offers a variety of volunteer opportunities that provide participants with an opportunity to learn stewardship practices while helping to protect and preserve native flora and fauna. Volunteers will learn about planting techniques and the importance of using native plants in the landscape.