Due Mari Pesce e Vinoteca, New Brunswick, NJ:
A Restaurant Review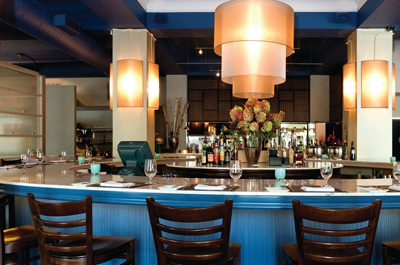 Due Mari Pesce e Vinoteca

78 Albany St.
New Brunswick, NJ 08901
732-296-1600
Website
---
Restaurant Highlights

Fare:  Contemporary Italian - Seafood

Price:  Expensive

Food Quality:  3 Stars

Service:  3 Stars

Decor:  3 Stars

Overall Rating:  3 Stars

Note:  Four star Rating System from 1/2 Star = poor to Four stars = Best in Class


Creatively prepared seafood and pasta dishes with strong influences from different regions in Italy


Fresh pastas and desserts are made on the premises.


Limited street parking, parking garage is two blocks away

Value:  Good

Noise Level:  Moderate - High

Dress:  Smart Casual
Recommended For:  Diners who enjoy well prepared eclectic, food with a trendy, modern ambiance.

Not Recommended For:  Budget conscious diners who prefer more casual dining in a less upscale setting, or for diners looking for huge portions.

Recommended dishes:  When available, The Grilled Mediterranean Branzino,with escarole, oven roasted tomatoes; Caribbean white shrimp, and black olive vinaigrette; and The Robiola Cheese Agnolotti with fresh tomatoes, torn basil, and artistic circumscription of basil oil.

Liquor:  Good selection of reasonably priced wines and specialty cocktails. Bar scene is very vibrant.

Restaurant Review

Due Mari ("two seas"), located in downtown New Brunswick, is run by the Altamarea Group which also operates high end restaurants in New Jersey (Due Terre, Bernardsville), NYC, Westchester County, Washington DC, and London.

The kitchen is run by Chef Michael White, a co-owner of the Altamarea Group and a graduate of the Kendall Culinary Institute in Chicago. Chef White honed his culinary skills at Spiaggia in Chicago. Later studying at the acclaimed San Domenico in Imola, Italy. Prior to his current position at Due Mari, Chef White served as Chef at Due Terre. Chef White also is the recipient of four nominations for James Beard Best Chef award.

The decor is very attractive with a contemporary touch of elegance.

Set in a angular, high ceilinged space, earth tones dominate the dining room, floor to ceiling windows, high-backed chocolate leather chairs, and halogen pin lights hung over the tables. The tables are set with white linens, candlelit, and spaced comfortably apart for decent conversation and noise control.

The focal point is the attractive twenty-seat, oval bar popular with a the trendy,  millennial crowd.

The food preparation uses fresh ingredients and is creatively prepared with influences from various regions in Italy.

The pasta is fresh, made every morning on site, and served either individually or in a tasting menu for two or more.

The menu at Due Mari contains a variety of contemporary Italian pasta and sea food dishes, though the land lubber can find some decent meat dishes. The price range is broad enough to provide choices for those with budget constraints.

Once seated, you are presented with an offering of tasty foccaccia bread accompanied by a white bean spread. Immediately followed by sfizi, or pre-appetizers to hold you over until you decide what to order. These small portions arrive quickly and are a fun sharing event the table.

Due Mari has demonstrated an attention for detail and fine dining service. They are careful to fill your wine glass no more than half full to allow for proper breathing. If ordering wine by the glass, the wine is served in a small decanter with a portion poured into your glass, no more than half full.

The wait staff is mostly college age servers that are friendly and attentive.

They offer a private dining room on the lower level that can seat up to 40 guests.

Due Mari is open for lunch Monday - Saturday: 11:30am - 2:45pm

for dinner Sunday -Wednesday: 3:00pm - 8:45pm, Thursday & Friday: 3:00pm - 9:45pm, Saturday: 3:00pm - 10:30pm .They serve Brunch on Saturdays & Sundays from 11am until 3pm.

Also open on Thanksgiving, Christmas Eve, and New Years Eve. On Thanksgiving Day they serve a traditional Thanksgiving Feast Dinner served family style in addition to their a la carte menu.

(updated: September, 2016)


How Do We Review (analyze) Restaurants?
New Jersey Leisure Guide strives to provide analytic restaurant reviews .
The methodology used is research, analysis driven --- as opposed to that of a single restaurant critic or a viewer comment posting board.

Data is gathered from our viewers e-mail restaurant comments, Internet research, and professional restaurant critics. The data is sorted, (weeding out the obvious biased, "bone to pick",  and out of consensus comments), analyzed, and the review is created.

Learn More
---