The Best NJ Dia De Los Muertos Celebrations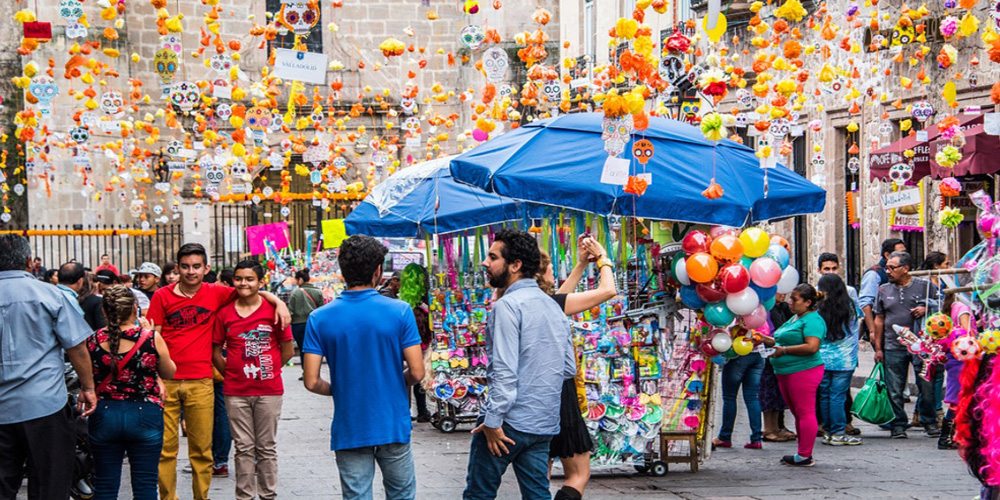 Photo Courtesy Day of the Dead
Your Guide to the best New Jersey Dia de los Muertos (Day of the Dead) Celebrations
Dia de los Muertos (Day of the Dead) is a two-day holiday that reunites the living and dead. It is mainly observed in Mexico where it originated, though it also observed in Catholic countries and communities, especially by people of Mexican heritage. It is a holiday for celebrating death and life, unlike any holiday where mourning is exchanged for celebration.
The holiday is traditionally celebrated on November 1 and 2, though other days such as late October, may occur in New Jersey.
In the United States, Mexican celebrations like Cinco de Mayo and Day of the Dead have become common festivities, and depending on locale, they are apt to include a mix of diverse activities.
In the US, most Mexicans enjoy the fact that you are interested in their culture and want to get to know their traditions.
Because of the time of year that they are celebrated, Dia de los Muertos (Day of the Dead) should not be confused with Halloween. Day of the Dead is not the "Mexican Halloween" like it is sometimes mistaken to be because of the timing of the year. Nothing links these traditions and has nothing to do with scary costumes and scary decorations around your house.
In the USA there isn't any traditional event that resembles the Day of the Dead custom. Americans tend to be sorrowful and mourn their deceased loved ones as if being anything else would be offensive to the memory of the departed. In Mexico, they celebrate the dead with music, food, and dancing. This isn't to say that they aren't sad or that they don't miss their loved ones that are no longer with them.
The way Mexicans see it is that the dead are in a land where once a year they get the opportunity to come back to visit us and celebrate with food, drink, music, and dancing.

Popular New Jersey Dia de los Muertos
(Day of the Dead) Celebrations
Dia De Los Muertos: Day of the Dead Celebration for Adults with Special Challenges
Tuesday, October 3, 2023: 11:00 AM
Ocean County Library - Little Egg Harbor Branch
290 Mathistown Rd
Little Egg Harbor Township, NJ
Website
Register by calling 609-294-1197
Hear a story recounting a family's preparation, watch a slide presentation of the Oaxaca, Mexico festival, and taste pan de muerto (bread of the dead) and hot chocolate. Possible Allergens.
Dia De Los Muertos: Day of the Dead Celebration (Washington)
Thursday, October 26, 2023; 5:30pm until 8:30pm (rain or shine)
Veterans Park
44 E. Washington Ave
Washington, NJ
Website
Event Cost: Free & Free parking
This event features a Day of the Dead Celebration with a traditional Mariachi Band, free sugar skull face painting, artisan and local vendors, sending a message to your deceased loved ones in the fire pit and more! 

"End of the Harvest" Annual Lunch with Day of the Dead Celebration
Saturday,October 28, 2023; 11:30 am - 2:00 pm
40 South Fullerton Avenue
(First Congregational Church)
Guild Room
Montclair, NJ
Website/Tickets
Cost: $12.50 - $35.00
This Day of the dead celebration is held along with their traditional End of the Harvest Celebration, the Monarch Butterfly migration to Mexico and their ancient connection with Mexican culture and the celebration of the Day of the Dead.
Authentic Mexican food will be served as well as refreshments. A Mariachi band will be entertaining the audience.

Day of the Dead Celebration at the Riverview Farmers Market
Sunday, October 29, 2023; 10am -2pm
Riverview Park
1 Bowers St
Jersey City, NJ
Facebook page
This event features the Dia de Los Muertos / Days of the Dead celebration with traditional live music and dance, and Santiago Cohen's giant puppet parade.

Día de los Muertos @ Hub City Sounds Series
November 1, 2023; 1pm until 6pm
New Brunswick Performing Arts Center
11 Livingston Ave
New Brunswick, NJ
Website
This event features an interactive community altar creation and installation, celebrating the lives of loved ones that are living and paying homage to those that we lost.

SparkNight: Día de los Muertos
Thursday, November 2, 2023; 4:30 - 8pm
Zimmerli Art Museum at Rutgers University
71 Hamilton Street
New Brunswick, NJ
Website/Registration
Free Admission
This Día de los Muertos celebration features a lively atmosphere filled with colorful altars, sugar skull decorations, and marigold flowers. Marvel at the intricate face paintings and traditional costumes worn by participants. Throughout the night, enjoy captivating live performances of traditional Mexican music and dance. You can also participate in engaging art activity to learn about the significance of calacas (skeletons) and papel picado (paper cutouts).

El Día de los Muertos (Day of the Dead) Princeton
Saturday, November 4, 2023; 1 PM - 4 PM
Paul Robeson Center for the Arts
102 Witherspoon Street
Princeton, NJ
Website
(609) 924-8777
Celebrate el Día de los Muertos with the Arts Council of Princeton! Join us for a free, family-friendly outdoor festival to learn about this culturally rich holiday with Mariachi, dance, delicious food and hands-on projects inspired by traditional folk art.