The Best Central Jersey Fireworks Displays
2018 Year Round Fireworks at festivals, concerts and events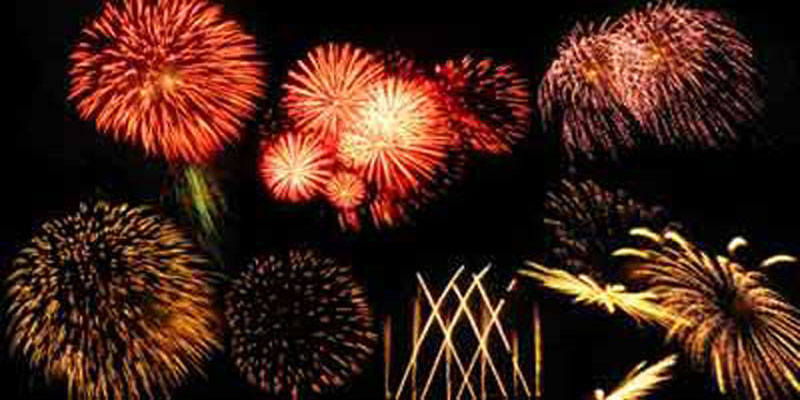 Year round Central Jersey Fireworks displays cover a range of awesome displays and rank amongst the best in the world.

While pyrotechnic displays are often associated with Independence Day - July 4th celebrations, and New Years Eve, many of the fireworks displays accompany a popular event to either kick it off, such as the beginning of the New Year, or as a finale such as a festival or a minor league baseball game.
Note: This information is provided by event sponsors as a free service to our viewers. Sometimes conditions require cancellations or changes of dates, times and location which are not reflected in the original schedule. Before planning a trip to visit one of the listed events, it is suggested that you call the event sponsor to confirm the event schedule or for additional information on the event.
Stay tuned --- we will be updating this list as the event sponsors confirm this year's event

2018 Multi-date Central Jersey Fireworks Events

Lakewood Blue Claws
First Energy Park
2 Stadium Way
Lakewood, NJ
732 901-7000

Website
2018 Post-game Fireworks Nights at the Ball park
April: 13 (Season Kickoff), 27 (Stranger Things Night) May: 11 (Jurassic Ballpark Night) June: 1 (Comic-Con Night), 2 (Battle of the Badges Night), 15 (BlueClaws Christmas Vacation Night), 16 (Grateful Dead Night), 29 (Star Wars Night), 30 (Parrot Head Party) July: 3 (Patriotic Extravaganza, biggest show of the season), 13 (Harry Potter Night), 14 (Country Night), 27 (Italian Heritage Night), 28 (BruceClaws Night) August: 3 (Seven Kingdoms Night), 4 (Irish Heritage Night), 17 (Pork Rolls Night), 18 (Beatles Night), 31 (Augtoberfest Night) September: 2 (Final Show of Season)


Trenton Thunder

Arm & Hammer Park
One Thunder Road
Trenton, NJ 08611
(609)-394-3300
Website
Post-game Fireworks Nights at the Ball park
May 3, 5, 17, 19, 30, 31, June 7, 9, 16, 21, 30, July 3, 12, 14, 26, 28, August 9, 17, 18, September 1, 2, 2018
June 2018 Central Jersey Fireworks Events

"Sounds of Summer" Concert Series

June 27, 2018: beginning at 6 p.m.
Veterans Park
489 Forest Hills Parkway
Bayville, NJ
732-269-4456 
Website
Free event
This event will feature local talent Jukebox Legends singing all the great songs of the 50's, 60's & 70's followed by Beginnings- The ultimate Chicago Tribute Band. "Their horn section and vocals will make you feel like you're at an authentic Chicago concert.
There will also be a fabulous fireworks display after the show,

14th Annual Freedom Festival
Saturday, June 30, 2018; 3pm - 11:00PM
Mercer County Park
1638 Old Trenton Rd.
West Windsor, NJ
Website
Free admission
This fun family festival features attractions for the whole family. The highlights include live bands on the outdoor stage, food, carnival rides, a car show, pie eating contests, dog races, and a
fireworks display @ dusk


July 2018 Central Jersey Fireworks Events

Freehold Township Day

Saturday, July 14, 2018; 4-11pm
Michael J.Tighe Park
65 Georgia Road
Freehold, NJ
Website
A great family fun day with live entertainment, food, classic car show (starts at 2pm) & Fireworks at dusk.
The live entertainment will feature Big Bang Baby, and The Phil Engel Band. In addition kids will enjoy free kids rides and a free teen center with DJ.
Annual Monmouth County Fair
Wednesday - Sunday, July 25 - 29, 2018
East Freehold Park Show grounds
1500 Kozloski Rd
Freehold
(732) 842-4000
Webpage
(Check for schedule of events & live entertainment)
Opening night fireworks
, 4-H events, animal shows & exhibits, rides& amusements, free stage entertainment, racing pigs, home & garden competition.
The Quick Chek New Jersey Festival of Ballooning

Friday - Sunday, July 27, 28, 29, 2018
Solberg Airport
39 Thor Solberg Road
Whitehouse Station, NJ
Website (Events Schedule & Tickets)
One of the largest summertime hot air balloon and music festival in North America. Features twice daily mass ascensions of up to 125 special shape and sport hot air balloons, headlining music concerts, continuous family entertainment, crafters and vendors, food, and a balloon glow. The concerts feature top performersfor each of the three nights.
Fireworks are at dusk on Friday evening
,
August 2018 Central Jersey Fireworks Events
Summer 2018 Free Concert Series
Long Branch, NJ
Schedule
The concert series will kick off on June 10 with the first Bands By The Beach performance at West End Park when Chuck Lambert hits the stage at 7 p.m.
The last concert on Thursday, August 30th at
Festival Plaza in Pier Village will end with a fireworks display!
September 2018 Central Jersey Fireworks Events
Berkeley Township Community Pride Day
Saturday September 8, 2018; 10 am - 10pm
Veterans Park
489 Forest Hills Parkway
Bayville, NJ
732-269-4456 
Website
Free event
This annual family event featureslive entertainment, fireworks, games, prizes and fun for the entire family. The day begins @ 10am with rides and inflatable's for the kids. The late afternoon will begin with musical entertainment at 5:30pm with the Symphonics, who perform a variety of music from the 1940's thru today, followed by Eaglemania known for their uncanny ability to sound like the Eagles note by note.
After the show, there will have a fabulous fireworks display
.
More 2018 New Jersey Fireworks Events

---