Bricco Coal Fired Pizza, Westmont, NJ:
A Restaurant Review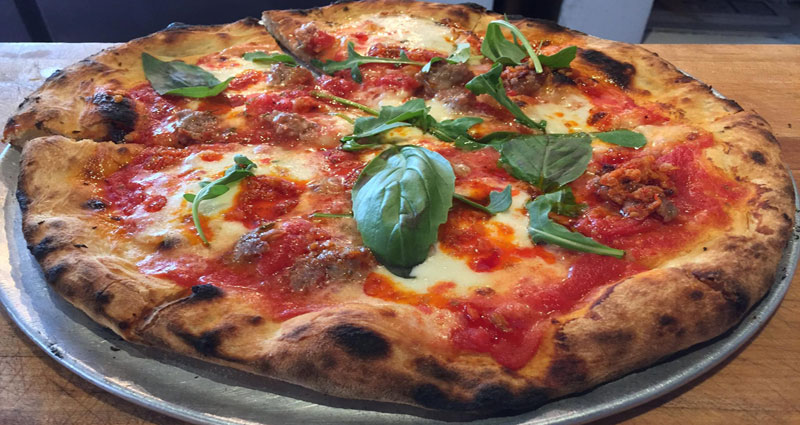 Bricco Coal Fired Pizza
128 Haddon Ave
Westmont, NJ
(856) 477-2233
Website
Restaurant Highlights

Fare: Pizza

Price: Inexpensive

Value: Excellent

Noise Level: Moderate - High



Serves one of the Best Pizzas in South Jersey.

Recommended For: Diners looking for high end coal fired pizza with a crunchy, yet tender, and tasty crust topped with fresh home made and imported ingredients.

Not Recommended For: Diners who prefer pizzas made with many heavy pre-packaged toppings.

Recommended dishes: When available, Margherita Pizza, a classic Neapolitan pizza made with fresh fiori de latte mozzarella and d.o.p. san marzano tomatoes; The Coal Fired wings roasted at 1000 degrees with rosemary caramelized onions, chipotle rubbed or 6 spice dry-rubbed Antibiotic & Hormone Free; and The Bricco Cheese steak with braised short ribs, truffle mayo, & fontina cheese on rustic homemade bread.

Liquor: BYOB

Restaurant Review

Bricco Coal Fired pizza is popular with diners who enjoy high end coal fired pizza, known for it's crunchy, yet tender, and tasty crust topped with fresh home made and imported ingredients.

Owned and operated by Vincenzo Barone since April 2014, he also owns Barone's Tuscan Grill in Moorestown and is part of the family (brother Giovanni, father Guido) behind Collingswood's long-running Villa Barone.

The cooking and preparation process used by Barone is whats sets them apart from the other popularr pizza joints who use a cookie cutter approach, and heavy packaged toppings.

Bricco uses one of the most expensive pizza ovens in the world. It requires a 2 hour pre-lighting process and hourly monitoring in order to provide a tasty crust and pizza.

At Bricco, the dough is aged, brought to the proper temperature, and hand-tossed to create the perfect bake. When the ingredients and the baking in a 1,000 degree coal fired oven produces a foundation crust that is thin, tender, and a bit crunchy for a flavorful product.

The toppings are made from fresh local and imported ingredients, including imported San Marzaono tomatoes

The decor at Bricco has a simple modern, atmosphere. The walls are covered with wood and subway tiles and a black-and-white photo mural. They have approx 4 booths that seat 4 comfortably, a corner booth that seats larger parties,  and 2 & 4 seated tables and chairs fill out the center of the restaurant.

The dining room, which overlooks the coal-fired oven, is equipped with wood tables, metal chairs, wood floors.

They are child friendly with a kids menu. The child's pizza is less well done (crusty) to please their palate. Also, The staff will give children small balls of raw dough to play with while waiting for their food.

Bricco serves lunch and dinner and is open Mon-Thurs 11-9:30, Fri & Sat 11-10, & Sunday 12-9

(updated: June, 2018)


How Do We Review (analyze) Restaurants?
New Jersey Leisure Guide strives to provide analytic restaurant reviews .
The methodology used is research, analysis driven --- as opposed to that of a single restaurant critic or a viewer comment posting board.

Data is gathered from our viewers e-mail restaurant comments, Internet research, and professional restaurant critics. The data is sorted, (weeding out the obvious biased, "bone to pick",  and out of consensus comments), analyzed, and the review is created.

Learn More
---