Ariane Kitchen & Bar
A Verona, NJ Dining Review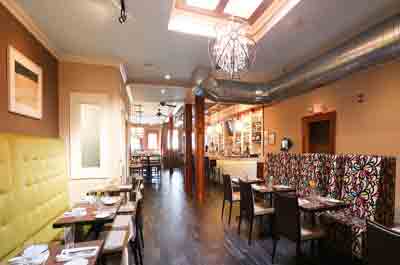 Ariane Kitchen & Bar
706 Bloomfield Ave.
Verona, NJ
973-744-0533
Fare: New American with European Influences

Price: Moderate - Expensive
Food Quality:



Service:



Decor:



Overall Rating:



Note: Four star Rating System from no stars = poor to Four stars




= Best in Class
Note: Four star Rating System from no stars = poor to Four stars




= Best in Class
Value: Excellent

Noise Level: - High to very loud

Dress: Casual

Recommended For: Younger 21 - 45 + diners who enjoy an energetic, trendy setting with well prepared, imaginative food.

Not Recommended For: Older diners who prefer a BYOB restaurant in a quiet setting and traditional menu.
Recommended dishes: When available, The Grilled Rib eye with cauliflower puree, broccoli rabe, corn salad; The Seared skin on wild salmon Thai chili, Asian spiced vegetable quinoa; and The Juniper cured porterhouse pork chop Brussels sprouts, cheesy grits, bacon onion jam --- for something lighter try their "Fun Dish" the AKB Burger, with American Kobe Beef, fried green tomato, pickled shallots, cheddar, harissa aioli house-made fries
Liquor: Full service bar
---

Food is creative and well prepared. One of the top restaurants for food in Verona area.

High energy with an industrial chic, artsy, casual ambiance

 Poor Acoustics. During peak times the noise level can get to be very high.
Restaurant Review

Ariane kitchen & Bar is the product of co-owners and chefs Ariane and Michael Duarte, and business partner John Mac Evoy
Ariane and Michael Duarte have previously owned and operated Culinarinane, a top rated BYOB restaurant in in Montclair.
The new Ariane is geared to a younger crowd with a more casual menu and less pricey version of the former Culinarinane.
It's a great place for a date night!
Both Ariane and Michael are Culinary Institute of America graduates. Ariane is the executive chef with Michael serving as the dessert chef and the manager of the dining room and in attending to the business issues.
Ariane is a "Celebrity" chef with impressive credentials having appeared as a Top Chef on Bravo Networks Top Chef series,  and in 2013 competed and won the premiere season of "Cook Your Ass Off."  She has also had appearances on the Today Show, Iron Chef, and the Tyra Banks Show.
Chef Ariane, a very creative and progressive chef, runs the kitchen in offering a seasonal menu of well prepared, inspirational dishes using fresh ingredients,
The meal begins on a positive note with a serving of delicious homemade croissants with a slightly crispy crust covering buttery and flaky inside crisp --- followed by the amuse-bouche offered to excite your taste buds.
The ambiance at Ariane is trendy in a casually yet elegant setting combining industrial chic with a bit of artsy styling.
The interior is highlighted by high ceilings with industrial style exposed ducts and hanging chandeliers, There are two dining rooms with seating for 60 people, and a vibrant bar area with three communal tables, several smaller tables, and a 15-seat bar.
The dining rooms feature hanging chandeliers of stars, made of wrought iron with walls adorned with bold art work. Along one of the walls is a line-up of mod-colored overstuffed seating. The dark hardwood floors and tables --- and the absence of sound deadening materials--- creates an environment of poor acoustics and high noise.
For less noisy seating, request a seating in the smaller dining room to the right. The larger and main dining room gets to be very loud
Ariane is open for dinner only, Wednesday – Monday. Closed Tuesdays
Outside seating is available during the warmer months.
(updated: May, 2015)
How Do We Rate and Review Restaurants? 
New Jersey Leisure Guide contains the largest source of extensive and unbiased New Jersey restaurant reviews. Data is gathered from our viewers e-mail restaurant comments, Internet and print research, and professional restaurant critics. The data is analyzed and a review created. Staff personal visits are sometimes made to corroborate and/or tweak results.

You might be also interested in ....