April Events in 2017:
New Jersey Concerts, Festivals, and Kids Attractions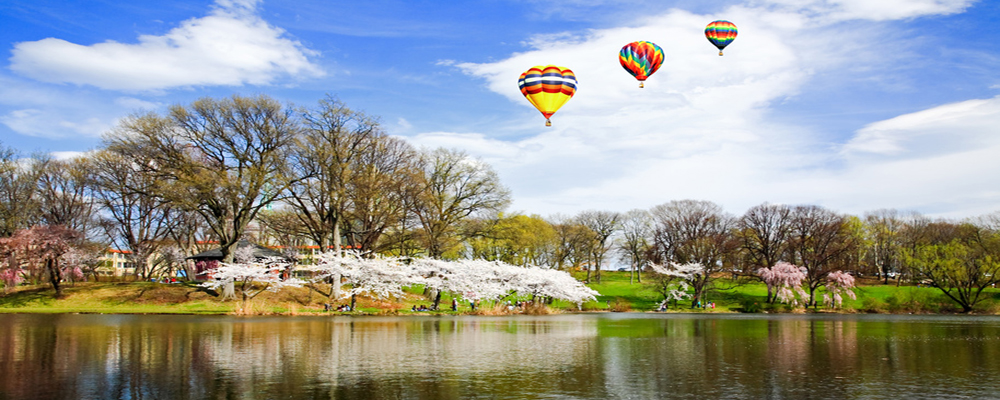 This months events includes concerts, theatre, festivals, kids events, and entertainment, that have appeal to people of all ages and interests,
Note: This information is provided by event sponsors as a free service to our viewers. Sometimes conditions require cancellations or changes of dates, times and location which are not reflected in the original schedule. Before planning a trip to visit one of the listed events, it is suggested that you call the event sponsor to confirm the event schedule or for additional information on the event.

Concerts, Performing Arts, Theatre, Comedy, etc.

Menopause - The Musical
Saturday April 1, 2017 3:00PM & 8:00 PM
Count Basie Theatre
Red Bank, NJ
Tickets

Southside Johnny and The Asbury Jukes & The Hooters
Saturday April 1, 2017 8:00PM
State Theatre - NJ
New Brunswick, NJ
Tickets
Brian Regan
Saturday April 1, 2017 8:00PM
Borgata Events Center
Atlantic City, NJ
Tickets

John Prine
Saturday April 1, 2017 8:00PM
New Jersey Performing Arts Center - Prudential Hall
Newark, NJ
Tickets
Zucchero
Saturday April 1, 2017 9:00PM
Borgata Music Box
Atlantic City, NJ
Tickets
Stevie Nicks & The Pretenders
Sunday April 2, 2017 7:00PM
Prudential Center
Newark, NJ
Tickets
Ann Wilson
Tuesday April 4, 2017 8:00PM
Bergen Performing Arts Center
Englewood, NJ
Tickets
Menopause - The Musical
Wednesday April 5, 2017 3:30PM
Caesars Atlantic City
Atlantic City, NJ
Tickets
Russian National Ballet Theatre: Swan Lake
Thursday April 6, 2017 7:30PM
Community Theatre At Mayo Center For The Performing Arts
Morristown, NJ
Tickets
The Spinners & Little Anthony and The Imperials
Thursday April 6, 2017 8:00PM
Bergen Performing Arts Center
Englewood, NJ
Tickets
Jackson Browne
Thursday April 6, 2017 8:00PM
New Jersey Performing Arts Center - Prudential Hall
Newark, NJ
Tickets

Get The Led Out - Tribute Band
Friday April 7, 8, 2017 8:00PM
Scottish Rite Auditorium
Collingswood, NJ
Tickets
Deadmau5
Friday April 7, 2017 9:00PM
BB&T Pavilion
Camden, NJ
Tickets
Jeff Dunham
Saturday April 8, 2017 5:00PM
Sun National Bank Center
Trenton, NJ
Tickets


Katt Williams
Saturday April 8, 2017 8:00PM
Boardwalk Hall Arena - Boardwalk Hall
Atlantic City, NJ
Tickets

Paul Shaffer
Saturday April 8, 2017 9:00PM
Borgata Music Box
Atlantic City, NJ
Tickets
In The Mood
Sunday April 9, 2017 3:00PM
Community Theatre At Mayo Center For The Performing Arts
Morristown, NJ
Tickets
Tony Bennett
Tuesday Aprtl 11, 2017 8:00PM
Count Basie Theatre
Red Bank, NJ
Tickets
Olivia Newton-John
April 11, 12, 2017 8:00PM
Community Theatre At Mayo Center For The Performing Arts
Morristown, NJ
Tickets
Get The Led Out - Tribute Band
Friday April 14, 2017 8:00PM
Community Theatre At Mayo Center For The Performing Arts
Morristown, NJ
Tickets
Moscow Festival Ballet: Swan Lake
Saturday April 15, 2017 8:00PM
New Jersey Performing Arts Center - Prudential Hall
Newark, NJ
Tickets
Rain: A Tribute to the Beatles
Saturday April 15, 2017 8:00PM
Count Basie Theatre
Red Bank, NJ
Tickets
Almost Queen
Saturday April 15, 2017 8:00PM
Bergen Performing Arts Center
Englewood, NJ
Tickets
Dan Andriano & Matt Pryor
Tuesday April 18, 2017 7:00PM
The Wonder Bar
Asbury Park, NJ
Tickets
Neil Sedaka
Friday April 21, 2017 8:00PM
Community Theatre At Mayo Center For The Performing Arts
Morristown, NJ
Tickets


Black Grace Dance Company: Neil Ieremia
Friday April 21, 2017 8:00PM
State Theatre
New Brunswick, NJ
Tickets
Ben Folds
Friday April 21, 2017 9:00PM
Borgata Music Box
Atlantic City, NJ
Tickets
Cirque Ziva
Saturday April 22, 2017 7:00PM
Bergen Performing Arts Center
Englewood, NJ
Tickets
The Music of All 5 Traveling Wilburys
Saturday April 22, 2017 8:00PM
Count Basie Theatre
Red Bank, NJ
Tickets


Jerry Seinfeld
Saturday April 22, 2017 8:00PM
Borgata Events Center
Atlantic City, NJ
Tickets
Robert Glasper Experiment
Saturday April 22, 2017 8:00PM
Paul Schmidtchen Theater
Cape May, NJ
Tickets
Lotus Land - A Tribute to Rush
Saturday April 22, 2017 8:00PM
Resorts Atlantic City - Superstar Theater
Atlantic City, NJ
Tickets
Dennis DeYoung & Night Ranger
Saturday April 22, 2017 9:00PM
Harrah's
Atlantic City, NJ
Tickets
Atlantic City Ballet: Carmen
Sunday April 23, 2017 4:00PM
Caesars
Atlantic City, NJ
Tickets
Southside Johnny and the Asbury Jukes
Friday April 28, 2017 8:00PM
Pollak Theatre
West Long Branch, NJ
Tickets
Barenaked Ladies
Friday April 28, 2017 8:00PM
Bergen Performing Arts Center
Englewood, NJ
Tickets
Buddy Guy
Friday April 28, 2017 9:00PM
Borgata Music Box
Atlantic City, NJ
Tickets
Sixties Spectacular: Herman's Hermits, BJ Thomas, Dennis Tufano & 1910 Fruitgum Company
Saturday April 29, 2017 7:00PM
State Theatre
New Brunswick, NJ
Tickets
Dave Damiani
Saturday April 29, 2017 8:00PM
Resorts Atlantic City - Superstar Theater
Atlantic City, NJ
Tickets
The Maine
Sunday April 30, 2017 6:30PM
Stone Pony
Asbury Park, NJ
Tickets
Fortunate Youth, Josh Heinrichs, SkillinJah & Cas Haley
Sunday April 30, 2017 7:00PM
The Wonder Bar
Asbury Park, NJ
Tickets
Popular Festivals, Events, Sports, and Expositions
Atlantic City Beer and Music Festival
April 1, 2017
Atlantic City Convention Center
Atlantic City, NJ
Tickets
New Jersey Devils vs. Philadelphia Flyers
Tuesday April 4, 2017 7:00PM
Prudential Center
Newark, NJ
Tickets
New Jersey Devils vs. New York Islanders
Saturday April 8, 2017 6:00PM
Prudential Center
Newark, NJ
Tickets
AMA Monster Energy Supercross
Saturday April 29, 2017 4:30PM
MetLife Stadium
East Rutherford, NJ
Tickets
Kids Events

The House at Pooh Corner
Wednesday April 19, 2017 4:00PM
Bergen Performing Arts Center
Englewood, NJ
Tickets
The Little Prince
Wednesday April 19, 2017 4:30PM
Count Basie Theatre
Red Bank, NJ
Tickets


Peppa Pig's Big Splash
Thursday April 27, 2017 6:00PM
New Jersey Performing Arts Center - Prudential Hall
Newark, NJ
Tickets
Jack Hanna's Into The Wild
Sunday April 30, 2017 1:30PM & 4:30PM
Community Theatre At Mayo Center For The Performing Arts
Morristown, NJ
Tickets
Erth's Dinosaur Zoo
Sunday April 30, 2017 2:00PM & 5:00PM
State Theatre
New Brunswick, NJ
Tickets
---