White Rose Diner
A Linden, NJ Restaurant Review

Closed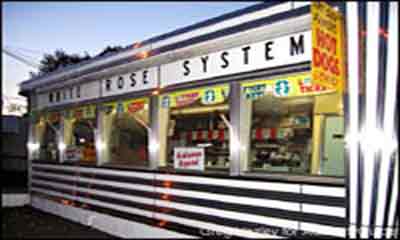 White Rose Diner
1301 East Elizabeth Avenue
Linden NJ
Website
Fare: American-Diner
Price: In-Expensive
No Rating : N/A - A casual dining eatery, not rated as a fine, high end dining restaurant.
---
Recommended For: Diners who enjoy great hamburgers with olde time diner ambiance..
Not Recommended For: Diners who prefer a diner with a larger menu and regular diner hours.
Recommended For: Diners who enjoy great hamburgers and Taylor Ham with an olde time diner ambiance..
Not Recommended For: Diners who prefer a more extensive menu with a more upscale, trendy ambiance.
Restaurant Review


The White Rose Diner, also known as the White Rose System, is not your typical American diner. It's a very small 60's era, classic diner serving some of the best burgers and Taylor ham in New Jersey.
Located in the industrial section of Linden, The White Rose with an atmosphere of a past era, remains intact still maintaining the old "railroad car" look with a white and chrome facade that still says "White Rose System", a carry over from the original owner Jack Hemming. The diner is now owned and operated by Rich Belfer who purchased it from Hemming in
The diner is very small with just eight seats at the counter, and no tables. Nonetheless, the place is often crowded with a line either waiting for a seat or for takeout.
Menu items are written on blue and orange paper sheets taped to the wall in front of the counter.
The claim to fame for the White Rose Diner is their slider. It's a smaller version of the typical hamburger.
At it's core is a golf ball sized hunk of beef that's placed on the griddle, mashed, and when the patty develops a nice crust, it is flipped, and topped with cheese and a bun and remains until the cheese melts. It's best enjoyed with thinly sliced cooked onions.
Another one of their popular menu items, and one of the best in northern NJ, is their Taylor Ham. On the menu it's listed as "The Complete" -- pork roll, egg and cheese served with a side of home fries.

For the out of towner's, pork roll is called Taylor Ham in north Jersey. In south Jersey it's called pork roll.
To savor the best of the two, they offer three-quarter-pound "Jersey Burger" served with a fried slice of Taylor ham on top.
(updated: January, 2015)
How Do We Rate and Review Restaurants?
New Jersey Leisure Guide contains the largest source of extensive and unbiased New Jersey restaurant reviews. Data is gathered from our viewers e-mail restaurant comments, Internet and print research, and professional restaurant critics. The data is analyzed and a review created. Staff personal visits are sometimes made to corroborate and/or tweak results.

Other New Jersey Resources