Wheaton Village - Wheaton Arts: A Visitors Guide

The Wheaton Arts and Cultural Center is home to the most comprehensive collection of glass produced in America.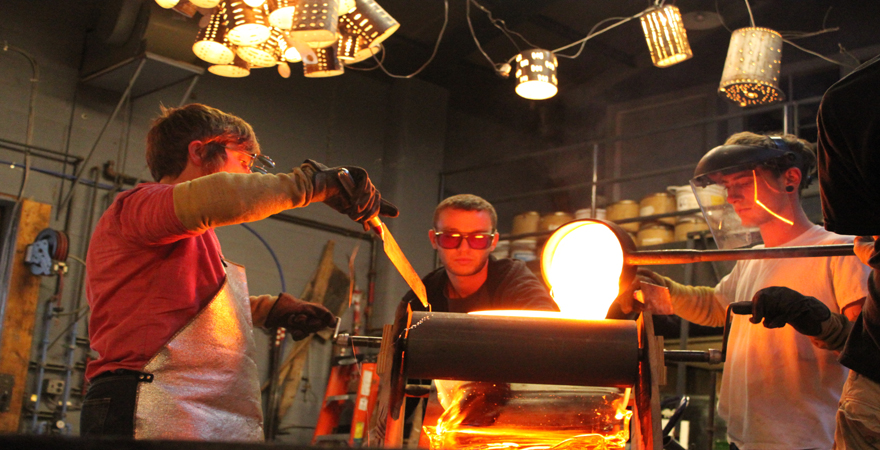 Wheaton Arts and Cultural Center
1501 Glass town Road (off Route 55)
Millville, NJ 08332
800 998 4552
Website
Open April through December, six days a week: Tuesday through Sunday, 10am to 5pm. Open Legal Holidays: Memorial Day, July 4 and Labor Day Closed: Easter Sunday, Thanksgiving Day, Christmas Day and New Year's Day. ( close at 3 p.m. on Christmas Eve day)
---
The Wheaton Arts and Cultural Center ("WheatonArts") founded as Wheaton Village,  is a restored village and an arts organization in southern New Jersey emphasizing the creative spirit with a special emphasis on glass.

WheatonArts features a museum and gallery exhibits with interpretive demonstrations, an artist fellowship program; outreach and on-site school programs; and collector's seminars.

All serve to educate a multi-level audience on the role of the crafts in both traditional and contemporary life.

The Museum of American Glass is at the heart of the Center, housing the most comprehensive collection of glass produced in America with over 7500 objects including the world's largest bottle, from 18th century glass to fine contemporary glass art.

Located in Millville, center of the nation's first glass industry, the Museum is one of only 8 museums in New Jersey to be accredited by the American Alliance of Museums.

The Museum houses the nation's largest collection of American glass and encompasses examples of the earliest glass objects The Museum's glass and library collections are a primary resource for scholars, collectors, other institutions and artists.

Visitor's can watch highly skilled artists employ century-old techniques to transform hot molten glass into beautiful works of art in the 1888 TC Wheaton Glass Factory.

Chat with the glassblowers about their artistry and schedule an appointment to make your own paperweight.

Wander down Crafts and Trades Row and see regional New Jersey crafts demonstrated throughout the day.

Other highlights include the Down Jersey Folk life Center, the Stained Glass Studio, the Gallery of American Craft and unique museum stores.

WheatonArts offers many special exhibitions, events, and educational programs throughout the year.

---