Westside Market, Cape May, NJ:
A Restaurant Review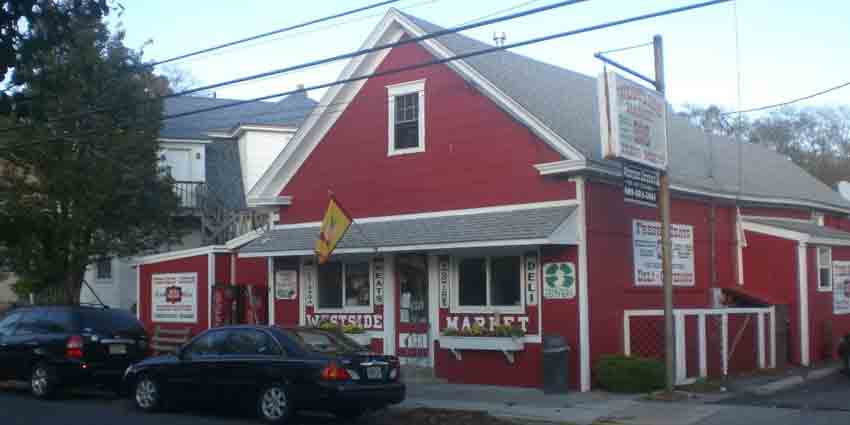 Westside Market
517 Broadway
West Cape May, NJ
(609) 884-3061
Website
Fare: American Deli, Butcher

Price: in-expensive

Value: Good


One of the top places for deli sandwiches,  cheese steaks, and hoagies in Cape May


One of the top butchers in Cape May for roasts, hams, and turkeys


Recommended For: On the go diners looking for excellent eat-in or take-out cheese steaks, Italian hoagies, and other deli sandwiches

Not Recommended For:  Diners who enjoy full service dining amenities

Recommended Menu Items:  Cheese steaks, sweet potato fries, breakfast sandwiches

Restaurant Review

The Westside Market is a Cape May treasure for deli sandwiches, pies, butcher products and small grocery items with an old-time "Mom & Pop" vibe for neighborhood friendliness.
It's very popular with on-the-go diners looking for excellent eat-in or take-out south Jersey style cheese steaks, Italian hoagies, breakfast sandwiches, and other deli sandwiches.
The deli sandwiches and hoagies are well prepared  with bread having a crunchy, medium hard crust.
Their Breakfast Sandwiches come with egg, cheese, a choice of bacon, sausage, pork roll, ham or scrapple served on a Kaiser roll, bagel or long roll.
Owners are very friendly and responsive.

The Westside Market is child friendly with a kids menu.
They are open year round with seasonal hours. During the peak summer season they are open seven days/week.

(updated: June 2018)


How Do We Review (analyze) Restaurants?
New Jersey Leisure Guide strives to provide analytic restaurant reviews .
The methodology used is research, analysis driven --- as opposed to that of a single restaurant critic or a viewer comment posting board.

Data is gathered from our viewers e-mail restaurant comments, Internet research, and professional restaurant critics. The data is sorted, (weeding out the obvious biased, "bone to pick",  and out of consensus comments), analyzed, and the review is created.

Learn More
---