Ventanas @ The Modern, Fort Lee, NJ:
A Restaurant Review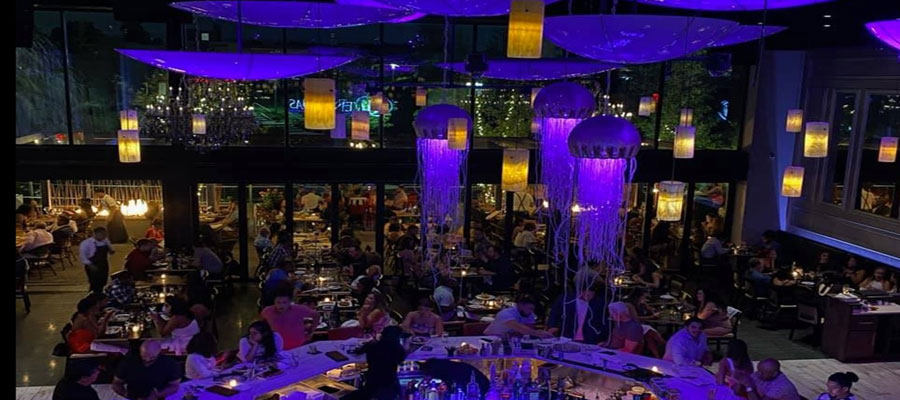 Ventanas @ The Modern

200 Park Avenue
Fort Lee, NJ 07024
201.583.4777
Website
Ventanas @ The Modern: Restaurant Highlights
Fare: Asian, Cuban, American, Sushi

Price: Very Expensive

Food Quality: Well-executed inspirational menu, Instagram quality artful presentation.

Service: Friendly, attentive, though varies with server. Wait time for a table can be lengthy.

Ambiance/Decor: Attractively lit, swank, and stylish.

Overall Rating: 3 Stars

Note: Four-star Rating System from 1/2 Star = Poor to Four stars = Best in Class

Noise Level: Moderate - Loud

Dress: Upscale Casual - Dress to impress. Men should wear collared shirts and pants. Women should wear elegant attire, no excessively revealing clothing.

Recommended For: Diners who enjoy high- end dining, with a well-executed menu, and/or a "clubby" late-night dining and dancing destination.

Not Recommended For: Budget conscious diners who enjoy a low key BYOB with a traditional American Menu.

Recommended dishes: When available, The Dry aged Porterhouse for two, The Angry Lobster Paella for two; and The Braised Lamb Shank.

Liquor: Full-Service Bar, excellent specialty cocktails, versatile wine list.

Restaurant Review

Ventanas @ The Modern is a popular high- end, trendy restaurant, and a "clubby" late-night dining and dancing destination. A great date venue.

Owned and operated by acclaimed chef David Burke and restaurateur Alexander Duran, this Fort Lee destination restaurant with a night clubby vibe, features a well-executed Asian, Cuban, American, sushi, inspirational menu, with Instagram quality artfully presented dishes.

Mr. Duran is also part owner of the popular Son Cubano restaurant in West New York's very desirable Port Imperial riverfront.

Ventanas occupies the ground floor between two 47-story towers, amongst the world's tallest twin residential towers, a block south of the George Washington Bridge toll plaza.

The ambiance and decor are stunning, featuring floor-to-ceiling ventanas (windows) looking out to the two-acre park and outdoor terrace bar. The 7,000-square-foot restaurant is home to three unique venues under one roof – a tapas lounge, cosmopolitan bar, and full-service dining room. The dining room seats 150 people, including the chef's table, 80 people in the Red Room, and 75 to 100 people on the outdoor terrace bar and lounge.

Beyond a wall of glass doors and windows (ventanas) an attractively lit patio overlooks a fabricated pond and firepit.

The young crowd is high energy, well-dressed, and many Spanish speaking.

The culinary team of Restaurateur (& Chef) David Burke and Executive Chef Andrew Riccitelli are amongst the best in New Jersey.

In addition to Ventanas, Davide Burke also has restaurants in New Jersey, New York, Colorado, and Saudi Arabia.

The Kitchen is run by Executive chef Andrew Riccatelli who also comes with impressive credentials. Early in his career he worked in the kitchens of Stage Left in New Brunswick, Bar Americain under Bobby Flay, and in Asheville, North Carolina working under James Beard nominated chef Katie Button at Curate. He later came back to NYC and worked as sous chef at Buddakan, and as sous chef at Spice Market. Prior to coming to Venatas, he worked at Terroir in TriBeCa.

Chef Riccatelli oversees an artfully crafted inspirational menu with Latin and Asian influences. Ingredients are seasonally sourced locally from nearby farms and purveyors. The menu also includes steaks that are prepared using Burke's patented method of dry aging in a room lined with blocks of pink Himalayan salt, which subtly seasons as it tenderizes the beef.

Service is welcoming, friendly and attentive. Staff can also be found supporting bathrooms opening doors and offering soap for hand washing

Catering to the night-owl crowd, Ventanas is also late-night dining and dancing destination. On weekends, the restaurant and lounge features music and entertainment including live bands and DJs where guests can dine and dance

Not recommended for children

Ventanas is open seven days/week. LUNCH: WED-FRI 12PM-3PM, BRUNCH: SAT & SUN 11AM-3PM, & DINNER: SUN-WED 4PM-10PM, THURS-SAT 4PM-1AM
They are also open on Thanksgiving, Christmas Eve, Christmas Day, New Year's Eve, & New Year's Day. During the holidays, decorations are festive.

(Updated: December 2021)

How Do We Review (analyze) Restaurants?
New Jersey Leisure Guide strives to provide analytic restaurant reviews.
The methodology used is research, analysis driven --- as opposed to that of a single restaurant critic or a social media platform, viewer comment posting board.