Two Mile Landing, Wildwood, NJ: A Restaurant Review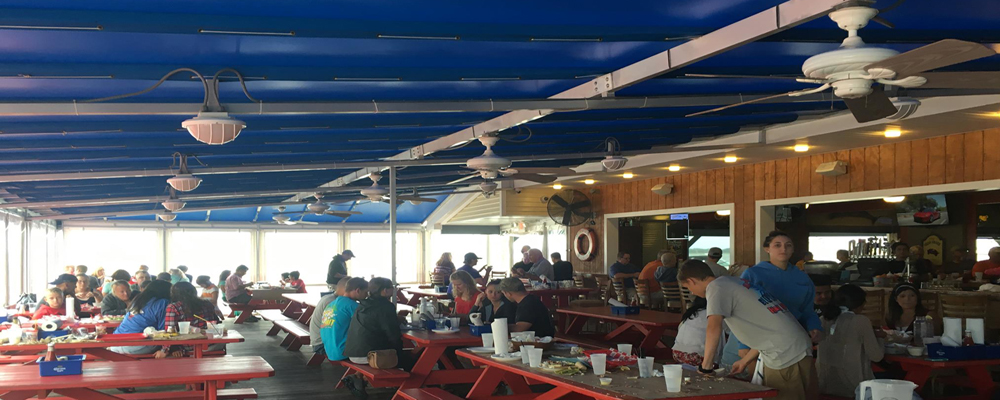 Two Mile Landing - The Crab House and 2 Mile Restaurant and Bar
1 Fish Dock Road
At the base of the Wildwood crest bridge
Wildwood Crest, NJ 08260
(609) 522-1341
Website
Two Mile Landing: Restaurant Highlights

Fare: Seafood

Price: Moderate

Value: Very Good

Noise Level: Moderate

Liquor: Good selection of reasonably priced beer, wines and specialty cocktails. Bar scene is vibrant.
Recommended For: Family Diners who enjoy reasonably priced fresh seafood with a scenic waterfront setting.

Not Recommended For: Diners who prefer upscale dining, in a more formal setting, and with more complex food preparation.

Recommended dishes: When available, All You Can Eat whole Blue Claw Crabs (only Available on the Crab Deck); Grilled Fish of the Day; and the Garlic Crabs.

Restaurant Review

Two Mile Landing, a popular family seafood restaurant with a great waterside dining view and a nice sunset, is two restaurants in one location:
The Crab house and 2 Mile Restaurant and Bar, combines to offer two restaurants and four bars ---- in one facility.

The restaurants are owned and operated by the Hansen family, who also own H & H Seafood and Camp Kayaks, a rental-and-touring business

While both restaurants are casual, the Crab House is the more casual of the two and offers an Ala Carte Menu with a 600 seat, loud informal deck, a picnic table crab section with plastic cups. The outdoor seating area is split with a covered and open table area. The Crab House serves up Maryland Style whole crabs --- a rarity on the Jersey Shore,

The Two Mile Restaurant and Bar offers a tavern-style, full dinner menu with finer craft beers and wines and a softer setting. You can compare the two menus posted in the entrance way.

Their specialty is serving up a variety of fresh Maryland crab dishes shipped in daily from St. Michael's, Maryland. They are caught in the waters of the Chesapeake Bay and the Miles River. They also serve Dungeness crab dishes caught off the west coast and shipped quick frozen daily. The crab dishes are cooked steamed, not boiled, and are prepared with spices. One of the top places on the Jersey Shore for Maryland style. steamed, whole blue claw crabs.

The remaining menu items are comparable to the other typical Wildwood family restaurants that tend to be mediocre in quality.

The restaurants have a backdrop of 500 feet of scenic views of the marina, inland waterways, marshlands, and the sunset.

They also have dock side boating at the Marina where you can dock your boat while you dine inside or order a full take-out menu and cocktails.

This is an excellent choice for family dining. They are child friendly and offer a kids menu at both the Crab House and Two Mile Restaurant and Bar,

During the summer months, Two mile Landing has live music every day.

They do not take reservations. During the peak summer months service can be slow and a wait of up to 90 minutes for a table can be expected.

They operate on seasonal hours. During the summer, The Crab House is open 7 days/week from 1130am. Two Mile landing is open 7 Days/week from 4pm!

(Updated June 2021)

How Do We Review (analyze) Restaurants?
New Jersey Leisure Guide strives to provide analytic restaurant reviews.
The methodology used is research, analysis driven --- as opposed to that of a single restaurant critic or a social media platform, viewer comment posting board.