Twin Lights Lighthouse - A Visitors Guide
A navigation aide for mariners since 1828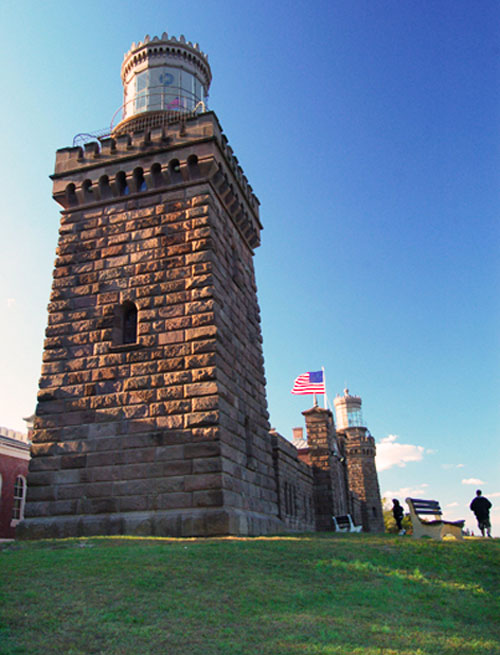 Twin Lights Historic Site
Lighthouse Road
Highlands, NJ 07732
732-872-1814
Website

Admission:
Free, donations are appreciated

Tours:
Group tours of the buildings can be arranged with advanced reservation. Please call the office for information.
Photo courtesy State of New Jersey
---
Twin Lights is located 200 feet above sea level in Highlands, New Jersey, overlooking the Shrewsbury River, Sandy Hook, Raritan Bay, New York skyline and the Atlantic Ocean.

This site is of significant historical importance; It the location of the first Fresnel lens in the United States; in 1883 it housed the first lamps to be fueled by kerosene; in 1898 it was one of the first electrically lit lighthouses in the country; and Guglielmo Marconi demonstrated his first practical use of the wireless telegraph from here in 1899.

It was used as the primary lighthouse for New York Harbor and for a long period of time, was known as the most advanced lighthouse in North America. The current lighthouse was built in 1862 and replaced the earlier light houses that were becoming obsolete.

Initially named Navesink Light station, it later became known as the "Twin Lights of Highlands" to generations mariners who relied on it as the primary navigational light for navigating the entrance to New York Harbor.

The current lighthouse, built in 1862 of local brownstone, cost $74,000, and replaced the earlier buildings that had fallen into disrepair. Architect Joseph Lederle designed the new structure with two non-identical towers linked by keepers' quarters and storage rooms. This unique design made it easy to distinguish it from other nearby lighthouses.

At night, the two beacons, one flashing and the other fixed, provided another distinguishing characteristic.

With the development of advanced navigational equipment, the lighthouse was decommissioned in 1949, after 121 years of service.

The State of New Jersey acquired the lighthouse from the Borough of Highlands in 1962, and opened it as a museum.

Twin Lights is listed on the State and National Registers of Historic Places.

The lighthouse is maintained as a museum for public viewing. The north light tower can be climbed to see the panoramic view of the New York Skyline and the southern end of New York Harbor.

The museum which is located in the center area of the building between the two towers, houses the the old 9 foot diameter bivalve lens.

During the warmer weather, bring a picnic basket and have a picnic on the lawn overlooking the scenic harbor view. You can use the picnic tables or just place a blanket on the lawn and enjoy the view.