Best Teen Dance Clubs and Private Party Venues in
New Jersey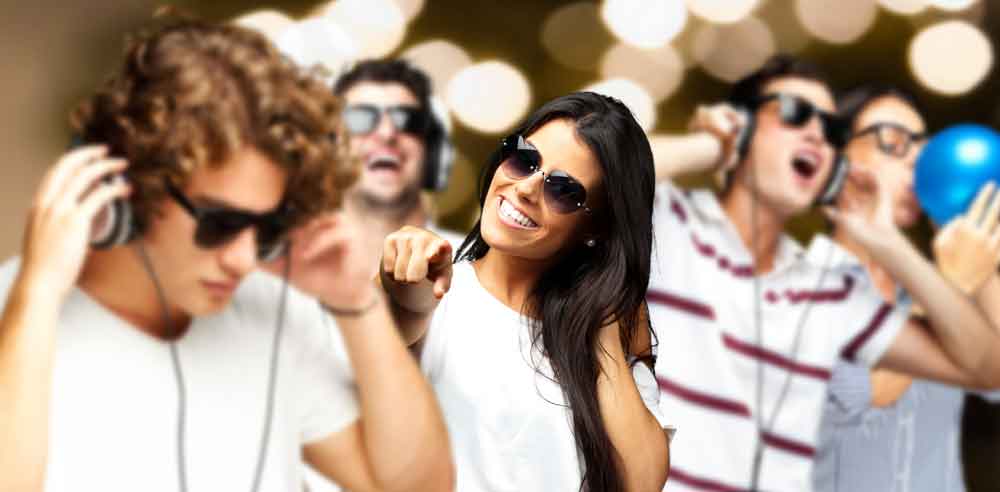 Discover The Best Safe Public and Private Teen Dance Clubs and Private Party Venues for Kids Under 18 in New Jersey

Teen dance clubs and Private Party Venues are a place for kids under 18 can enjoy a night out with their friends in a supervised safe non-alcoholic, drug-free setting with dancing, and socializing being the main activities. In many ways they are similar to clubs for adults over 21.

Aside from the most obvious restriction of no alcohol being served, most safe reputable teen dance clubs and private party venues take extra precautions to ensure the safety of the teens.

To ensure the teen event is suitable for your teen, parents are advised to to further investigate a teen dance club or private party venue before permitting your under 18 child to attend.

Parents are urged to visit the venue just before the beginning of the teen event on the night of the event to ensure it meets with your requirements for a safe teen night out. Venues will usual will not allow parents to visit the event after it has started.

Most of the better and safer teen dance clubs have a strict dress code that does Not Permit: Hats, headbands, bandanas, head gear, jerseys T-shirts, sleeveless shirts, groups wearing the exact same attire, backpacks, large purses, excessively revealing attire, gang wear, baggy jeans worn low, booty shorts, and shorts bra tops.

While some of these clubs are for guests aged 21 and over, some have special teen nights that cater to teens looking for a night out.

Private party venues listed below are limited to those providing alcohol free rooms, that offer custom Teen party packages that include entertainment, food, games, music, dancing, etc.

 Northern NJ Teen Dance Clubs and Private Party Venues.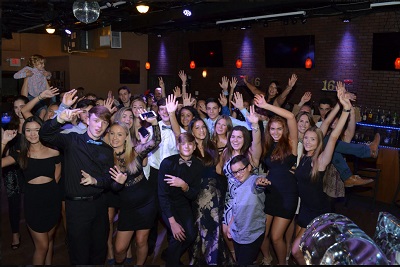 Halo

14 Glen Rd
Rutherford, NJ 07070
Website
(201) 896-1111
Halo is a private party hall venue that features a state-of-the-art sound/light show system, DJ booth and bar to create an amazing night club lounge atmosphere.They provide a security staff that will ensure a safe and fun environment for teenage guests.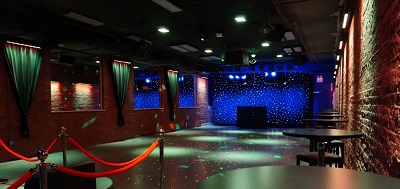 Montclair Chill
310 Bloomfield Ave
Montclair, NJ 07042
Website
They feature a  3,100-sq-ft venue for private and public parties, including non-alcoholic teen parties with a night club vibe.   They offer flexible options from just space rental or an all-inclusive package with food, non-alcoholic drinks, staff, entertainment, and space rental.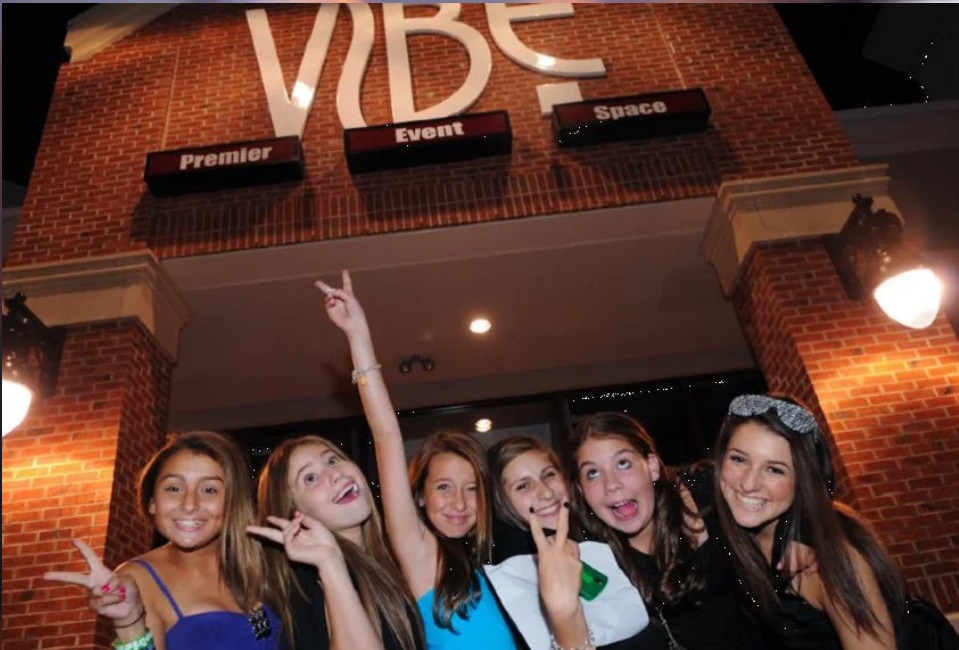 Vibe Teen Dance Club
Riverdale Square Mall
92 Rte 23 N
Riverdale, NJ
973-907-2710
Website
The Vibe specializes in Sweet 16 & other teen parties. You can reserve the space for up to four hours with state-of-the-art lighting, audio/video equipment sound, Video Disc Jockey, non-alcoholic frozen drinks, and an on-site supervisor for security purposes.
Vibe features 10,000 sq ft of special event space with a commercial kitchen, 2 rooms with complete State-of-the-Art sound, lighting, video displays, in-house Audio and Video equipment to meet all your audio visual needs, CO2 Cannons, Snow Machine, LED Lit Staging, built-in and moveable bars, lounge furniture, formal seating, lucite tables, and much more...
Central NJ Teen Dance Clubs and Private Party Venues.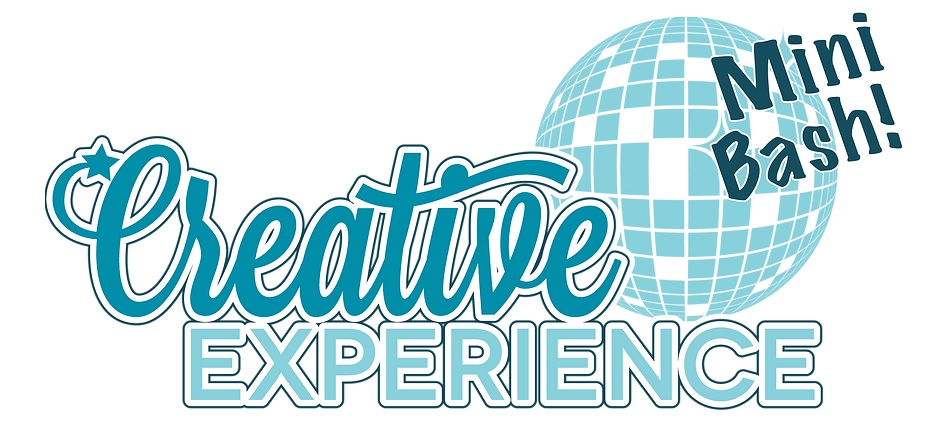 Creative Experience
Serving Monmouth, Ocean and surrounding counties in NJ. ​
Website
They provide DJ and party services for teens. They also help you with finding the perfect spot.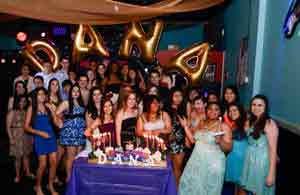 Twist-n-Shout Party Club
Website
732-761-9555
[email protected]
Twist-n-Shout is a DJ entertainment company that help you plan teen private party events. They provide DJ music, lights, photography, video, giveaways, favors, decor, and specialty entertainment. They can recommend venues throughout Central and other NJ locations, and can help you with the arrangements.They know and play clean versions of all the latest music that Teens love.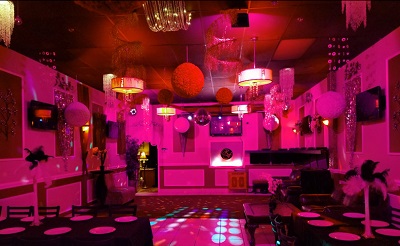 Ruby Falls

3314 Route 9 South
Deep Run Shopping Center
Old Bridge, NJ
Website
[email protected]
(732) 607-1120
They feature a unique karaoke lounge containing cameras to watch friends sing their hearts out on 15 50" Plasma monitors, all while music videos are playing. In addition there is a state of the art laser light system over our dance floor. They will also love their video game systems, allowing play for up to 16 players, all on multiple 50" flat screen televisions.
They also provide food, all set in an upscale dining area. Comfortable leather couches, chairs, booths...it is the ultimate mixture of a Las Vegas and Manhattan style atmosphere, in a comfortable setting.
Southern NJ Teen Dance Clubs and Private Party Venues.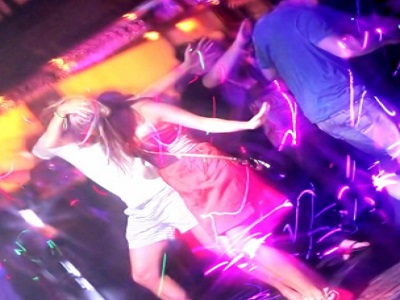 The Marlin
2 South Bay Avenue
Beach Haven, NJ
Website
Instagram
609-492-7700
They offer seasonal (Summer Time Teen Nights). The special nights set are aside for a Teen Dance Club on Tuesdays. The ages are for teens under 21, and older than 13. Typically most of the kids are between 16 - 18. Alcoholic beverages are not permitted. There is a dancing area, a stage, and a bar where soft drinks can be purchased