Sofia Restaurant, Margate City, NJ:
A Restaurant Review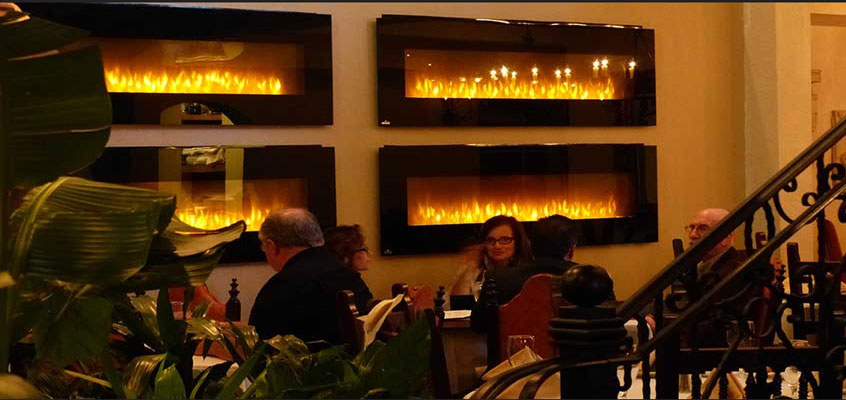 Sofia Restaurant

9314 Amherst Ave,
Margate City
(609) 822-9111
Website
Sofia: Restaurant Highlights

Fare: Greek with Italian influences

Price: Expensive

Food Quality: Serves a well-executed Greek, Italian fusion menu using locally sourced produce and fresh caught fish

Service: Professional, knowledgeable, and attentive

Ambiance/Decor: Attractive Greek Villa ambiance cozy romantic niches, four inviting fireplaces, and a tree canopied bar.

Overall Rating: 3 Stars -- Classified as a "Chef-Inspired Fine Dining" restaurant. (* Note - See below restaurant classification for details)

Note: Four-star Rating System from1/2 star = poor to 4 stars = Best in Class

Noise Level: Moderate - loud, depends on seating

Dress: Upscale Casual

Recommended For: Diners who enjoy fine dining with a well-executed menu, and attractive ambiance.

Not Recommended For: Budget conscious diners who enjoy a traditional, casual style family restaurant with a variety of comfort food.

Recommended dishes: When available, Grilled Marinated Lamb Chops, two double chops, fire roasted vegetables and potatoes, lamb demi; The Whole Branzino "Latholemono", lean Mediterranean bass, grilled on open fire, basted with olive oil, lemon, Mediterranean herbs, fire roasted vegetables; and The Pasta Corfu with Jumbo shrimp over capellini in a basil marinara sauce.

Liquor: Full Bar service, Bar scene is high energy with wine tasting, Martini Night, Social Scene Wednesday and live music Thursday, Friday, and Saturday nights.

Considered to be one of South Jersey's best Greek restaurants, Sofia Restaurant is a "Chef-Inspired Fine Dining" restaurant" without the traditional "Old World" stuffiness that typifies fine dining. The outstanding ambiance, and a well-executed home-style menu, make this an ideal South Jersey spot to celebrate a special occasion or for a memorable romantic dining night out.

Sofia is a family owned and managed restaurant run by Dr. Athanasios Papastamelos, an infectious disease specialist, and his two sisters Sofia Papastamelos, and Diamantis Papastamelos.

Sofia runs the dining room operation and the aesthetics, while sister Diamantis is responsible for the food and beverage operation. Dr. Papastamelos is less involved in the day-day operation as a silent partner.

The kitchen is run by Executive Chef Adrienne Armenia. Chef Armenia received her formal culinary education at The Academy of Culinary Arts in Mays Landing, NJ. She later honed her culinary skills at the Tropicana Hotel in Atlantic City, and the Flanders Hotel in Ocean City before joining Sofia Restaurant in 2014. Chef Armenia specializes in a lighter Mediterranean --- Greek, Italian fusion --- style of cooking. She is committed to using locally sourced produce and fresh, wild caught fish. Her style of cooking is exemplified in one of her signature dishes, the Whole Branzino with Fire Roasted Vegetables. The Italian fusion influence has been acquired from generations of her Italian family.

Entrance through the carved front doors, begins with the enormous "tree" that sits toward the end of the bar with lighted branches reach up to the ceiling painted with a mural of the sky, giving one the feeling of outdoors.

Two attractive dining rooms are located on the first floor: The Atrium with four LED screens displaying a "fireplace" video image that adds warmth to the room, and a small outdoor courtyard for both drinking and/or dining. The second floors have two other dining areas, one is indoors and is used mostly for in season dining, and for off-season private parties and small wedding. The other is an outdoor dining area with a full bar.

The decor is Sofia Papastamelos' design spread throughout the restaurant with a blending of mixed stone, rustic woods, and original ironwork, cozy niches, four inviting fireplaces, and the tree canopied bar.

During the warmer months there is outdoor dining on the intimate courtyard and spacious roof-top veranda in a beautiful setting with aromatic herbs, colorful flora, and flowing lion fountains. The sounds and breeze on the veranda overlooking the bay make outdoor dining resemble the charm and feel of the Mediterranean.

* Description of Restaurant Classification - Chef-Inspired Fine Dining:
"Old World" with sophisticated and romantic décor.
Priced higher than other upscale restaurants to cover the cost of the added amenities.
Chef driven by chefs with impressive credentials including formal culinary education and skills honed at award winning restaurants.
Committed to high quality food ingredients such as imported items not available in the supermarket, with emphasis on local seasonal farm-to-table produce, wild caught seafood, & meats without the use of antibiotics and growth hormones.
The wait staff is rigorously trained --- professional, knowledgeable, and attentive.
Typically has, but not always, an alcohol menu with high end wines and specialty cocktails and with a staff knowledgeable in wine pairings.
Additional amenities include linen and fine China table settings, carpeted flooring, chandeliers, and complimentary sorbets, dessert chocolates, etc.Patro
ns tend to be older, more formally dressed, with high incomes.

The most popular upscale restaurants in New Jersey, classified into three categories: Chef-Inspired Fine Dining, Chef-Inspired Casual Dining, and Contemporary Casual.
learn more about the three types of upscale restaurants and how reviews are created.

(updated: November 2021)