Shut up and Eat: A NJ Breakfast Restaurant Review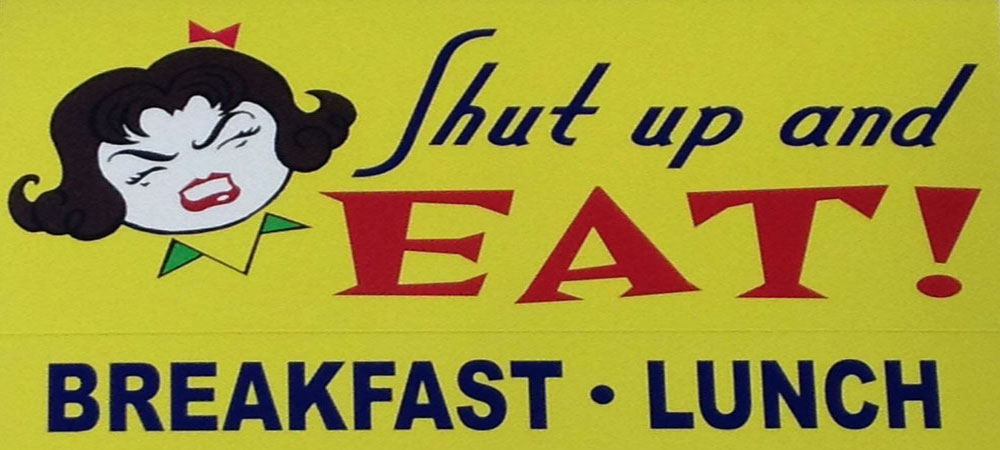 804 Main Street
Toms River NJ 08753
732.349.4544

741 Brick Blvd
Brick, NJ 08723
732.477.7791

---
Restaurant Highlights

Fare: Breakfast/Lunch

Price: In-expensive


One of the top affordable breakfast restaurants in Ocean County.


Cash only, does not accept credit cards.

Recommended For: Breakfast & Lunch diners who enjoy well prepared breakfast and Lunch in a fun, entertaining environment.

Not Recommended For:  Timid diners who prefer  a traditional breakfast menu in a  low key atmosphere.

Recommended Dishes: The kiwi Mango French Toast; The Strawberry Nutella Pancakes; and The Eggs "Benny" which comes with a side of "Go-Home Fries".

Restaurant Review

"Shut up and Eat" is a funky breakfast restaurant popular with families with kids looking for excellent breakfast & lunches ---- and fun for the kids to boot.

Now at two locations, they have opened a second location in Brick, larger than the original Toms River Location.

While the main reason to come is for the well prepared food served in generous portions, it's also a memorable, fun, entertaining experience for the kids.

The brain child of owner Annie Gauthier offers eccentric humor with waitresses dressed in silly pajamas in a setting of mismatched tables, chairs, tablecloths, and silverware.

There is a lot of clutter with skeletons at a piano, wall to ceiling collectibles, old style TV's playing 70's sitcom's ---- and if that isn't enough to occupy the kids, there is a huge toy corner.

Be prepared for waitresses shouting to everyone including the diners.

The menu offers a large variety of well prepared reasonably priced options.

The service though goofy, is friendly and attentive.

Come dressed in pajamas for a slumber party and you'll receive a 13 percent discount on your check.

They can accommodate birthday parties for up to 80 people at the Brick location.

Cash only, does not accept credit cards.

"Shut up and Eat" is open 6:30am - 3:30 pm (3:00 pm on Sunday), 7 days a week.

(updated: February, 2017)


How Do We Review (analyze) Restaurants?
New Jersey Leisure Guide strives to provide analytic restaurant reviews .
The methodology used is research, analysis driven --- as opposed to that of a single restaurant critic or a viewer comment posting board.

Data is gathered from our viewers e-mail restaurant comments, Internet research, and professional restaurant critics. The data is sorted, (weeding out the obvious biased, "bone to pick",  and out of consensus comments), analyzed, and the review is created.

Learn More
---