Shooting Ranges in New Jersey
Rifle, Pistol, Shotgun, Trap Shooting, and Firearm Training Courses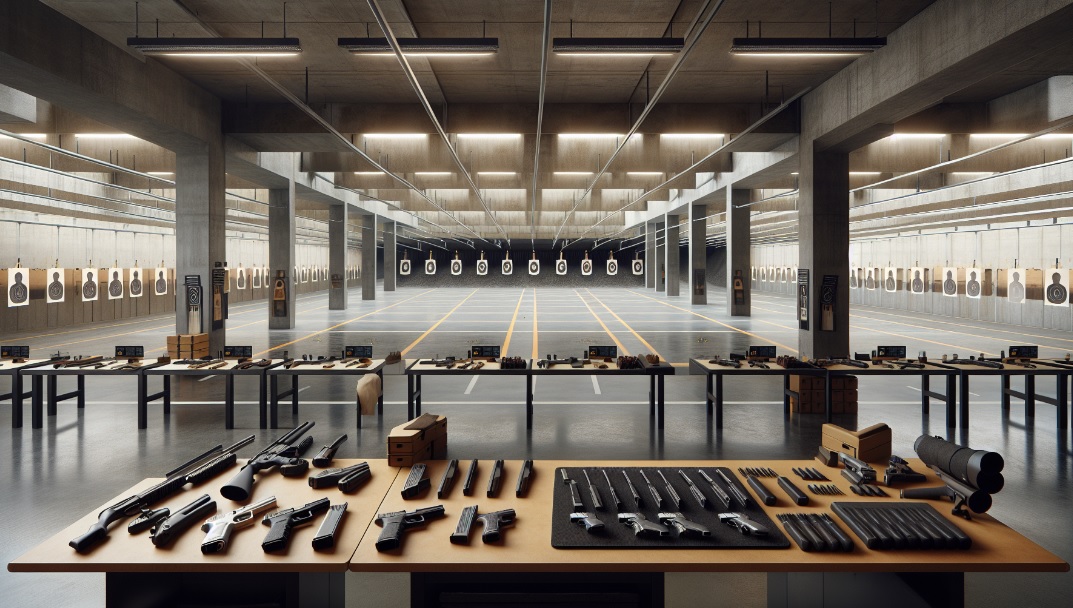 The popular shooting ranges and programs in New Jersey for firearm users as well as for people interested in learning how to safely use a firearm in New Jersey.

These venues offer a wide variety of facilities and services from the beginner, including those who have not yet purchased a firearm and who have never fired a shot, to the more advanced firearm user including police officers and security guards.
Northern NJ Rifle, Pistol, and Trap Shooting Ranges
The Bullet Hole
78 Rutgers Street
Belleville, NJ 07109-3143
(973) 759-3968
Website

An indoor range with 10 ports, 23 yards long with electronic target movers. Large selection of range ammo. They can accommodate
high-powered rifles as well as handguns. They also offer police officer and /security guard qualifications every Wednesday at 6PM.
Clay and Oak Sporting Club at Clove Spring Range
44 Clove Road
Wantage NJ 07461
973-864-8998
Website

Open to the public, this facility is operated by the Crystal Springs Resort, located 15 minutes from Resort. It features a trap and skeet range for guests and the public ages 12+. Gun rental, ammunition, and private instruction available. Membership and public rates available. Reservations are required.
Gun For Hire Headquarters
888-Gun-For-Hire
(seven locations in North & South NJ)
1267 McBride Ave
Wodland Park, NJ
Website
They offer a variety of programs from beginners who have not yet purchased a firearm to the advanced firearm user who regularly shots on their own.
Do not have a firearm? Not a problem they will help you get started with everything you need.

Home Defense Site
78-80 Gould Street
Bayonne, NJ 07002
(866)541-1911
Facebook
They offer firearm training and development to all skill levels. They have a variety of programs including one on one, group, and team training. They have a professional and courteous team that can develop your skills with handguns, shotguns, rifles, as well as pepper spray.

New Jersey Firearms Academy
174 Danforth Ave.
Jersey City, NJ 073055
201-386-9451
231 Bay Street
Jersey City, NJ
201-386-9451
Facebook
They offer a variety of pistol, rifle, and shotgun training programs from beginning shooters to advanced firearm programs including; Police Academy Training, SORA training for all security guard positions, and more.

Riverdale Police Pistol Team
2 Dalton Drive
Riverdale, NJ 07457
973-616-0374
Website
A not-for-profit corporation with a ventilated 25-yard range that supports a number of shooting activities year-round. It has twelve 25-yard shooting positions, each equipped with Caswell electronic target carriers adjustable for distance. Firearms are restricted to handguns and .22-rimfire caliber rifles. Handgun caliber carbines may also be used but only with lead or frangible bullets (no jacketed). Magnum calibers are prohibited in any firearm. Participation in organized activities does not require range membership. They have a Junior Rifle Program open to all youth between age 8 and high school graduation who are mature enough to undertake the responsibilities of the program. Safety training is provided prior to participation, and a written and practical test must be passed prior to starting the actual shooting portion of the program. Rifles and other equipment are provided, They also have a large meeting room which is available for functions of up to 50 people.

Phillipsburg Pistol Club
25 Howard St
Phillipsburg NJ, 08865
908-454-1232
Website
They are a "members only" club, whose purpose is to promote interest in shooting, sportsmanship, and the safe handling of firearms. They have 8 heated indoor lanes to 50 feet and 14 outdoor lanes to 75 feet and one for shotguns. There is a comfortable lounge and classroom space for training.ُ؛؟ Application for new membership are accepted

The Chester Game Association
211 Route 206
Chester NJ 07930
908-303-5302
Website
A sportsman's club with over 1600 acres of private property in various parts of Northwestern NJ. Members can hunt all the properties during the appropriate, state-established seasons, with the proper equipment, licenses and permits. The CGA also manages over 500 acres for upland hunting with pheasant, quail and partridge released throughout the season. Since this property is classified as semi-wild, the club enjoys extended upland hunting seasons and hunting seven days a week. The public is welcome to shoot trap on our property in Chester Township. There are outdoor tables, chairs, benches, gun racks, shade trees and a parking area. The backdrop of the trap field has trees high behind a grassy layout with paved trap stations going from 16 to 27 yards. The clubhouse has a wood-burning stove to keep shooters warm on cold nights. Shooters are required to bring their own Shotgun, Ammunition, Eye Protection and Ear Protection.




Central NJ Rifle, Pistol, and Trap Shooting Ranges
Central Jersey Rifle and Pistol Club
168 South Stump Tavern Rd
Jackson, NJ
800-548-6986
Website
Private Club with computer Key card Access 24 hours a day, 7 days a week. With a huge facility on over 180+ acres, they offer a wide variety of ranges, activities, and organized events, including three outdoor ranges, six multi- purpose ranges, fenced in Archery range and much more. Applications for membership are accepted.
Citizens' Rifle and Revolver Club
Princeton-Hightstown Rd (Route 571)
West Windsor, NJ
609-799-9890
Website
An indoor and outdoor shooting area with 6 ranges with programs for Handguns, Rifles, Skeet Shooting and Trap Shooting. They also have archery and Boy Scout Merit Badge programs.
The Old Bridge Rifle and Pistol Club
P.O. Box 586
Old Bridge, NJ 08857
732-360-1987
Website
The Indoor range is about a half a mile down Maple Street off of Route 18.
Operates as a private club however the outdoor competitions are open to the public and there are many types of competitions they sponsor. Their Mission is to encourage organized rifle, pistol, air gun, black powder and shotgun shooting among citizens of the United States of America resident in our community, with a view towards a better knowledge on the part of such citizens of the safe handling and proper use and care of recreational firearms, as well as improved marksmanship. There are active leagues in both rifle and pistol disciplines, including trap shooting, high power rifle, small bore rifle, bulls eye pistol, action pistol, PPC, steel, IDPA, steel challenge, knockdown steel and black powder muzzle-loading. The indoor range is available to members 24 hours a day, 7 days a week, while the outdoor range is open daily from 9am till dusk. Applications are accepted at the indoor range on the second Sunday of the month. Orientation is held at that time.
Farmers Sportsman's Club

Ellis Road,
Milford (Hunterdon County), NJ 08848
(908) 996-4862
Website
Indoor Trapshooting is open to the public every Friday Night from February to December. Shooting is from 6:00pm to 10:00pm. The range consists of two trap fields. There are two automatic Shooting-Star trap machines with Canterbury Voice Release Systems. There is a sign-in house to relax in and get warm in between squads. The Clubhouse is open for a light dinner at 7:00pm.
Mallard Trap Club
67 Monroe Boulevard
Monroe, New Jersey
[email protected]
Contact: Dennis Hughes, Club President
[email protected]
Website
This public range with membership privileges is NJ's only shotgun Trap Range. The Club has a total of three trap houses, two singles & one doubles house. All are sufficiently lighted for evening shooting. Sporting clays available upon request if interested. Membership is open to men and women 18 years of age and older. Members may bring a spouse or son/daughter under 18 years of age and shoot at member rates. The Club has a total of three trap houses, two singles & one doubles house. Sporting clays available upon request if interested.
Wayside Skeet Club
621 Green Grove Road
Tinton Falls, NJ 07712 - 3112
732-922-1292
Website
A private skeet shooting club with two skeet fields. All shooters are either members, immediate family of members or personal guests of members. Their facilities are NOT open to the public. Skeet shooters are invited to apply for membership...applications are available at the clubhouse.
Southern NJ Rifle, Pistol, and Trap Shooting Ranges
Atlantic County Firearms Training Facility
175 Betsy Scull Road
Egg Harbor Township, NJ
(609) 926-3491
Website
The only county run public shooting range in the State of New Jersey. Their range is staffed with a cadre of Instructors and Range Safety Officers certified by the National Rifle Association and/or the New Jersey Police Training Commission, many of whom have years of experience as either military or police firearms instructors.Open to the public on Saturday and Sunday, this facility has a 25 yard, 35 position Pistol Range (lighted) 100 yard Rifle Range 50 yard Archery Range. They offer; Pistol, Rifle, Muzzle loader, Shotgun (limited), Air Pistol/Rifle Shooting, Competition Shooting, "Fun Shoots", IPSC Style Matches, Lady's Day Activities, and annual fun shoots. They also have a variety of training programs with NRA Qualified Instructors and Coaches.
Bob's Little Sport Shop and Indoor Range

316 N Delsea Drive
Glassboro, NJ
856-881-7575
Website
An Indoor Public Shooting range. They also sell firearms and archery equipment with a full range of Handguns, Shotguns, Rifles, and Archery. They have several instructors available to give classes and private lessons to anyone interested in becoming more proficient with firearms.
Buckshorn Sportsmans Club
Hellneck Rd
Hancocks Bridge, NJ
856-935-0037
Website
Private Range The club owns 128.5 acres of wooded land which includes a 28-target archery range and a clubhouse that features; a 20 yard indoor archery range (equipped with Morrell Target butts), a kitchen and rest rooms, a 100 yard rifle range, 50 yard black powder range, 75 foot pistol range, trap shooting, and sporting clays are some of the other facilities offered by the club.
Delran Junior Marksman Clu
b
North side Taylors Lane
Delran, NJ
GPS: N40 01.146 - W74 58.806 Degrees
856-461-4585
Website
A Public Range with membership privileges. The facilities include an Outdoor Pistol (25 & 50 yard) range, Outdoor Rifle (50 & 100 yard) range, Rifle Silhouette, Muzzle loading, Trap, and Archery. Membership applications accepted.
Hague's Indoor Range
700 Crown Point Road
West Deptford, NJ 08086
856-251-9099|
Website
A private club open to the public with a climate controlled indoor range that includes a 25 Yard Range for Pistol, Rifle, and Shotgun and a well stocked store of Firearms and Ammunition. They also offer training programs for beginner to advanced.
Joint Base MDL Rod & Gun Club
at Range 14
Bldg. 9060
Dix, NJ 08640
GPS coordinates: +40° 0' 4.14", -74° 32' 44 or 40.00115 N 74.545664 W
609-562-4676
Website
This facility Is run by the US Military but is open to the public. They have a private outdoor tactical range. Ranges include: skeet, trap, 200 meter rifle, pistol, and paint ball ranges . They offer pistol, rifle and shotgun training provided by Shoot NJ, They also offer NRA Woman only pistol, rifle, and shotgun courses run by women instructors.
South Jersey Shooting Club

Winslow Township
(609) 704-9500
Website
Their facility is comprised of five firing ranges that cater to a variety of shooter's requirements.
---