Sea Girt Lighthouse - A Visitors Guide
The last live-in lighthouse built in the United States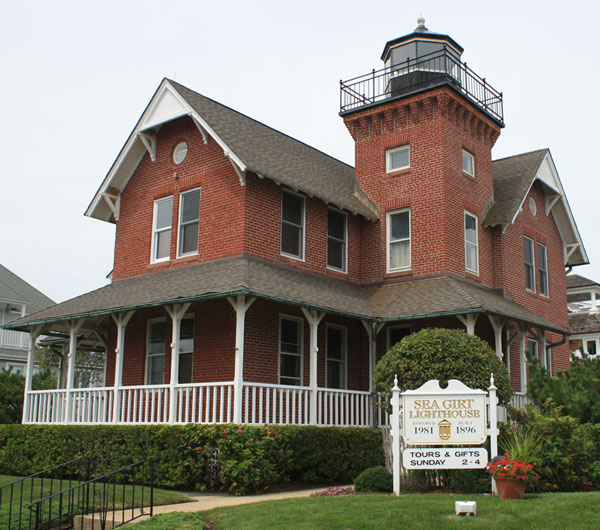 The Sea Girt Lighthouse
9 Ocean Ave, (Corner Beacon Ave.)
Sea Girt, NJ 08750
732-974-0514
Website
Operating hours:
Tours of the lighthouse are conducted Sundays 2 p.m. to 4 p.m., except holiday weekends, from mid-April through the Sunday before Thanksgiving. Special tours, popular with school groups and scouts, are conducted by prior arrangement year-round.
---
The Sea Girt lighthouse was the last live-in lighthouse built in the United States. The lighthouse tower is attached to the building where the lighthouse keeper and his family lived.

In operation since 1896, the lighthouse was initially equipped with a fourth order Fresnel lens, lighted by a kerosene lamp. Weights dropping down a shaft – like the works of a grandfather clock – caused the lens to revolve.

While the light was constant, it appeared to blink on and off as the light bounced from one prism to the next as the lens slowly turned. The beacon flashed two seconds on every six seconds and could be seen 16 miles at sea.

In 1915, the kerosene which had been fueling the lighthouse, was replaced with an electric beacon, and in 1921, the lighthouse became the first shore light-station to be equipped with a radio fog signal as an aid for ships approaching New York Harbor. Signals from Sea Girt lighthouse crossed those from the Ambrose and Fire Island lightships, so ships could navigate more safely in foggy or foul weather.

The U.S. Coast Guard assumed control of the Lighthouse in 1939. During World War II, as was the case with other lighthouses along the Jersey Shore, the beacon was extinguished so as not to give direction to enemy ships. During this period, the Coast Guard used the lighthouse as a base for beach patrols on the lookout for German U-boats.

After the war, the lighthouse was fitted with an automatic light mounted on the top of the lighthouse tower, replacing the Fresnel lens. In 1954, the automatic light was moved from the top of the lighthouse tower to a new, free-standing steel tower, erected on the north lawn. As technology advanced, that light too became obsolete and was turned off. The steel tower was eventually dismantled.

The Borough of Sea Girt bought the lighthouse in 1956 for $11,000, using it for various civic functions, including meetings, and as the library and recreation center. Today, the Sea Girt Lighthouse Citizens Committee has responsibility for maintaining the lighthouse.

Guided tours and exhibits of rare photos and artifacts are on display, including a Fresnel lens, similar to the original fourth order lens used in the tower. There are also artifacts from the Morro Castle disaster.