Satis Bistro, Jersey City, NJ:
A Restaurant Review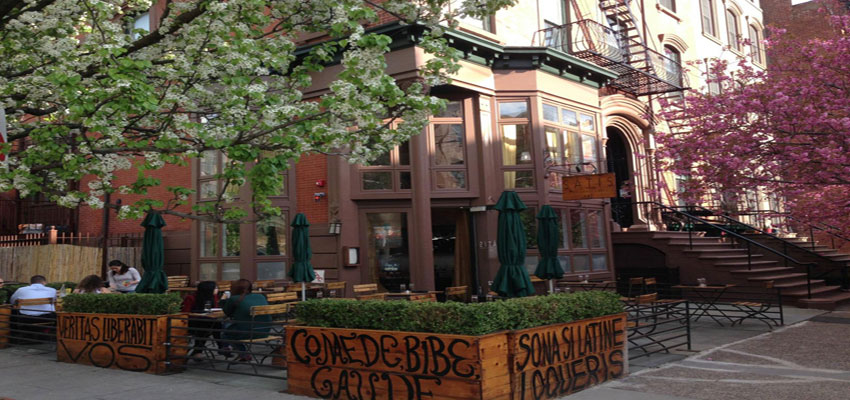 Satis Bistro and Salumaria

212 Washington St.
Jersey City, NJ
(201) 435-5151
Website
---
Restaurant Highlights

Fare: Contemporary European

Price:  Moderate - Expensive

Food Quality:  3 Stars

Service:  2 1/2 Stars

Decor:  3 Stars

Overall Rating:  3 Stars

Note:  Four star Rating System from 1/2 Star = Poor to Four stars = Best in Class


Well prepared Contemporary European food using fresh local and imported ingredients


Charming, rustic, romantic ambiance

Value: Excellent

Noise Level:  Moderate

Dress:  Casual

Recommended For:  Diners who enjoy excellent food with intimate, rustic, European ambiance.

Not Recommended For: Diners who may prefer simpler food in a more family oriented casual setting.

Recommended dishes:  When available, Prosciutti de Parma appetizer; The Branzino; Grilled Lamb Merguez; meats from the Salumeria; and on weekends the Brunch.

Liquor: Full Bar Service

Restaurant Review

Located on a quiet street in the Paulus Hook residential neighborhood of Jersey City, Satis Bistro is an unpretentious cafe-style restaurant and a great place to go for a date, or to celebrate a romantic occasion, or to catch up with a group of friends for an enjoyable dining experience.

Co-owners Michael Garcia and Geza Gulas, and Chef Michael Fioranti have teamed up to make this Jersey City neighborhood gem a go to place for creative European food in an attractive setting.

The ambiance of this bistro style place is romantic, intimate with a chic rustic European feel to it. The two-floor, picturesque interior has exposed brick walls, hardwood floors, high ceilings, and large windows, rustic wooden tables, with soft lighting, and large pillows for the bench seating along the walls adorned with historical pictures and an attractive marble-top bar.

The Salumeria (Italian style deli) with imported meats and cheeses in the back completes the picture of the European style bistro.

Chef Michael Fioranti is adept at preparing a seasonally changing menu with creative and tasty dishes. The Branzino, prepared and served European style as a whole fish with the head and tail in tact, is an example of the flair the bistro offers.

In addition to the entrees they also have a large selection of sandwiches made with high-end ingredients fresh out of the Salumeria where such exotic specialties as Spanish cured ham, dry-cured smoke ham, and Tuscan-style cured meats can be had .

They also serve an excellent brunch menu only on weekends from 11am to 3pm.

The Satis Bistro is not Recommended for kids.

Open Tuesday through Friday - 5:30 pm - 10 pm and Saturday and Sunday - 11 am - 10 pm.

In the warmer months there is outside patio dining on the rustic wood and iron tables.

Street parking is available in addition to a public parking garage in the Liberty Towers, at the corner of Morris and Greene, one block from the restaurant.

(updated: December, 2016)


How Do We Review (analyze) Restaurants?
New Jersey Leisure Guide strives to provide analytic restaurant reviews .
The methodology used is research, analysis driven --- as opposed to that of a single restaurant critic or a viewer comment posting board.

Data is gathered from our viewers e-mail restaurant comments, Internet research, and professional restaurant critics. The data is sorted, (weeding out the obvious biased, "bone to pick",  and out of consensus comments), analyzed, and the review is created.

Learn More
---