Saddle River Inn, Saddle River, NJ:
A Restaurant Review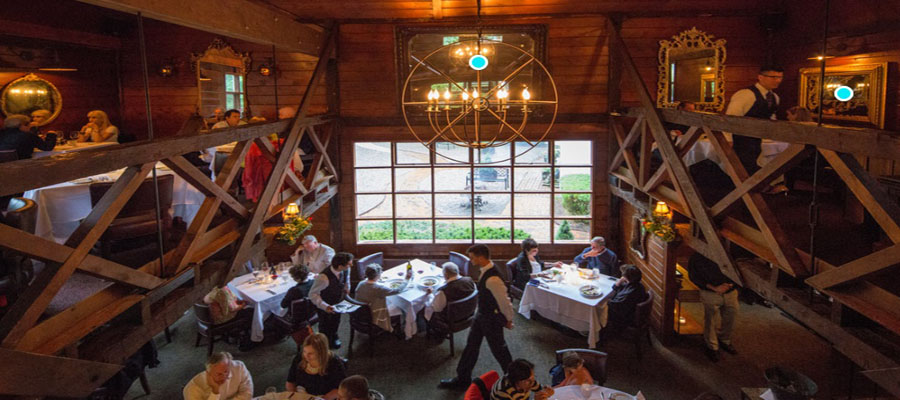 Saddle River Inn: Restaurant Summary

Fare: New American- with French influences

Price: Very Expensive

Food Quality: Well executed menu using prime dry-aged beef, fresh line caught, sustainable seafood and locally sourced, fresh ingredients.

Service: Professional; warm, and attentive.

Ambiance/decor: A 19th century restored barn alongside the banks of the Saddle River, with elegant, rustic ambiance.

Overall Rating: 3 1/2 Stars - --- Classified as an upscale Chef-Inspired Casual Dining restaurant (* Note - See below restaurant classification for details)

Four-star Rating System from 1/2 Star = poor to 4 stars = Best in Class

Noise Level: Moderate

Dress: Upscale Casual

Recommended For: High income diners who enjoy excellent food with upscale, rustic ambiance, and fine dining amenities.

Not Recommended For: Budget minded diners and young families who prefer more casual dining with lower menu prices and larger food portions.

Recommended dishes: When available, The Australian Lamb Chops; The Yellow-fin Tuna; and The Snake River Farms Wagyu Tomahawk Ribeye For 2

Alcohol: BYOB.

Restaurant Review

The Saddle River Inn is one of Bergen County's top restaurants --- a wonderful place for a romantic dining experience or to celebrate a special occasion.
The restaurant is co-owned and operated by Executive Chef Jamie Knott, who comes with excellent credentials having honed his culinary skills at high profile NYC restaurants.
This upscale Chef-Inspired Casual Dining restaurant has many of the amenities of a fine dining restaurant without the formal, "Old World" stuffy atmosphere found in typical fine dining restaurants.
Set in a 19th century restored barn alongside the banks of the Saddle River, the 80-seat restaurant has an attractive decor with an elegant, rustic ambiance. The dining area is spread over two floors, with rustic dark walls, ceilings, and hardwood flooring. The tables are surrounded with comfortable burgundy leather chairs and tables set with white linen and China ware.
Chef Jamie Knott received his formal culinary training at The New York Restaurant School and later honed his skills at Fascino in Montclair, Salute in NYC, under Chef Clifford Crooks. Executive Chef at China Grill, The Empire Hotel, Executive Chef at Artisanal Fromagerie and Bistro in NYC and at ESquared Hospitality in 2012 returning with famed chef Clifford Crooks.
Chef Knott offers a seasonally changing new American French influenced menu. The dishes feature the use of prime dry-aged beef, fresh line caught, sustainable seafood and locally sourced, fresh ingredients when available.
The Saddle River Inn is open for dinner Tuesday through Saturday.
Reservations are a must. Note: A 3.99% credit card processing fee will be added to your bill, should you choose to use a credit card.
Not recommended for children. They are unable to accommodate strollers, highchairs, or a children's menu.
*Description of Restaurant Classification - Chef-Inspired Casual Dining:
The current trend of upscale, high quality food focused restaurants.
They are chef driven by chefs with impressive credentials including formal culinary education and skills honed at award winning restaurants.
Serves an approachable, more casual menu with creative food preparation.
Uses higher quality food ingredients such as imported items not available in the supermarket, with emphasis on local seasonal farm-to-table produce, wild caught seafood, & meats without the use of antibiotics and growth hormones.
Chic, trendy ambiance with a casual atmosphere.
The wait staff is professional, knowledgeable, and attentive.
Can be BYOB or have an alcohol menu with a variety of wines, specialty cocktails, and beers.
Patrons are of all generations with medium to high incomes.
The most popular upscale restaurants in New Jersey are classified into three categories: Chef-Inspired Fine Dining, Chef-Inspired Casual Dining, and Contemporary Casual.
learn more about the three types of upscale restaurants and how reviews are created.
(updated: November, 2022)