Ryland Inn, Whitehouse Station, NJ:
A Restaurant Review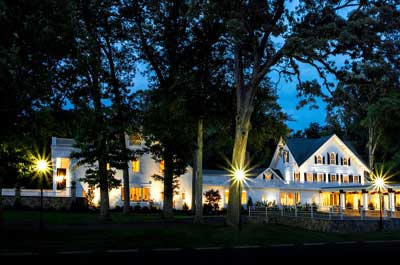 Ryland Inn
Rte. 22 W. (Rte. 523)
Whitehouse Station, NJ
908-534-4011
Website



Restaurant Highlights

Fare:  New American - Mediterranean Influence

Price:  Very Expensive

Food Quality:  3 Stars

Service: 3 Stars

Decor: 3 1/2 Stars

Overall Rating:  3 Stars

Note: Four star Rating System from 1/2 Star = poor to Four stars = Best in Class


One of the top restaurants in Northern New Jersey --- A destination restaurant, especially  for special occasions.


Committed to using locally sourced ingredients and in supporting sustainable agriculture and hydroponic farming.


Decor and ambiance ideal for a romantic or special occasions. Tables nicely spaced for quiet conversation.

Value:  Good

Noise Level:  Moderate

Dress:  Upscale Casual

Recommended For:  Diners who enjoy an extraordinary fine dining experience where they can get top draw food, service and ambiance.

Not Recommended For:  Budget minded diners who prefer casual dining in a less formal setting with lower menu prices and larger food portions.

Recommended dishes:  When available, When available, The Cervena Venison with Baby Carrots, Smoked Beets, Hazelnuts, Rutabega; and The Organic Irish Salmon with Green Gazpacho, Citrus Yogurt, Cherry Tomatoes, Garden Herbs.

Liquor:  Good selection of wines and specialty cocktails. Bar scene is vibrant.

Restaurant Review

The Ryland Inn is "the restaurant" to go to if you are looking for one of the top, if not the best, dining experience in Northern New jersey ----- of course, be prepared shell out big bucks for this experience.

While primarily a wedding banquet venue, the restaurant nonethless manages to sucessfully avoid the pitfalls of other similar high volume banquet venues that adversly impact on the quality and care of the restaurants menu.

The restaurant is managed by owners husband and wife team, Frank and Jeanne Crenelate who also control the ownership of The Liberty House in Jersey City, and The Stone House at Stirling Ridge.

The setting is on a spacious, attractively landscaped grounds that gives off the ambiance of a plantation or hunt country gentleman's estate.

The attractive exterior is enhanced with blue-stone pavers, stone walls, and wainscoting.

The interior is very attractive with a modernized bar done up in dark wood, glass shelves and flooded soft lighting. The dining area has a classic ambiance with walls adorned with equestrian art.

There is an attractive indoor and outdoor bar The outdoor bar has a beautiful outdoor seating area with a gas flame table for dining or casual gatherings.

The Ryland Inn has seating for 65 in the dining area and an additional 65 outside on the back patio during warm-weather months.

The Cretella's have a deep commitment to using locally sourced ingredients and in supporting sustainable agriculture and hydroponic farming. Hydroponic farming is the latest trend in bringing locally sourced herbs and lettuces to the table during the winter months.

Working closely together with the Cretalla's, Executive Chef Craig Polignano is committed to using locally sourced ingredients. Many of the seasonal produce comes from the restaurants 3-acre organic 15-bed specialty herb garden with dozens of varietals.

Chef Polignano received his formal training from the Culinary Institute of America, and later honed his skills at many notable restaurants including the Copeland in the Westin Governor Morris in Morristown, NJ, The Bernards Inn in Bernardsville, NJ and The St. Regis Hotel in Dana Point, California.

The service at the Roland Inn is extraordinary and complements their top draw ambiance and food. The staff is well trained, unpretentious, attentive and very customer oriented including having personalized business cards for every server that are handed out to the dining patrons. Here you will find the servers dressed casually elegant wearing jeans. Servers are also free to offer customers complimentary drinks or desserts when service issues occur.

The Ryland Inn is open Tuesday-Saturday, beginning at 5:00 P.M. and for Sunday Brunch 11:00am - 2:00pm, and dinner beginning at 4:00pm

They are also open on Thanksgiving Day.

(updated: September, 2016)


How Do We Review (analyze) Restaurants?
New Jersey Leisure Guide strives to provide analytic restaurant reviews .
The methodology used is research, analysis driven --- as opposed to that of a single restaurant critic or a viewer comment posting board.

Data is gathered from our viewers e-mail restaurant comments, Internet research, and professional restaurant critics. The data is sorted, (weeding out the obvious biased, "bone to pick",  and out of consensus comments), analyzed, and the review is created.

Learn More
---