Rossi's Bar & Grill, Hamilton Township, NJ:
A Restaurant Review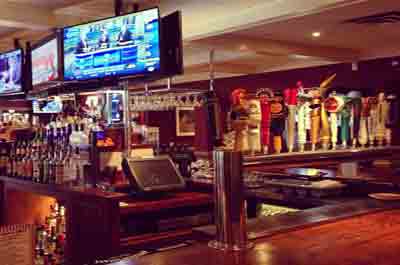 Rossi's Bar & Grill

2110 Mercerville-Whitehorse Rd
Hamilton Township, NJ
609 - 890 - 2004
Website



Restaurant Highlights

Fare:  Tavern Fare

Price:  Inexpensive - Moderate

Value: Excellent

Noise Level:  Moderate

Dress: Very casual

One the the best burgers in Central Jersey


They offer call ahead seating.

Recommended For:  Diners who enjoy an excellent burger in a tavern setting

Not Recommended For:  Diners who prefer more complex eclectic dishes with a more upscale, trendy ambiance.

Recommended dishes:  When available, The Rossi's Famous Hamburger -- The Rossi burger, almost 1 lb of ground beef served on a Kaiser roll.; The Pork Chops served with Apple Sauce; and The Spaghetti w/ Meatballs

Liquor:  Full Bar with a good selection of craft & draught beers. Bar scene is vibrant.

Restaurant Review

Rossi's Bar & Grill, located near the Grounds for Sculpture in Hamilton Township, famous for The "Rossi burger", is a landmark tavern with plenty of nostalgia.

Not only are they famous for their burgers, they also serve a variety of sandwiches and hoagies (south Jersey), pastas, meat and seafood platters.

Rossi's relocated in 2014 from it's former landmark site in Trenton. Open since 1933, this family owned tavern has stayed in the family since having been handed down through several generation to it's current owner Michael Ross, who with the relocation, has since taken on a partnership with Alan Meinster

The new location has a more modern look, a departure from the old location with it's old world charm, neighborhood ambiance.

The centerpiece is the bar with an attractive U shaped layout with plenty of seating and display TV's. The interior is trimmed with lots of wood and walls adorned memorabilia, old artifacts, and large pictures of Trenton.

The famed "Rossi burger" is huge --- Almost 1 lb of succulent ground beef that waters in your mouth. It's so large that most people take it without a lot of toppings. They are served on a Kaiser roll with very tasty French fries, crispy and not greasy.

Other popular entrees include the Chicken Parmigiano and the pastas with marinara sauce.

Rossi's service is very friendly and attentive.

(updated: November 2023

How Do We Review (analyze) Restaurants?
New Jersey Leisure Guide strives to provide analytic restaurant reviews.
The methodology used is research, analysis driven --- as opposed to that of a single restaurant critic or a social media platform, viewer comment posting board.