Ristorante Toscana, Cherry Hill, NJ:
A Restaurant Review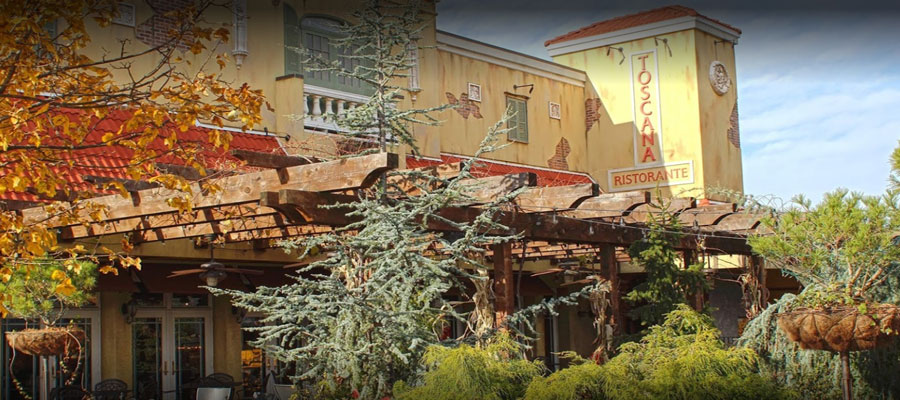 Ristorante Toscana
1990 Route 70 East
Cherry Hill, NJ 08003
856-489-7373
Website
Restaurant Highlights
Fare:  Traditional & non-traditional Italian

Price:  Moderate - Expensive

Food Quality:  2 1/2 Stars

Service:  2 Stars

Decor: 3 Stars

Overall Rating:  2 1/2 Stars

Note: Four star Rating System from:
1/2 star = poor to 4 stars = best in class


With attractive Tuscan courtyard ambiance, it's one of the top outdoor patio dining experiences in South Jersey.

Noise Level:  Moderate

Dress:  Casual

Recommended For:  Diners who enjoy a BYOB with a choice of traditional & non-traditional Italian dishes in a rustic, Tuscan setting.

Not Recommended For:  Diners who prefer a large menu of Southern Italian, red sauce, dishes served in large portions.

Recommended dishes:  When available, For an appetizer, The Warm Crab Cheesecake; For entrees, The Fiery Lobster Tagliolini, a spicy Lobster dish with sauteed longhot chili peppers, olive oil, white wine, cherry tomatoes, and parmesan shavings over homemade tagliolini.' The Branzino, imported from the Mediterranean sea bass slow cooked; and The Champagne Pear Sacchetti, homemade pear & ricotta stuffed pasta sacks.

Liquor:  BYOB with local NJ wines available from Hopewell Valley Vineyards.

Restaurant Review
Ristorante Toscana is popular with diners who enjoy BYOB Italian food with rustic Tuscan ambiance. A good place to come to celebrate a special occasion.

Ristorante Toscana is a family owned restaurant that serves a large selection of both traditional and non-traditional Italian dishes influenced by the latest trends in Italian cooking.

In the mood for an unusual taste of one of their tasty non-traditional Italian specialties? Start your dinner with the Warm Crab Cheesecake appetizer. Cheesecake for an appetizer? Yes, it's a crabcake with a blending of cheeses, jumbo crabmeat, chopped shrimp, roasted pepper, & cucumber fresco.

Other non-traditional appetizer dishes are the Crudo (Italian Sushi) with several tuna and shellfish selections.

Many of the pizza and beef menu items are cooked on a their wood-burning stove. They offer a good selection of well prepared thin crusted brick oven pizzas.

While the decor is attractive, it tends to be a bit overdone with it's attempt to create Tuscan ambiance. The spacious, ornate interior features a wood-fired oven, faux-stucco walls, chandeliers, walls adorned with large pictures, and tiled flooring.

For a summertime dining treat, eat outdoors in the attractive courtyard with Tuscan ambiance complete with overhead grape vines, flowers, and a waterfall. It's one of the top outdoor patio dining restaurants in South Jersey.

(updated: July, 2018)

How Do We Review (analyze) Restaurants?
New Jersey Leisure Guide strives to provide analytic restaurant reviews.
The methodology used is research, analysis driven --- as opposed to that of a single restaurant critic or a social media platform, viewer comment posting board.