Rebecca's Cuban and Caribbean Cuisine, Edgewater, NJ:
A Restaurant Review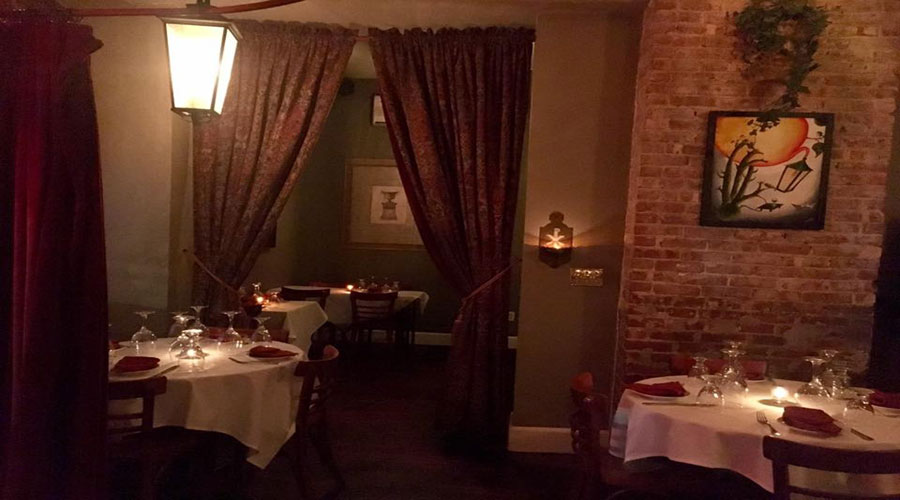 Rebeccas Cuban and Caribbean Cuisine
236 Old River Rd
Edgewater NJ 07020
(201) 943-8808
Website
---
Restaurant Highlights

Fare:  Cuban Fusion

Price: Moderate Expensive

Food Quality: 2 1/2 Stars

Service: 2 1/2 Stars

Decor: 2 1/2 Stars

Overall Rating: 2 1/2 Stars

Note:  Four star Rating System from 1/2 Star = Poor to Four stars = Best in Class


Well prepared Cuban fusion dishes


Charming, romantic ambiance

Value:  Excellent

Noise Level: Moderate

Dress:   Casual

Recommended For:  Diners who enjoy excellent Latin fusion cooking in a small, intimate setting

Not Recommended For:  Diners who prefer simpler ethnic food in a more family oriented casual setting.

Recommended dishes:  When available; The Churrasco Grilled skirt steak, served with onions and cilantro salsa; The Havana Shrimp with Grilled gulf shrimp in caribbean spices, pineapple mango and papaya salsa; and The Ropa Vieja Shredded black angus flank steak, slow cooked in red wine tomato sauce with onions, peppers, olives and capers

Liquor:  BYOB, with a few selections from a local NJ winery.

Restaurant Review

Rebecca's is an intimate Cuban Fusion BYOB that is a popular choice for couples on a date or for celebrating a romantic occasion.

Rebecca's has recently been purchased by two best friends, Richie Etwaru and Avi Premlall and have teamed up with General Manger Engel Nicasio who over sees the operation of the kitchen and the dining area. They have retained the Chef from the previous owners along with many of the menu items and style of cooking.

The Cuban fusion menu is well prepared, though dominated by meat dishes

The interior has recently undergone some tasteful upgrades to improve lighting and ambiance to give it a soft, romantic Ambiance.

The interior has a charming Cuban/Caribbean flair with two small dining rooms. The softly lit rooms have tables set with linens and walls adorned with Cuban accents to provide a cozy, intimate romantic setting. The smaller dining area is an alcove ideal for a more intimate setting or for a small group parties.

The larger dining area also provides access to an attractive enclosed garden patio/rock garden that backs up against "the cliff" and can be used year-round.

The service at Rebecca's is friendly and attentive.

Rebecca's is not recommended for kids.

Rebecca's is open six days/week, Tuesday - Saturday for dinner from 5:00pm to 10:00pm: Sundays for brunch from 11:00am to 5:00pm

If you are from outside the neighborhood, set your GPS as finding it may be a challenge. Rebecca's is tucked away between a hillside and a condominium complex.

(Updated: January 2016)


How Do We Review (analyze) Restaurants?
New Jersey Leisure Guide strives to provide analytic restaurant reviews .
The methodology used is research, analysis driven --- as opposed to that of a single restaurant critic or a viewer comment posting board.

Data is gathered from our viewers e-mail restaurant comments, Internet research, and professional restaurant critics. The data is sorted, (weeding out the obvious biased, "bone to pick",  and out of consensus comments), analyzed, and the review is created.

Learn More
---