Rat's Restaurant, Hamilton, NJ:
A Dining Review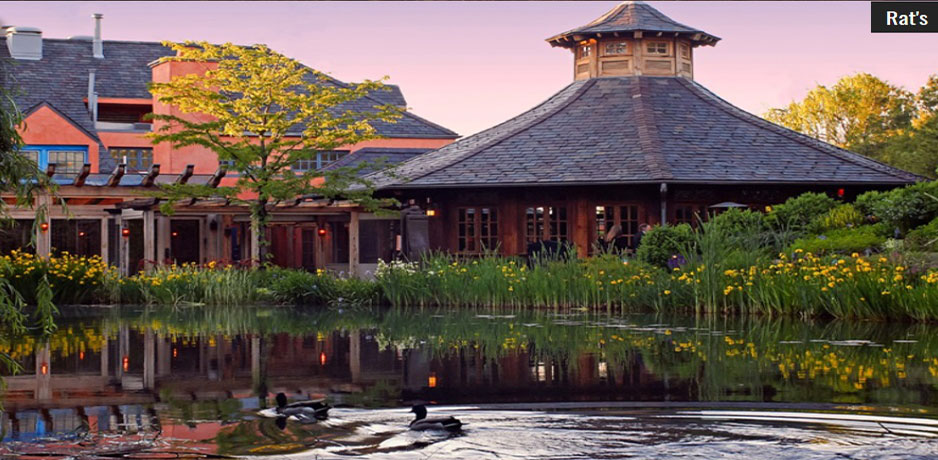 Rat's Restaurant

16 Fairgrounds Rd.
Hamilton, NJ
609-584-7800
Website


Restaurant Highlights

Fare:  Country French

Price: Very Expensive

Food Quality: 3 Stars

Service: 2 1/2 Stars

Decor: 3 1/2 Stars

Overall Rating: 3 Stars

Note:  Four star Rating System from 1/2 Star = poor to Four stars = Best in Class


A romantic restaurant with attractive decor and scenic sculptured grounds.


Food is well prepared using fresh ingredients.

Value:  Good

Noise Level:  Low - Moderate

Dress:   Upscale Casual
Recommended For:  Diners who enjoy well prepared food with attractive decor and are willing to pay more for a special dining experience

Not Recommended For:  Budget conscious diners and young families who prefer more casual dining with lower menu prices and larger food portions.

Recommended dishes:  When available, The Lamb shank braised in red wine with herbed barley risotto, Spring onions, braised baby artichokes and spiced almond gremolata with apricots; The Rabbit Ragoût tomato, bacon, onion, celery, white wine, bucatini pasta, reggiano parmesan ; and The vegetarian selection of wild mushroom pie.

Liquor:  Excellent wine list (0ver 900 bottles) and specialty cocktails.

Restaurant Review

Rat's Restaurant is one of the top romantic restaurants in Central New Jersey. If you are looking for that special place where decor is sought after and you want to impress.... this is it.
An ideal place for celebrating special occasions, a romantic dining experience and for a family Sunday brunch, especially on Easter Sunday and Mother's Day.

Owned by noted sculptor and pharmaceutical heir J. Seward Johnson, Jr., Rats restaurant was created as an added inducement to visit Mr. Johnson's magnificent Grounds for Sculpture.
The adjoining 22-acre sculpture park is located on the former site of the New Jersey State Fairgrounds.

The grounds of Rat's restaurant are attractively developed along the lines a small European village. The interior has five dining rooms adorned with original artwork, fireplaces and a mixture of Old World elegance and New World color. They also have views of the surrounding sculpture park, Grounds for Sculpture, and the misty water lily pond, bridge and ethereal garden.

The Country French seasonal menu is well prepared using fresh farm to table regional ingredients.

The tables are generously spaced, for intimate conversation.

In the cooler months there is a cozy fireplace to warm up to and enjoy a soothing cocktail as you
prepare for a relaxing dining experience.

In the warmer months there is outdoor patio dining at the edge of a pond, overlooking the gardens. After dining, take a walk through the grounds....it's impressive.

The service at Rats Restaurant is professional, but tends to be a bit pompous.

They are able to accommodate private dining for corporate and special occasions.

(updated: July, 2018)


How Do We Review (analyze) Restaurants?
New Jersey Leisure Guide strives to provide analytic restaurant reviews .
The methodology used is research, analysis driven --- as opposed to that of a single restaurant critic or a viewer comment posting board.

Data is gathered from our viewers e-mail restaurant comments, Internet research, and professional restaurant critics. The data is sorted, (weeding out the obvious biased, "bone to pick",  and out of consensus comments), analyzed, and the review is created.

Learn More
---