Rails Steakhouse, Towaco, NJ:
A Restaurant Review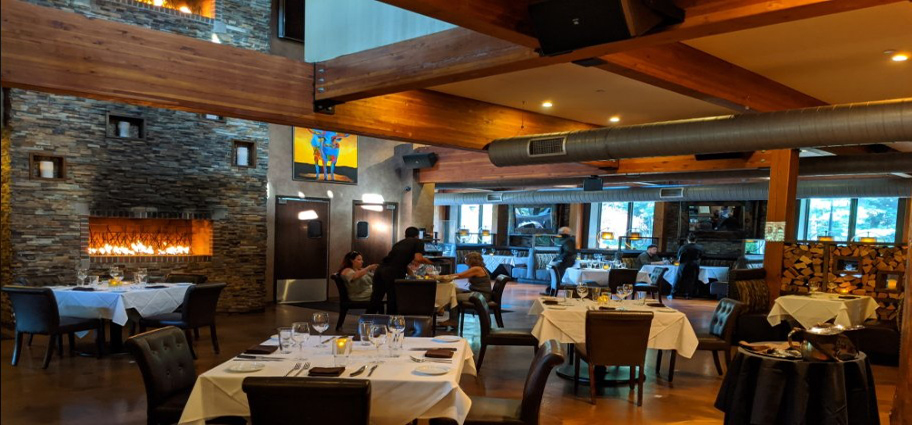 Discover Rails Steakhouse. A special occasion, destination steakhouse with stunning rustic, casual ambiance and USDA Prime corn-fed, dry aged beef


Rails Steakhouse

10 Whitehall Road
Towaco , NJ
973-335-0006
Website
Rails Steakhouse: Restaurant Highlights

Fare: American Steakhouse

Price: Expensive

Food Quality: Serves USDA Prime and CAB corn-fed beef dry aged for 28 days and healthy sustainable fresh seafood dishes

Service: Professional, knowledgeable, and attentive, without being intrusive

Ambiance/Decor: Stunning! Upscale, rustic, casual

Overall Rating: 3 1/2 Stars - Classified as Chef-Inspired Casual Dining (* Note - See below restaurant classification for details)

Note: Four star Rating System from 1/2 Star = poor to 4 stars = Best in Class

Dress: Casual

Noise level: Moderate

Recommended For: Diners who enjoy a high end steakhouse menu with stunning, rustic ambiance, in a casual setting.

Not Recommended For: Diners who prefer more formal, fine dining, or budget conscious diners who prefer a traditional, less expensive menu.

Recommended dishes: When available, The Kona Coffee Infused Ribeye; The Prime NY Strip Steak; and for non-carnivores, The Sesame Crusted Ahi Tuna W/ Lemongrass Scented Black Rice, Pickled Shitake, Bok Choy, Edamame, and Miso Vinaigrette

Liquor: Full service bar with an award-winning wine list recognized by Wine Spectator.

Restaurant Review
Rails Steak House, set in a reconstructed train station in Towaco, is a breathtaking, rustic 20,000 square foot carnivores haven featuring a menu of USDA Prime and CAB corn-fed. beef.
This is an ideal spot to celebrate a special occasion with family or friends.

The construction of Rails Steakhouse features a collection of high-quality rustic materials and including the use of timber, natural stonewalls, fireplaces, high exposed ceilings, and large windows, all carefully combined to create a stunning, upscale, rustic, lodge style ambiance.

Spread over 3 levels with an upscale blending of sophistication, casualness, and nostalgia.

The main dining room on the main floor with the Timber Bar and huge stone fireplace, offering the more sophisticated ambiance of all the dining areas. The second-floor dining area has a more casual rustic ambiance with exposed rafters and a view of the floor below.
The lower level features a secret passage to the wine cave, the dry-aging room, and Thirty 3, a dimly lit speakeasy-style bar.
During the warmer months, there is outdoor dining on either of two outdoor terraces with outdoor bars, a stone fireplace, and spectacular views of the Pyramid Mountains.

The kitchen is run by Executive Chef Francis X. Falivene. Chef Falivene received his formal culinary education at The French Culinary Institute in NYC. He later honed his culinary skills at The Hotel Pierre in NYC, and at Restaurant Korso, in Vienna, Austria, a Michelin rated restaurant. He then returned to NYC as Executive Chef at Salute! Ristorante, and later as Executive Chef at Ora Restaurant in Morristown. He also worked under the famed Chef Terrance Brennan as his Executive chef at Artisanal Bistro.
Prior to coming to Rails Steakhouse, Chef Falivene was the Executive Chef at the Moonshine Supper Club in Millburn, NJ.

Rails Steakhouse features a seasonal menu of high-end meats and seafood, with casual, Tavern-style food during the week, and a more extensive, fine dining dishes on weekends.

With Rails being a steakhouse enjoyed by carnivores, they are known for their USDA Prime and CAB corn-fed beef where steaks are dry aged for 28 days on-premises in their aging room and hand cut by their butchers daily. They also offer a selection of healthy sustainable fresh seafood dishes, a raw bar, and homemade desserts.

Rails Steakhouse is open seven days/week: Monday through Thursday 4:00 pm – 10:00 pm; Friday and Saturday 4:00pm – 11:00pm; and Sunday 2:00pm – 9:00pm

They are also open Thanksgiving serving a traditional Thanksgiving menu, and Christmas Eve & New Year's Eve with a special holiday dinner.

*Description of Restaurant Classification - Chef-Inspired Casual Dining:
The current trend of upscale, high quality food focused restaurants.
They are chef driven by chefs with impressive credentials including formal culinary education and skills honed at award winning restaurants.
Serves an approachable, more casual menu with creative food preparation.
Uses higher quality food ingredients such as imported items not available in the supermarket, with emphasis on local seasonal farm-to-table produce, wild caught seafood, & meats without the use of antibiotics and growth hormones.
Chic, trendy ambiance with a casual atmosphere and a casual dress code.
The wait staff is professional, knowledgeable, and attentive.
Can be BYOB or have an alcohol menu with a variety of wines, specialty cocktails, and beers.
Patrons are of all generations with medium to high incomes.
The most popular upscale restaurants in New Jersey, classified into three categories; Chef-Inspired Fine Dining, Chef-Inspired Casual Dining, and Contemporary Casual.

learn more about these three types of upscale restaurants and how reviews are created.

(updated: November, 2021)