Pilsener Haus & Biergarten, Hoboken, NJ:
A Restaurant Review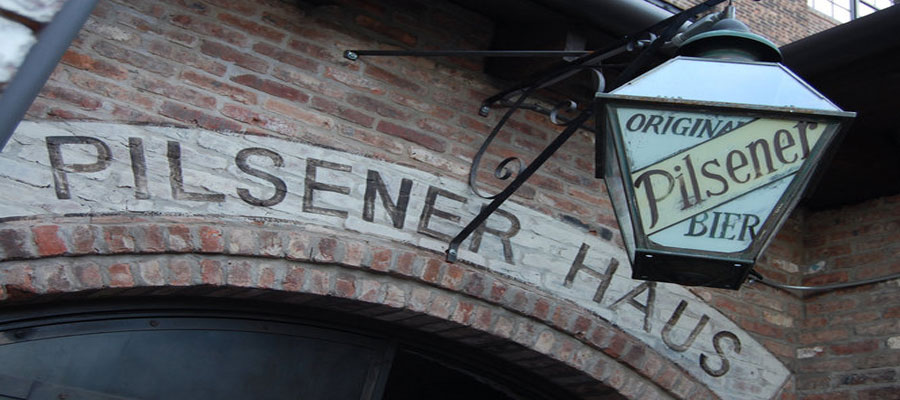 Pilsener Haus & Biergarten
1422 Grand Street
(entrance on 15th street)
Hoboken, NJ 07030
Website
---
Restaurant Highlights

Fare:  New American

Price:  Moderate

Value:   Excellent

Noise Level:  High


Excellent selection of German Beers and well prepared German Beer Hall food.


One of the best places in Hoboken to grab a beer and meet up with friends.

Recommended For:  People looking for a good time and meeting up with friends for German beers and German food in a high energy, festive, beer hall setting.

Not Recommended For:  Diners who prefer a quieter setting, their own tables, and do not enjoy being encroached by friendly strangers.

Recommended dishes:  When available, Bratwurst Pork & Veal sausage; Smoked Polish Kielbasa; and the Rotisserie Chicken. Note: All Sausages are Served w/Sauerkraut & your Choice of Bread or Fries.

Liquor:  Excellent selection of imported German beers with a description on a laminated menu. Bar scene is festive.

Restaurant Review

The Pilsener Haus & Biergarten is as close to an authentic Austro-Hungarian Biergarten as you can get in New Jersey.

Tucked away in a far corner of Hoboken, the interior beer hall is huge with a long bar, communal seating, flags of all countries, and a sausage grill in the main room.

They have achieved a close to authentic biergarten decor by importing antique period-specific Eastern European lighting and decor. There are two indoor rooms, three bars, and a smoker friendly outdoor area with communal tables covered by umbrellas.

Compared to other similar NJ Biergartens, the setting at Pilsener-Haus is more upscale. Food is served on china with silverware, instead of plastic utensils and plates.

There is table service for food and drinks, or patrons can order drinks at the bar, and sausages and sandwiches at one of two grills, then take a seat.

The wait staff is dressed in black shorts, black shirts and red suspenders that resemble Bavarian mountain climbers.

Patrons come here in groups and families with kids, for the festive, beer hall atmosphere.

You can expect everyone to be friendly and willing to join in and talk with you. Everyone is in a good, celebratory mood. On occasion, people can be seen dancing all over ... and sometimes on tables.

In the warmer months there is seating outside in a traditional Biergarten style (long tables where you just sit wherever there's room).

The Pilsener Haus & Biergarten is Kid Friendly

(updated: November, 2016)


How Do We Review (analyze) Restaurants?
New Jersey Leisure Guide strives to provide analytic restaurant reviews .
The methodology used is research, analysis driven --- as opposed to that of a single restaurant critic or a viewer comment posting board.

Data is gathered from our viewers e-mail restaurant comments, Internet research, and professional restaurant critics. The data is sorted, (weeding out the obvious biased, "bone to pick",  and out of consensus comments), analyzed, and the review is created.

Learn More
---