The Perch at Peacock Inn;
A Princeton, NJ Restaurant Review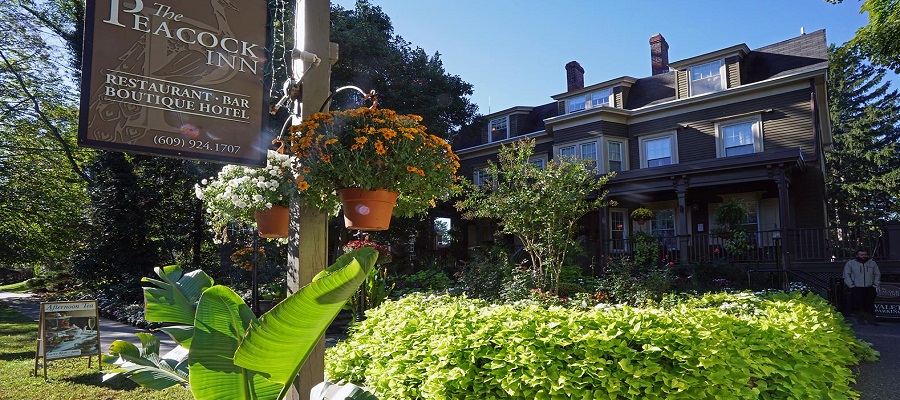 The Perch at Peacock Inn

20 Bayard Lane
Princeton, NJ 08540
Phone: (609) 924-1707
Website
Discover "Old World" Fine Dining at Princeton's The Perch at Peacock Inn
The Perch at Peacock Inn - Restaurant Highlights
Fare: New American

Price: Very Expensive

Food Quality: Well executed menu, creatively presented. Uses high quality food ingredients such as imported items not available in the supermarket, with emphasis on local seasonal farm-to-table produce, wild caught seafood, & meats without the use of antibiotics and growth hormones.

Service: Well trained. Professional, attentive, with a good knowledge of the menu

Decor: "Old World," sophisticated, with a blending of elegance, comfort, and romance.

Overall Rating: 3 Stars - Restaurant Classification: Chef-Inspired Fine Dining  (* Note - See below restaurant classification for details)

Note: Four star Rating System from no stars = poor to Four stars = Best in Class

Noise Level: Low

Dress: Upscale Casual

Recommended For: Diners looking for fine dining with a well-executed healthy menu to celebrate a special occasion or a romantic dining experience.

Not Recommended For: Diners on a limited budget who prefer traditional food in a more family oriented casual setting.

Recommended dishes: When available; The Prime Bone-In Tomahawk (for two) dry-aged, bone-in ribeye, w/ creamed corn, braised collard greens with strawberries, confit marble potatoes with black garlic, house-made steak sauce; The Ora King Salmon sweet corn puree, scarlet runner bean succotash, country ham, fried chanterelles; and The Joyce Farms Petite Tenderloin Steak candy roaster squash, smoked carrot aioli, barbecue squash seeds, crispy marrow, mulled spice demi.

Liquor: Full-service bar with large variety of pricey, high end, domestic and international selection of wines, specialty cocktails, and beers.

Restaurant Review

The Perch at Peacock Inn is set in an Eighteenth-century mansion with a storied history of famed guests including Albert Einstein and F. Scott Fitzgerald.

This is a special occasion restaurant and a power scene for Princeton business and university people. The soft background music and subdued lighting provide an added touch for an elegant fine dining experience.

The Perch at the Peacock inn is run is owned by Genesis Hospitality and is run under the management of Shawn Thomas. Shaun joined The Peacock Inn family in 2018, when he began working as a Front Desk Agent and has since held various management positions of increasing responsibility.

The kitchen is run by Executive chef Alex Van Dyke who oversees a well-executed, limited selection, menu with a commitment to using high quality food ingredients with emphasis on local seasonal farm-to-table produce, wild caught seafood, & meats without the use of antibiotics and growth hormones.

Chef Van Dyke received his formal culinary training at Johnson and Wales University in Rhode Island. He later honed his culinary skills doing an internship at Daniel Boulud's Michelin-starred Restaurant Daniel in New York. Then onto working as sous chef at The Black Bass Hotel in Lumberville, PA, at The Husk in Nashville, Tennessee, and finally as the executive chef at the Yardley Inn in PA, before joining The Perch at Peacock Inn.

The wait staff is well trained. professional, attentive and knowledgeable

The decor is "Old World," sophisticated, with a blending of elegance, comfort, and romance. The restaurant maintains excellent social distancing with tables spaced comfortably apart for quiet conversation.

There are three dining rooms on the main level with a capacity for 90 diners. All dining areas are done up to create an elegant blending of the inn's history with a upscale vibe.

Walls are done up in soft gray adorned by artwork, murals, and menus from the 1930's with large murals mounted above each of the room's original, non-functioning fireplaces. Soft lighting is amply placed in art modern sconces. Tables are well spaced for quiet conversation and for an intimate romantic dining experience.

Dining Room Three (back room) with a seating of 50, has subdued lighting and a burgundy ceiling implanted with tiny LED lights for a "dining under the stars" effect --- great for romantics. Chairs are comfortable and opulent with velvet burgundy seats.

The lower level is home to Peacock Alley, a private room with seating for up to 24 people. It's an intimate space with hand painted murals of sites in Princeton. Peacock Alley is believed to have been a speakeasy during the time of Prohibition that had a hidden side door entrance which now serves as a fire exit.

The bar area has a elegant touch with attractive lighting giving off an urban vibe. It's sophisticated and not loud. There is seating for twelve at the bar in addition to peripheral tables.

During the warmer months there is outdoor dining on the front porch overlooking a beautiful, landscaped entrance garden

They are open five days/week:
Lunch Wed - Fri: 11:30am – 3pm. Brunch Sat & Sun: 10am – 2pm. Dinner Wed & Thurs: 5pm – 9pm Fri & Sat: 5pm – 10pm Sun: 4pm – 9pm

They are open for the winter holidays on Thanksgiving and Christmas Eve.

Updated November 2021

* Description of Restaurant Classification - Chef-Inspired Fine Dining:

"Old World" with sophisticated and romantic décor.
Most expensive. Priced higher to cover the cost of the added amenities.
They are chef driven by chefs with impressive credentials including formal culinary education and skills honed at award winning restaurants.

Committed to high quality food ingredients such as imported items not available in the supermarket, with emphasis on local seasonal farm-to-table produce, wild caught seafood, & meats without the use of antibiotics and growth hormones.
The wait staff is rigorously trained --- professional, knowledgeable, and attentive.
Has an alcohol menu with high end wines and specialty cocktails and with a staff knowledgeable in wine pairings.
Additional amenities include linen and fine China table settings, carpeted flooring, chandeliers, and complimentary sorbets, dessert chocolates, etc.
Patrons tend to be older, more formally dressed, with high incomes.
The most popular upscale restaurants in New Jersey, classified into three categories;
Chef-Inspired Fine Dining, Chef-Inspired Casual Dining, and Contemporary Casual.
learn more about these restaurants and how reviews are created.