October Events: Our Top Picks
To Plan Your Day Out in New Jersey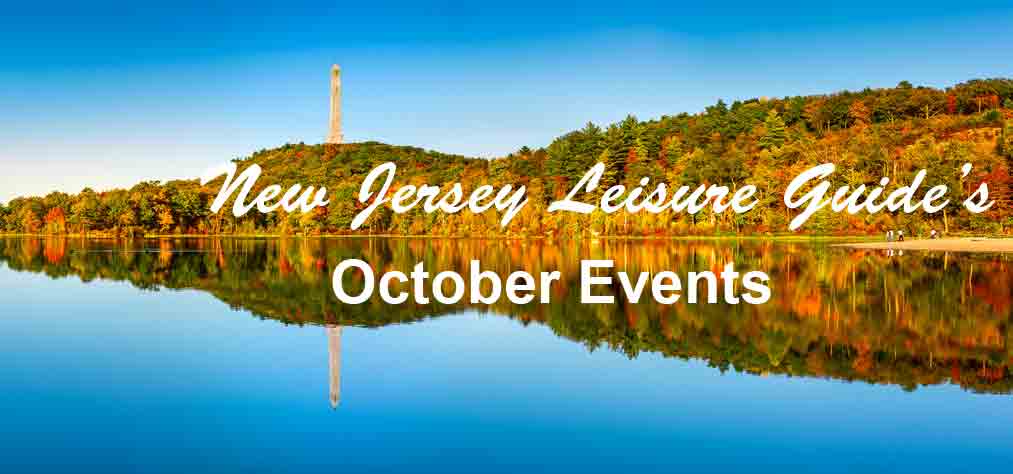 Discover New Jersey's Best October Events: Uncover The Month's Top seasonal attractions, popular events, and hidden gems

The October Events calendar for 2022 is packed with exciting fun. leisure things to do in NJ.

The month of October is a great time of the year to take in many of the fall activities and a great time to plan a weekend getaway or late season vacation.

If you plan to get out an enjoy the beautiful fall foliage colors, especially in northwest New Jersey, the season is at it's peak from October 19th through 29th.
Note: Sometimes conditions require cancellations or changes of dates, times and location which are not reflected in the original schedule. Before planning a trip to visit one of the listed events, it is suggested that you call the event sponsor to confirm the event schedule or for additional information on the event.

Northern NJ October 2022
 Festivals and Themed Events

Jack O' Lantern Experience
The month of October until November 6th, 2022
Skylands Stadium
94 Championship Place
Augusta, NJ 07822
Website/Tickets
Experience Pure Halloween Madness, Skylands Stadium will be transformed with over 6,000+ Jack-O-Lanterns, for an Original 45-minute Walk-Thru Spectacular. Sussex County's Family Entertainment Destination is set ablaze with spectacular visuals, and a thrilling Fall Festival. Perfect for families, date nights, and lovers of Halloween spirit.
JC Harvest Festival
October 1, 2022; 10:00 am - 2:00 pm
Hamilton Park
Jersey City, NJ
Website
This family event features many fun fall festivities including pumpkin decorating, arts & crafts, music, food vendors and more!
NJBG Fall Harvest Fest
October 1, 2022; 10:00 am – 5:00 pm , Rain date: October 2nd
Skylands Manor, NJBG
5 Morris Rd
Ringwood, NJ
Website
Free Admission. Parking $5
This day full of family fun features activities for all ages, including hay rides, craft fair, pumpkin painting, applesauce making, free children's games, an autumn plant sale, and a fairway full of booths and exhibits. A Craft Fair, all day music and dancing, and lots of tasty things to eat will ensure a good time for all. Take one of the free tours, or wander through the Gardens on your own self-guided tour. And don't forget to bring your camera – always plenty of fine photo ops.
Hoboken Fall Arts & Music Festival
Sunday. October 2, 2022: 11am to 6pm
Washington St. bet. Observer Highway & 7th St.
Hoboken, NJ
This family event features 2 stages of live music, displays and sales by artists, crafters, food vendors and local businesses. Activities for children on 3rd St. in the Capital One Bank Parking Lot with rides, games, craft activities and more.
Morristown Fall Festival on the Green
Sunday, October 2, 2022: Noon to 5 pm, rain or shine
Morristown Green
Morristown, NJ
Website
(973) 944-0530
Thid family friendly fun event features entertainment and activities for all ages including four stages with live music, kids place amusements, carnival games and a beer tent.
On Washington Street, Rising Star Stage will showcase two bands, Due South (12 to 2 p.m.) and Shorty Long & The Jersey Horns (3 to 5 p.m.).
Family friendly entertainment can be enjoyed at the Family Stage (Morris Street and Dumont Place) with performers throughout the day including Wallaby Tales (noon to 12:45 p.m.), Polka Dot! (1 to 3 p.m.) and the TropyBand Orquesta (3:30 to 5 p.m.)
The historic Morristown Green Concert on the Green will feature classical favorites by the Stone Soup Symphony Orchestra (noon to 1:30 p.m.) and traditional American tunes by the Morris Plains Community Band & The Swing Tones (2 to 3:30 p.m
Wayne PAL Antiques and Collectibles Show and Vintage Flea Market
October 2, 2022: 9am - 2:30pm
Wayne PAL
1 PAL Drive
Wayne, NJ 07470
Website
Admission -$2, Seniors 65+-$1 and children under 12 are free.
This event features their monthly indoor Antiques and Collectibles show and Vintage Flea Market with over 100 vendors selling a wide variety of antique, vintage and collectible items including vintage jewelry, games, books, sterling silver, glass, model trains, antique dolls, sports memorabilia, and much more.
All proceeds from admission and table rentals go directly to the Wayne PAL to support youth activities and programs.
Fall Harvest Hoedown
Saturday, & Sunday, October 8, 9, 2022
Jacobus Vanderveer House & Museum
3055 River Road
Bedminster, NJ
Website
[email protected]
(908) 396-6053
This annual fall family event features live music performances, family fun activities, House Tours, Mum Sale, Children's crafts, and a Scavenger Hunt.
Remember to bring your lawn chair or blanket!
West Milford Autumn Lights Festival
Saturday October 8, 2022; 10am - 5pm
Union Valley Rd
West Milford, NJ
Website
[email protected]
The Autumn Lights Festival first started 20 years ago as a celebration to West Milford for getting its first traffic light! In the beginning it was just the town gathering on the lawn of Town Hall.
Today it has grown to a street fair that has over 300 vendors, live music, child activities, games and rides. With about 20,000 'ALFers' that visit throughout the day.
Crystal Springs Music Fest
Sunday, October 9, 2022
Crystal Springs Resort
3 Wild Turkey Way
Hamburg, NJ
Website
888) 388-3472
Enjoy live music under the tent by local sensations plus talent from across the U.S. and Latin America. Your favorite drinks, tasty food choices and fun lawn games await in a casual outdoor setting surrounded by spectacular foliage. There will also be food trucks; a full premium bar with themed cocktails, wine and beer; bourbon tastings; and lawn games. street fair that has over 300 vendors, live music, child activities, games and rides. With about 20,000 'ALFers' that visit throughout the day.
This year's featured performers include: Hernan Romero, Elisa & Phil Girlando, Madison Pisano, Kelly & Kyle, Jordan McCants, The Andie Baldwin Band, & The Harrisons
Iron Maiden - Legacy of the Beast World Tour 2022 Fri • Oct 21, 2022 • 7:30 PM Prudential Center, Newark, NJ Ticketmaster.
You also can find seats on secondary market sites like
StubHub and SeatGeek.
The Legacy of the Beast World Tour is an ongoing concert tour by British heavy metal band Iron Maiden, named after the comic and mobile game released by the band in 2017. Described as a "history/hits tour", the concerts and stage design will feature "a number of different but interlocking 'worlds' with a setlist covering a large selection of 80s material with a handful of surprises from later albums."
Mary J. Blige: 2022 Good Morning Gorgeous Tour Sun • Oct 23 • 7:00 PM Prudential Center, Newark, NJ - Ticketmaste
r.
You also can find seats on secondary market sites like
StubHub and SeatGeek.
The Grammy Award winner and Academy Award-nominated singer-songwriter will be joined by special guests Ella Mai and Queen Naija.
The tour — Blige's first since the pandemic — is named after her latest album, released earlier this year during the ramp-up to Blige's heralded Super Bowl halftime performance.
Annual Sussex County Harvest Honey and Garlic Festival
October 29, 2022: 10am - 4pm
Sussex County Fairgrounds
37 Plains Road
Branchville, NJ
Free event
Website
This family festival is a celebration of agritourism, ecotourism and arts & heritage tourism.
The Festival will include local artisans, crafters and vendors plus displays highlighting northern New Jersey's great open spaces and natural history. For kids there'll be a hay ride, pumpkin painting, face painting and crafts.
Central NJ October 2022
Festivals and Themed Events
Sunflower Festival
September 23rd through end of October 2022: 9am to 6pm, 7 days per week
Holland Ridge Farms
86 Rues Road
Cream Ridge, New Jersey 08514
Website/Tickets
Cost: $13 per person aged 3 and up
In the fall, the fields come alive again for the Sunflower Festival. Guests can wander through the towering rows of Sunflower and enjoy the warmth and happiness they inspire. While you are at the farm take the time to stroll through our barns, visit the animals and enjoy some of the charm of Holland in the Good 'ole Days museum and Holland Shop. Learn about Holland in the Hollandwood Theatre and get all your questions about flowers, including how they get their color, from their Pollinator. The Pollinator helps to create the rainbow of color in our fields.
Circus Vazquez: A New Age Traditional Circus Comes to New Jersey
September 30 thru October 10, 2022
Woodbridge Center Lot 250
Woodbridge Center Dr
Woodbridge, NJ
This event features a world class family friendly, animal free, amazing, and entertaining experience with performing artists from around the world performing in a circus style tent equipped with state-of-the-art architecture and technology.

Haunt O'Ween
September 30–October 31, 2022
Bell Works
101 Crawford Corner Roadl
Holmdel, New Jersey
Website/Tickets
Cost: $40/person
This family-friendly Halloween event, after a successful run in Los Angeles, will premiere in New Jersey this Fall.
It will feature carnival rides, trick-or-treating, games, and nine worlds spanning 200,000 square feet. Twenty-five costumed characters will roam the grounds as immersive thematics flooded with interactivity, all built on the foundation of Halloween—trick or treating, pumpkins, costumes, candy for giveaways, and spooky fun.

Hamilton Irish Fest
Friday, Saturday, October 1st, 2nd, 2022: 1 P.M. - 9PM (raindate Sunday, October 3rd)
2419 Kuser Road
Hamilton Square, NJ
Web page
Admission is $5 for adults and children under the age of 15 are free when accompanied by an adult.
This Family friendly event features performances by Justin & Erin Koltenicki's School of Irish Dance a Traditional and Contemporary Irish Dance School. The award-winning Trenton AOH Monsignor Crean Pipes and Drums will also play during the day. Irish bands scheduled to appear include Celtic Connection and The Natterjacks. Music will be continuous from 1:00 pm thru 9:00 pm. Beverages (both alcoholic and non-alcoholic) will be available for purchase throughout the duration of the Festival. Guests are invited to bring lawn chairs and blankets to sit back and enjoy two great days of Irish fun and entertainment.
The Hightstown Fair
Saturday, October 1, 2022: from 10:00am to – 4:00pm. (Rain or Shine)
Downtown Hightstown, NJ
Website
The family event features a fun day filled with artisans and crafters, small businesses, live entertainment, great food, and children's activities.
Live music will be performd by Rag Time Relics & Steve The Band.
North Brunswick 40th Annual Heritage Day
Saturday, October 1, 2022: 3 pm. to 10 pm. (Rain date is Sunday, October 2)
Community Park
2051 Route 130S
North Brunswick Township, NJ
Website
732-247-0922 ext. 475
Free admission
This event features a celebration of New Brunswisk's heritage with live music, food vendors, and a grand finale fireworks display at dusk.
County Seat Jazz & Blues Street Fest
Sunday, October 2nd, 2022; from 12:00 pm – 6:00 pm
Main St.
Downtown, Freehold, NJ
Website - Line-up
This event takes place on West Main Street between Court Street and Throckmorton Street in Downtown Freehold. featuring talented and well-known musicians from the Tri-State Area and beyond. Many vendors are participating with a variety of items from hand rolled cigars being made in front of you to hand crafted jewelry made from sea glass, metal, gem stone, etc. They will also feature vendors with t-shirts, clothing, handmade dog biscuits, soaps, honey & more.
Ocean County Columbus Day Parade & Italian Street Festival
October 7th, 8th, 9th, 2022
On Grant Ave
Seaside Heights, N.J
Website
732-477-6507
Celebrating the Annual Columbus Day Parade and Italian Heritage Festival. A fun filled weekend of food, friends, and Italian Culture.
The Parade will be held on Sunday at 1 pm, on the Boulevard from J Street to Sampson Avenue.
Allentown Fall Festival
Saturday & Sunday, October 8th & 9th, 2022
Main St
Allentown, NJ
Website
This annual family friendly Fall Festival features live music, a craft beer garden, wine tasting, food trucks, classic cars, civil war encampment, craft vendors, and a host of activities for kids.
They will be Showcasing 100% handmade local crafters and artisans. Its also a great time to visit their local specialty shops eateries offering Fall Festival specials.
Central Jersey Beer Festival
Saturday, October 8, 2022; from 12:00 PM to 6:00 PM* (Rain or Shine, Tents will be used in case of inclement weather!)
Mercer County Park Festival Grounds. 
1665 Mercerville-Edinburg Rd
West Windsor, NJ
Website & Tickets
VIP Entry & Tasting beginning at 12PM Food trucks and music until 6PM
This event features over 175 beers, live music, food, and 4 hours of Beer Tasting. Bring a picnic blanket or chairs and friends
New Brunswick's 4th Annual Oktoberfest
October 9, 2022; 12:00 PM - 5:00 PM
Monument Square Park
George St & Livingston Ave
New Brunswick, NJ
732-545-4849
Email:
[email protected]
Website
Free Admission
This Oktoberfest event features a fall celebration of music, food, and community. Enjoy a variety of local and traditional food, craft brews, German beers, and vendors that will keep your interest. Bring your friends and family to enjoy an afternoon of music, games, activities, and so much more! Plus take part in our Stein holding competitions as competitors hold a full one-liter beer stein out in front of their bodies with a straight arm, parallel to the ground, and the last person holding with good form is the winner! Partygoers are encouraged to get into the Oktoberfest spirit by wearing their best dirndl or lederhosen. The music line-up includes a combination of performances of a broad mix for all age groups, including Traditional German music!
Annual Amazing Pumpkin Carve
Wednesday, October 12 to Sunday, October 16, 2022
Woosley Park
221 Washington Crossing-Pennington Road
Hopewell Township, New Jersey
(609) 281-5887
[email protected]
Website/tickets
(Purchase tickets in advance or at the gate during hours of operation)
Walk-thru pricing (Wed + Thurs) $15 for adults $10 for seniors $5 for kids under 18 Kids in strollers are free Drive-thru pricing (Fri, Sat + Sun) $25 per vehicle if before 9/15 (price goes up to $30 afterwards) No oversized vehicles permitted.
This year, the Carve will be a HYBRID – with both "walk-thru" and "drive-thru" viewing days.
"Walk-thru" days are Wednesday and Thursday, where you'll find additional food and entertainment, including the popular fire-pits with storytellers and s'mores.
This family event will feature 35 colossal 125 pound pumpkins will be carved and electrified by the area's most talented artists and displayed in a beautifully illuminated drive-thru all from the comfort and safety of your vehicle!
Flip Circus
October 13th thru 17th, 2022
Freehold Raceway Mall
3710 U.S. 9
Freehold, NJ
Tickets
Cost: $25.00 - $65.00
Under an enormous red and white circus tent, this animal free circus features great international jugglers, acrobats, aerialists, motorcycles inside the Globe of Steeal, and gleeful Clowns
Night of Frights
October 14, 15, 20, 21, 2022
Historic Village at Allaire
Blacksmith Shop
4263 Atlantic Avenue
Wall Township, NJ 07727
Tickets
Cost: Adult $15, Child $10
Enjoy the village grounds and historic buildings from the 18th and 19th centuries...visit with our ghosts, ghouls, and monsters. Storytelling at the Chapel; a special night out at the Blacksmith Shop; the Manager's House with fortune-telling for your entertainment; Mr. Allaire's Macabre House; the Carriage House with legendary spirits; the towering four story shadows of the General Store stocked with seasonal goods; and don't forget treats at the Bakery plus our very own Haunted Food Truck! In the dark of the night, from woods to historic homes, the Historic Village at Allaire takes on a twist for the Halloween season. Costumed ghouls, Glow In The Dark Bubble Witch Show, & Fire Juggler. All with varied activities we welcome children, families, and adults of all ages
Annual Boo Brew By The Bay
Saturday, October 15th, 2022; 1-5PM( Rain date October 16th)
The Seafarer
1 Atlantic St
Highlands, NJ
Website/Tickets
The tasting takes place on the picturesque waterfront of the Shrewsbury River. Tickets are $35.00 and include seven 4oz. tastings and a pint of craft beer in a commemorative pilsner cup. Additional tastings can be purchased at the event for $3. Live music, a costume contest, fire pits and great food. st New Jersey Beer Festivals
Hamilton Oktoberfest
Sunday, October 16th 2022, 11am - 5:30pm; Rain Date Sunday, October 24th
Veterans Park,
2306 Kuser Rd
Hamilton Township, NJ
Website
A family Oktoberfest celebration with many family oriented activeities. Note: Alcoholic beverages will not be served at, nor permitted at, this event. This family event features, Amusements, Pumpkin Patch, Hay Rides, Corn Maze, Crafters, fire pits, and a Jack 'O Lantern Carving Contest.
Lambertville Halloween Film Festival
October 20 - 23, 2022
25 South Union Street
Lambertville, NJ
Website
215-534-0170
[email protected]
Event Cost: General Admission: $10.00
Welcome to the first annual Lambertville Halloween Film Festival! In addition to showcasing filmmakers and other talented artists, the goal of this year's festival is to give you an unforgettable Halloween experience. This year's festival spans 4 days of events, including a masquerade party, a selection of creepy thrillers and horror films, a demonstration of Hollywood monster makeup by SFX artist Bec Johnson, and a Ghost Tour. At the film festival, the best of the best will be awarded a Golden Pumpkin. As an audience member, you have the power to make sure your favorite receives the Audience Selection Award!
Annual Oktoberfest in Highlands
Saturday, October 22, 2022; 12pm - 7pm (rain date October 23rd)
Veterans Park
Bay and Shrewsbury Ave
Highlands, NJ
732 - 291- 4713
Website
Admission and Parking is free.
Modeled on the traditional Munich, Germany Oktoberfest with an emphasis on eating; drinking and being merry while providing something for everyone. Authentic German food, children's activities, crafters, live music. Oompa Bands & Dancers, and other great entertainment.
1830s All Hallow's Eve Celebration

Saturday, October 29, 2022; 11:00 AM – 4:00 PM
The Historic Village at Allaire
4263 Atlantic Avenue
Wall Township, NJ
Tickets
Cost: $10 Adults, $4 Children (age 4-12)
Step back in time and celebrate Halloween with our villagers as they would have in the 19th century! Learn about Halloween's long rich history and the origin of the traditions we know of today!
Participate in the "Allaire Scare Pumpkin Dare" - a carved pumpkin contest! Contestants need to have a pre-purchased ticket for All Hallow's Eve and bring a carved pumpkin to the Event (Day Of) where it will be entered into a "scare" category and judged! Winner gets a trophy and a gift bag.
Hunterdon Harvest Fest
Saturday, October 29, 2022: 12:00 PM - 8:00 PM (Rain Date - Sunday, October 30th, 2022)
Lone Eagle Brewing
Stangl Road (Enter via Route 12 and park at Liberty Village)
Flemington, NJ
Website
Cost: FREE
This event features harvest celebration of our local businesses, farms, and breweries with New Jersey Craft Breweries, live music, farm to festival local foods, craft beer & games for all ages! Bring your own chair.
Southern NJ October 2022
Festivals and Themed Events
An Olde Time Italian Festival
Friday, Saturday, September 30th & October 1st, 2022
Fox Park at Ocean Avenue
between Burk and Montgomery Avenues
Wildwood
609.729.7499
Website
An 'Old World' family festival featuring a Procession of the Saints, delicious Italian food favorites, merchandise vendors, games, and continuous FREE live entertainment. A grape stomping contest and Italian Folk dancing will take place as well.
Friday night live entertainment features Vito Picone & The Elegants ("Little Star"), Zach Taglioli, Angelo Capone, and more.
Saturday night entertainment features Tommy C., The Voice of Tribute, Lou Christie, King Arthur, Just In Time, Purple Reign, and Anthony Bucci
Annual Cranberry Fest
October 1st & 2nd, 2022
Downtown Bordentown, Farnsworth Ave.
Bordentown, NJ
609-414-0828
Website
This family event features live music. a beer garden. "Family Friendly" Kids Zone, and over 175 artists and artisans, crafters and makers in offering one of a kind, handmade, vintage, and upcycled treats to nourish both the heart and the home.

Giant Pumpkin Carve & Pumpkin Pageant

Saturday, October 1st, 2022, 4:00pm until 9:00pm
Salem County Fair Grounds
Route 40
Pilesgrove Township, NJ
Website
(856) 935-3663
The annual autumn event is fun family to welcome fall. More than 60 giant pumpkins will be carved by professional, amateur and student artists and showcased for public viewing and judging.  Look forward to loads of fun for all ages: hayrides, music, crafts, costume pageant, games, vendors, wine tasting and more!
Proceeds from this event will benefit Meals on Wheels of Salem County.
LBI's Annual Chowderfest
Saturday, October 1, 2022: rain date on Sunday
Taylor Avenue ball field, Ninth Street and Taylor Avenue
(across from Schooner's Wharf and Bay Village)
Beach Haven, NJ
Website/Schedule
Chowderfest has become a tradition for family and friends to gather together to say good bye to summer and welcome the fall.
Celebrate with vendors, brews on tap, live music lineup, and ChowderMonth champion announcements in Beach Haven! The Festival will be a non-tasting event.
Fun for the whole family, and pet-friendly. This is a non-tasting event, meaning no tastings will be occurring. All chowder is for purchase on the Chowder Trail. Select participating restaurants will be at the event selling their chowder along with other menu items.
Bring a chair and enjoy the live music

Annual WheatonArts Festival of Fine Craft
October 1, & 2, 2022
WheatonArts & Cultural Center
1501 Glasstown Road
Millville, NJ 08332
Website
Admission: $12.00 Adults $11.00 Senior Adults (62+) $7.00 Students Children 5 & under are free
This two day family event features an art and shopping experience for the entire family with over 150 artists and craftspeople that will present and sell traditional and contemporary works. A highlight is the WheatonArts Annual Glass Pumpkin Patch with over 7,000 Glass pumpkins of all shapes, sizes, and colors on display and available for purchase. Other things to experience include live music, a beer and wine garden, and children's activities
The WheatonArts Center, with a history dating back to 1888, began as a glass factory making pharmaceutical bottles, and later in 1970 as a glass museum when the first buildings at opened to the public. Today the complex of 18 buidings is spread over 45 acres. The Museum of American Glass houses over 22,000 objects, both historic and contemporary. The fully operational Glass Studio presents daily, interpretive demonstrations for the public with artists showing traditional and contemporary glassblowing techniques. In the Artist Studios, artists demonstrate the traditional southern New Jersey crafts of pottery and flameworking.

Annual LBI FLY International Kite Festival
October 6, 7, 8, 9, 2022
Ship Bottom
Long Beach Island, NJ 08008
609-361-3395
Website
The event features a weekend with brilliant colorful artist design kites, fun flying giant inflatable kites and the amazing show of sport kiting to our beautiful island. Many of these fliers are invited guests in prestigious festivals around the world. This free and cross-generational event will yield even more spectacular and unusual kites this year – as well as displayed at local galleries prior to the festival.

Submersion Festival
October 6, 7, 8, 2022
Paradise Lakes Campground
500 Paradise Dr.
Hammonton, NJ
Website/Tickets
Cost: Must be 21+. Admission - Early Entry: $50 - 2 Day GA Festival Pass: $150 - Car Camping: $60 - RV $600 (Each RV pass includes four (4) Early Entry passes)
This 2-day (with a pre-party on Thursday) camping music festival in the Pine Barrens features two unique stages offering sounds of all tempos, flavors and styles with a little something for everyone regardless of where you land on the electronic music spectrum. The music runs on both stages from 6:45PM - 4:00AM. Music begins as early as 12:30 PM on Friday & Saturday and runs until Sunrise.

Annual Pine Barrens Jamboree at Wells Mills Park
Saturday, October 8th, 2022; 10am - 4:30pm (rain or shine)
Wells Mills County Park
905 Wells Mills Rd, Rt. 532
Waretown, NJ
Website
609- 971-3085
Parking and admission FREE
This annual event features a fun filled day of music of the pines, cultural demonstrations, traditional crafts, nature and history programs. Attendees will sit under the big tent and enjoy a fun filled day of county, bluegrass and traditional music.

Atlantic City Comedy Festival
Saturday, Sunday, October 8 & 9, 2022
Jim Whelan Boardwalk Hall
2301 Boardwalk
Atlantic City, NJ
The Atlantic City Comedy Festival features two days of hilarious entertainment. There are a total of 2 shows, with one show each day.
Each show typically features 5, and sometimes more, comedians each day.

Berlin's Annual Fall Festival
Saturday, October 8, 2022; 10 a.m.-4 p.m.
Berlin Park,
43 S Park Drive,
Berlin, NJ
856-767-7777
Website
[email protected]
Free event
This event features a Mutt Strut dog costume parade, pumpkin painting, a car show, food merchants and, of course, the beer garden.

Fall Block Party and Fireworks Spectacular
Saturday, October 8, 2022: 9:00 AM - 5:00 PM
from 5th – 14th Streets on Asbury Ave.
Ocean City, NJ
Website
information, call 1-800-BEACH-NJ
This annual family event features over 400 crafters, food vendors, music, and more. In the evening, fireworks over the boardwalk from 6th Street – 14th Street.

Lima Bean Festival
Saturday, October 8, 2022, 9:00am - 4:00pm
Wilbraham Park
Perry Street
West Cape May, NJ
609-884-9325
Website
The lowly legume takes center stage delighting locals and visitors alike with her vast array of recipes, crafts and products available. Come out and celebrate West Cape May's farming heritage with lima bean soup, tacos, salad, jewelry, T-shirts and more! Enjoy great food, quality vendors, antiques, crafts, entertainment and fun.

New Jersey Bacon Fest
Saturday and Sunday, October 8th and 9th, 2022
Flying W Airport
60 Fostertown Road
Medford, NJ
Website
This event features bacon, food trucks, beer, bourbon, wine, swine, and more. It includes all kinds of bacon purveyors — including some outstanding food trucks with an emphasis on bacon. In addition to the food trucks, Bacon Fest will have a bacon Bloody Mary bar, craft and local beers, a wine and bourbon bar, kid's activities, and live music on two big stages with local bands performing.

The South Jersey Celtic Festival
Saturday, Octobr 8, 2022: 10:30 am to 6:30 pm
Liberty Lake
1195 Florence Columbus Road
Bordentown, NJ
Website/Tickets
This family & dog friendly event features Highland Games, Live Irish and Celtic Music, Pipers and Dancers, Craft Beer, Mead, Wine, & Whiskey Tastings, Food Trucks, Merchants, Games & Fun.
The Whiskey Tastings at 1:30 pm and 4 pm @ $35 per person, is an enjoyable activity where attendees can learn the fine art of whiskey tasting and the differences between types of whiskeys.

South Jersey Pumpkin Show
October 8. 9, 2022; Saturday 10am to 8pm and Sunday, 10am to 5pm.
Salem County Fairgrounds
735 Harding Highway
Woodstown, NJ 08098
Web Site
856-765-0118, Email: [email protected]
This festival features three- days of family fun with contests, artists, craftsmen, home products, a pumpkin pyramid, entertainment, food, wine, amusement rides, a Giant Pumpkin Weigh Off, headless horsemen, scarecrows, Little Miss & Mister Pageant, dog parade, Boo Barn and more.

The Wildwoods Food & Music Festival
Sunday, October 9, 2022; 11 a.m. - 7 p.m.
Atlantic Avenue
between Wildwood and Schellenger Avenues
Wildwood, NJ
609-729-4000 
 Website
Free Admission
This family festival will feature 2 stages of live music plus crafters, food vendors, games, a pie eating contest and much more! A "Kids Korner" with activities including pumpkin painting, crab hat making and inflatable bounce house.

Annual Chatsworth Cranberry Festival
October 15th & 16th, 2022
Downtown Chatsworth, NJ
Website
This family event features a juried craft show with over 150 vendors, 15 food vendors, and live music.​

New Jersey Oyster Festival
Saturday, October 15, 2022
2800 High Street
Port Norris, NJ 083
856-785-2060
Tickets
Cost: $25 per person and includes a commemorative wine or beer glass and a sampling of oysters
This event features local oyster purveyors will be here with their oysters. Taste them all and vote for you favorite for the People's Choice Award!
If you're more surf than turf, they will have local food trucks serving delicious choices for you.
The activities and vendors include:
Shucking Contest! Vendors! Brewing companies! Wine! Silent Auction! Special Speakers!
Live music performed by the Shellback Buoys and The Rob Roy Duo

PAWS Farm Fall Festival & Cornhole Tournament
Saturday, October 15th, 2022 (rain date: October 16th)
1105 Hainesport Mt. Laurel Rd.
Mt Laurel, NJ
Website
Cost: $10 Adult, $7 ages 2-13 yrs, FREE for children under 2 yrs.
This family, fun event features children's activities, farm animals, animal programs, pumpkin decorating, fun in the Dairy Barn, Craft Fair, Cornhole Tournament, plus food trucks and live music by Elaine & the Cimarron Sky Band.
Proceeds from this event will benefit PAWS Farm, Inc. a non-profit (501c3) organization.





Tickets to Popular New Jersey
Concerts, Shows, & Sports Events
Tickets to NJPAC Newark Concerts & Shows
Tickets to Prudential Center Concerts & Sports Events

Tickets to Atlantic City Concerts & Sports Events

Tickets to MetLife Stadium Concerts & Sports Events
Note: All of our ticket partners are legitimate, official, recommended ticket sellers and guaranteed to sell you official tickets.
Affiliate Disclosure: Many of the links on this page are affiliate links, meaning if you click through them and buy tickets, I receive a commission at no cost to you. This money helps support my site, and I do my best to use the profits to provide you with as much detail and free information about New Jersey leisure activities as I am able.