October Events: Our Top Picks
To Plan Your Day Out in New Jersey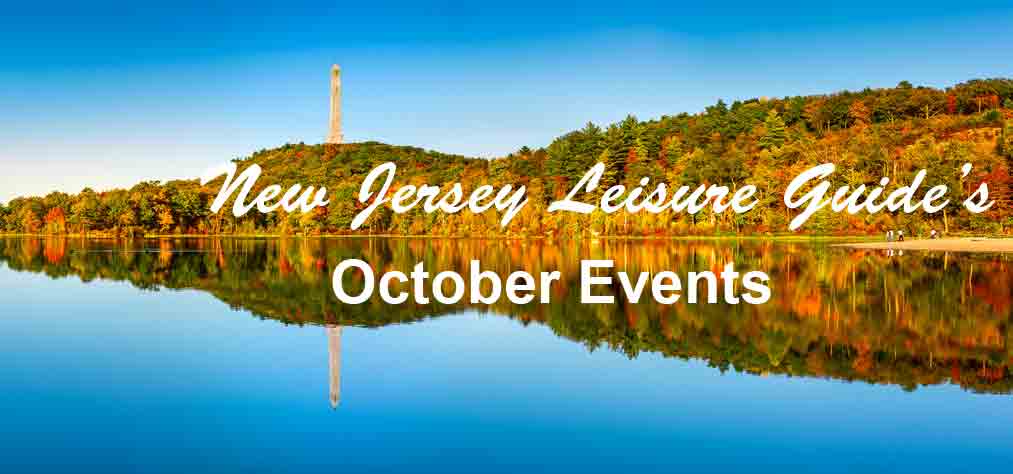 Discover New Jersey's Best October Events: Uncover The Month's Top seasonal attractions, popular events, and hidden gems

The October Events calendar for 2023 is packed with exciting fun. leisure things to do in NJ.

The month of October is a great time of the year to take in many of the fall activities and a great time to plan a weekend getaway or late season vacation.

If you plan to get out an enjoy the beautiful fall foliage colors, especially in northwest New Jersey, the season is at it's peak from October 19th through 29th.
Note: Sometimes conditions require cancellations or changes of dates, times and location which are not reflected in the original schedule. Before planning a trip to visit one of the listed events, it is suggested that you call the event sponsor to confirm the event schedule or for additional information on the event.

Northern NJ October 2023
 Festivals and Themed Events

Jack O' Lantern Experience
The month of October until November 5th, 2023
Skylands Stadium
94 Championship Place
Augusta, NJ 07822
Website/Tickets
Experience Pure Halloween Madness, Skylands Stadium will be transformed with over 6,000+ Jack-O-Lanterns, for an Original 45-minute Walk-Thru Spectacular. Sussex County's Family Entertainment Destination is set ablaze with spectacular visuals, and a thrilling Fall Festival. Perfect for families, date nights, and lovers of Halloween spirit.
Hoboken Fall Arts & Music Festival
Sunday. October 1, 2023: 11am to 6pm
Washington St. bet. Observer Highway & 7th St.
Hoboken, NJ
Website
This family event features 2 stages of live music, displays and sales by artists, crafters, food vendors and local businesses. Activities for children on 3rd St. in the Capital One Bank Parking Lot with rides, games, craft activities and more.
Crystal Springs Music Fest
Saturday, October 7, 2023 (Rain Date: Saturday, October 15th
Crystal Springs Resort
3 Wild Turkey Way
Hamburg, NJ
Website
Cost: Adults 18 and over: $65, Ages 4 - 17: $20, 3 & Under: Free
Admission (Fee covers festival entry and all activities. Food and drink is available a la carte)
The event features musical performances in a bucolic mountain setting at #NJsFavoriteResort.  Admission includes access to all entertainment and fall themed activities.  Tasty food & beverage will be available for purchase onsite from the Crystal Springs culinary team as well as a variety of food trucks. 
Oktoberfest at Turkey Brook Park
Saturday, October 7, 2023; Noon - 9pm
Turkey Brook Park
30 Flanders Road
Flanders, NJ
Website
(973) 426-7263
Cost: $5 per person ages 18+ / 17 & Under FREE
This family event features live music, food & Brew. Budd Lake First Aid & Rescue will be selling beer as a fundraiser. For kids there will be Inflatable Slide & Obstacle, Pony Rides, Connect 4, Flying Chickens, Corn Hole, Yatzee, Jenga & Axe Throwing for the Adults
Mountain Express will be playing from 12pm - 9pm. Edelweiss-Passiac Dancers will be performing throughout the day.
Attendees are urged to bring Chairs, blankets & a smile! There will be seating under the pavillion An ATM will be onsite under the pavillion.
West Milford Autumn Lights Festival
Saturday, October 7th, 2023; 10am - 5pm
1 Marshall Hill Rd
West Milford, NJ
Website
[email protected]
he Autumn Lights Festival first started 27 years ago as a celebration of West Milford getting its first traffic light! In the beginning, it was just the town gathering on the lawn of Town Hall. Today it has grown to one of North Jersey's largest street fairs that have over 300 vendors, live music, child activities, games, and rides with about 30,000+ 'ALFers' that visit throughout the day!
The Reunion Tour: Kirk Franklin, Tye Tribbett, The Clark Sisters, David and Tamela Mann & Israel Houghton: Sunday, October 15, 2023 Prudential Center, Newark, NJ - Ticketmaster
You also can find seats on secondary market sites like
Stub Hub
Annual Sussex County Harvest Honey and Garlic Festival
October 21, 2023: 10am - 4pm
Sussex County Fairgrounds
37 Plains Road
Branchville, NJ
Free event
Website
This family festival is a celebration of agritourism, ecotourism and arts & heritage tourism.
The Festival will include local artisans, crafters and vendors plus displays highlighting northern New Jersey's great open spaces and natural history. For kids there'll be a hay ride, pumpkin painting, face painting and crafts.
Central NJ October 2023
Festivals and Themed Events
Happy Day Farm - Fall Festival
Weekends September 9th - October 29th, 2023: 10am - 5pm
Happy Day Farm
106 Iron Ore Rd
Manalapan Township, NJ
Website/Tickets
Cost: Tickets are required to enter all areas of the farm, Fri - Sun ($27 per person, includes NJ sales tax).
This popular fall event features over 35 family activities including tractor rides, a sunflower maze, pig races, a kid-friendly feeding zoo, a fun slide for thrill-seekers, and more!

Fall Flower Festival
September 15th through October 15th, 2023: 9am to 6pm, 7 days per week
Holland Ridge Farms
86 Rues Road
Cream Ridge, New Jersey 08514
Website/Tickets
Cost: $20 per person aged 3 and up
In the fall, the fields come alive again for the Fall Flower Festival. Guests can wander through the towering rows of flower fields bursting with colorful blooms including cheerful sunflowers, majestic gladiolus, elegant calla lilies, dazzling dahlias, and more. Pick your own for just $1 per stem and create the most beautiful bouquets to take home with you.. While you are at the farm take the time to stroll through our barns, visit the animals and enjoy some of the charm of Holland in the Good 'ole Days museum and Holland Shop. Learn about Holland in the Hollandwood Theatre and get all your questions about flowers, including how they get their color, from their Pollinator. The Pollinator helps to create the rainbow of color in our fields.
The Hightstown Fair
Saturday, October 7th, 2023: from 10:00am to 4:00pm. (Rain or Shine)
Downtown Hightstown, NJ
Website
The family event features a fun day filled with artisans and crafters, small businesses, live entertainment, great food, and children's activities.
Ocean County Columbus Day Parade & Italian Street Festival
October 6th,7th, 8th, 2023
On Grant Ave
Seaside Heights, N.J
Website
732-477-6507
Celebrating the Annual Columbus Day Parade and Italian Heritage Festival. A fun filled weekend of food, friends, and Italian Culture.
The Parade will be held on Sunday at 1 pm, on the Boulevard from J Street to Sampson Avenue.
Annual Oktoberfest in Highlands
Saturday, October 7th, 2023; 12pm - 7pm (rain date October 8th)
Veterans Park
Bay and Shrewsbury Ave
Highlands
732 - 291- 4713
Website
Admission and Parking is free.
Modeled on the traditional Munich, Germany Oktoberfest with an emphasis on eating; drinking and being merry while providing something for everyone. Authentic German food, children's activities, crafters, live music. Oompa Bands & Dancers, stein holding competition, costume contests, and other great entertainment.
Pretty Woman - The Musical; October 7, 8, 2023, State Theatre - New Jersey, New Brunswick, NJ - Ticketmaste
r
Asbury Park Zombie Walk and Undead Festival!

Saturday, October 7, 2023; 1pm - 6pm
Asbury Park Boardwalk
Asbury Park, NJ
Website/Event details
The New Jersey Zombie Walk is dedicated to all things horror and zombie. The undead outbreak was born in Asbury Park in 2008, and every year since the zombie horde has increased in size, rocketing the event further and further towards a total citywide takeover. Prior to 2014 when the Zombie Pub Crawl in Minneapolis, Minnesota, USA, with over 15,000 zombies was listed by the Guinness Book of World records for the "largest gathering of zombies", the Asbury Park Zombie Walk with over 10,000 held that record.
A Zombie Walk is an organized gathering of people who dress up in zombie costumes and then converge quickly in a public area for surprise and fun. Walks usually in urban areas such as shopping malls or town squares. Participants arrive at a pre-determined time (often at a hidden location) and then emerge as a group to creep in a somewhat orderly fashion through shocked and amused crowds, towards a final destination (usually a cemetery, club, bar or after party).
Somerset County's Journey Through The Past
October 7, 8, 2023; 12pm - 4pm
20 Grove Street
Somerville, New Jersey 08876
Website/Historic Sites/Activities
Event Cost: Free
Make a vibrant connection to history at Somerset County's 18th annual Journey Through the Past! Bring the whole family as you explore the vast history of Somerset County and discover what life was like 50, 100, or even 200 years ago!
30 historic sites throughout Somerset County will be open free to the public on Saturday, October 7th, 2023 from 10:00AM-5:00PM and on Sunday, October 8th, 2023 from 12:00PM-4:00PM.
Annual Amazing Pumpkin Carve
Wednesday, October 11 to Sunday, October 15, 2023
Woosley Park
221 Washington Crossing-Pennington Road
Hopewell Township, New Jersey
(609) 281-5887
[email protected]
Website
This event is an old-time festival with expanded activities – including live music, fire pits with storytelling, games, face painting…and of course, the outrageously carved giant pumpkins.
Night of Frights
October 13, 14, 20, 21, 2023
Historic Village at Allaire
Blacksmith Shop
4263 Atlantic Avenue
Wall Township, NJ 07727
Tickets
Cost: Adult $20, Child $12
Enjoy the village grounds and historic buildings from the 18th and 19th centuries...visit with our ghosts, ghouls, and monsters. Storytelling at the Chapel; a special night out at the Blacksmith Shop; the Manager's House with fortune-telling for your entertainment; Mr. Allaire's Macabre House; the Carriage House with legendary spirits; the towering four story shadows of the General Store stocked with seasonal goods; and don't forget treats at the Bakery plus our very own Haunted Food Truck! In the dark of the night, from woods to historic homes, the Historic Village at Allaire takes on a twist for the Halloween season. Costumed ghouls, Glow In The Dark Bubble Witch Show, & Fire Juggler. All with varied activities we welcome children, families, and adults of all ages.
Allentown Fall Festival
Saturday & Sunday, October 14h & 15th, 2023
Main St
Allentown, NJ
Website
This annual family friendly Fall Festival features live music, a craft beer garden, wine tasting, food trucks, classic cars, civil war encampment, craft vendors, and a host of activities for kids.
They will be Showcasing 100% handmade local crafters and artisans. Its also a great time to visit their local specialty shops eateries offering Fall Festival specials.
Central Jersey Beer Festival
Saturday, October 14, 2023; from 12:00 PM to 6:00 PM* (Rain or Shine, Tents will be used in case of inclement weather!)
Mercer County Park Festival Grounds. 
1665 Mercerville-Edinburg Rd
West Windsor, NJ
Website & Tickets
VIP Entry & Tasting beginning at 12PM with Food trucks and music until 6PM
This event features over 175 beers, live music, food, and 4 hours of Beer Tasting. Bring a picnic blanket or chairs and friends and spread out on the grass in the park.
Portion of funds support Local 501C3 Non-profit charities.
Hopewell Valley Oktoberfest
Saturday, October 14, 2023: 4 - 10pm
Trenton Cyrus Lodge
131 Burd Street
Pennington, NJ
Tickets
Cost: Adlults $25 - $50. Under 21 $25. Kids 12 years old and younger Free.
This celebration features a live band, beer on tap, pig roast, cornhole, pumpkin carving, and more.
his family-friendly event is open to all. There will be a live band, corn hole games, pumpkin painting, door prizes, BBQ and pig roast, several beers on tap, wine, and soft drinks. The BBQ is so good you'll be telling all your friends you found the best kept secret! There are several ticket options this year, to make the event even more accessible to the community.
Annual Boo Brew By The Bay
Saturday, October 21st, 2023; 1-5PM( Rain date October 22nd)
The Seafarer
1 Atlantic St
Highlands, NJ
Website/Tickets
The tasting takes place on the picturesque waterfront of the Shrewsbury River. Tickets are $40 and include seven 4oz. tastings and a pint of craft beer in a commemorative pilsner cup. Additional tastings can be purchased at the event for $3. Live music, a costume contest, fire pits and great food. st New Jersey Beer Festivals.
1830s All Hallow's Eve Celebration

Saturday, October 28, 2023; 11:00 AM - 4:00 PM
The Historic Village at Allaire
4263 Atlantic Avenue
Wall Township, NJ
Tickets
Cost: $10 Adults, $4 Children (age 4-12)
Step back in time and celebrate Halloween with our villagers as they would have in the 19th century! Learn about Halloween's long rich history and the origin of the traditions we know of today!
Participate in the "Allaire Scare Pumpkin Dare" - a carved pumpkin contest! Contestants need to have a pre-purchased ticket for All Hallow's Eve and bring a carved pumpkin to the Event (Day Of) where it will be entered into a "scare" category and judged! Winner gets a trophy and a gift bag.
Lambertville Halloween Film Festival
October 27 - 29, 2023
25 South Union Street
Lambertville, NJ
Website
(609) 483-5237
[email protected]
Welcome to the first annual Lambertville Halloween Film Festival! In addition to showcasing filmmakers and other talented artists, the goal of this year's festival is to give you an unforgettable Halloween experience. This year's festival spans 4 days of events, including a masquerade party, a selection of creepy thrillers and horror films, a demonstration of Hollywood monster makeup by SFX artist Bec Johnson, and a Ghost Tour. At the film festival, the best of the best will be awarded a Golden Pumpkin. As an audience member, you have the power to make sure your favorite receives the Audience Selection Award!





Southern NJ October 2023
Festivals and Themed Events
Diggerfest Fall Festival
Selected dates: September 23rd - November 26th, 2023
Diggerland USA
100 Pinedge Dr
West Berlin, NJ
Website/Tickets
Cost: $42.95
This family event at a top south NJ construction-themed park features an opportintiy for kids to ride & operate all of the amazing construction machines. There will also be live music, specialty food, hay rides, fun and games, hay rides, a petting zoo, a corn maze, fire truck rides, and more!.

Annual LBI FLY International Kite Festival
October 6 - 8, 2023
Ship Bottom
Long Beach Island, NJ 08008
609-361-3395
Website
The event features a weekend with brilliant colorful artist design kites, fun flying giant inflatable kites and the amazing show of sport kiting to our beautiful island. Many of these fliers are invited guests in prestigious festivals around the world. This free and cross-generational event will yield even more spectacular and unusual kites this year as well as displayed at local galleries prior to the festival.
South Jersey Pumpkin Show and Carve
October 6, 7, 8, 2023
Salem County Fairgrounds
735 Harding Hwy
Woodstown, NJ
Web Site

In addition to the giant pumpkins for the pumpkin carve on Friday night, this family event features live music, rides, hay rides, food vendors, crafters, free kids PG haunted house, free kids zone, pumpkin patch picking, and much more!
Annual Cranberry Fest
October 7th & 8th, 2023
Downtown Bordentown, Farnsworth Ave.
Bordentown, NJ
609-414-0828
Website
This family event features live music. a beer garden. "Family Friendly" Kids Zone, and over 175 artists and artisans, crafters and makers in offering one of a kind, handmade, vintage, and upcycled treats to nourish both the heart and the home.
Ocean City Fall Block Party and Fireworks Spectacular
Saturday, October 7, 2023: 9:00 AM - 9:00 PM
from 5th - 14th Streets on Asbury Ave.
Ocean City, NJ
Website
information, call 1-800-BEACH-NJ
This annual family event is blockbuster fall festival features over 400 crafters, food vendors, music, and more. In the evening, fireworks over the boardwalk from 6th Street - 14th Street
.

This annual tradition is one of New Jersey's most popular fall events.
Festival of Fine Craft
October 7th, & 8th, 2023; 10am - 5pmRain or Shine
WheatonArts
1000 Village Drive
Millville, NJ
Website
Cost: $12.00 Adults $11.00 Senior Adults (62+) $7.00 Students Children 5 & under are free.
This even features two-days with a diverse collection of 150 artists exhibiting and selling their handcrafted works of art. Experience unique crafting demonstrations, relax in the Beer & Wine Garden*, and create with hands-on family art activities. Listen to live music in the food court with a selection of gourmet food vendors and specialty food trucks.


Travis Tritt; Saturday, October 7, 2023, Caesars Atlantic City, Atlantic City, NJ - Ticketmaster

Berlin's Annual Fall Festival
Saturday, October 14th, 2023; 10 AM - 4 PM (rain date Oct 15th)
Berlin Boro County Park
43 S Park Drive,
Berlin, NJ
856-767-7777
Website
[email protected]
.
Free event
This event features a Mutt Strut dog costume parade, pumpkin painting, a car show, food merchants and, of course, the beer garden.
Italian American Festival & Car Show
Saturday, October 14th, 2023 @ 11:00 am - 4:00 pm
Cooper River Park
5300 North Park Drive
Pennsauken, NJ
Website
This event features Italian Cars, Italian Food, Local Wine Tasting and Craft Beer Garden, Musical Acts and Entertainment, and Activities for Kids For more information and Car Registration, visit sonsofitalynj.org
Annual Pine Barrens Jamboree at Wells Mills Park
Saturday, October 14th, 2023; 10am - 4:30pm (rain or shine)
905 Wells Mills Rd,
Waretown, NJ
Website
Parking and admission FREE
This annual family event features a fun filled day of music of the pines, cultural demonstrations, traditional crafts, & Crafts, Kids Crafts and Games, nature and history programs. Attendees will sit under the big tent and enjoy a fun filled day of county, bluegrass and traditional music presented by the musicians from Albert Music Hall.
Smithville Irish Festival
Saturday & Sunday, October 14, 15, 2023
Historic Smithville
1 North New York Rd
Smithville, NJ
Website
Featuring live entertainment, Irish crafters, Irish food vendors, and a kiddie area with face painting, sand art, pony rides and more. Bring a chair, sit and joy the music and great food.
Live entertainment includes Celtic dancers, the Sandpipers Pipe & Drum Band, and two stages of live music ranging from traditional Irish folk music to modern American-Celtic rock.


Annual Chatsworth Cranberry Festival
October 21st & 22nd, 2023
Downtown Chatsworth, NJ
Website
This family event features a juried craft show with over 150 vendors, 15 food vendors, and live music.
Tickets to Popular New Jersey
Concerts, Shows, & Sports Events
Tickets to NJPAC Newark Concerts & Shows
Tickets to Prudential Center Concerts & Sports Events

Tickets to Atlantic City Concerts & Sports Events

Tickets to MetLife Stadium Concerts & Sports Events
Note: All of our ticket partners are legitimate, official, recommended ticket sellers and guaranteed to sell you official tickets.
Affiliate Disclosure: Many of the links on this page are affiliate links, meaning if you click through them and buy tickets, I receive a commission at no cost to you. This money helps support my site, and I do my best to use the profits to provide you with as much detail and free information about New Jersey leisure activities as I am able.