Nunzio Ristorante Rustico, Collingswood, NJ:
A Restaurant Review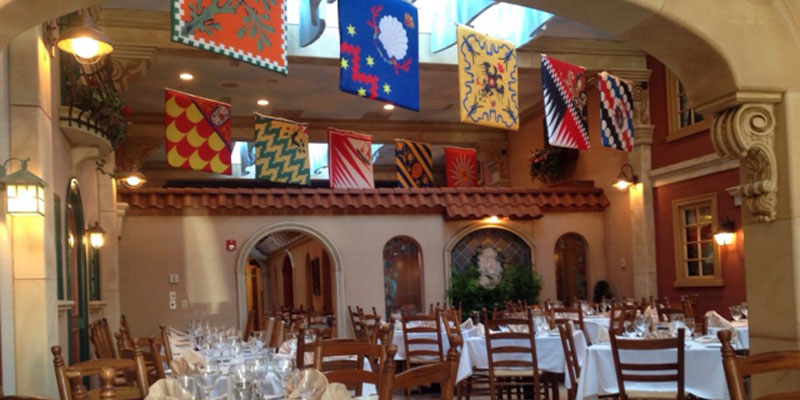 Nunzio Ristorante Rustico
706 Haddon Avenue
Collingswood, NJ
(856) 858-9840
Website
---
Restaurant Highlights

Food Quality:  3 Stars

Service: 2 1/2 Stars

Decor: 2 1/2 Stars

Overall Rating: 3 Stars

Note: Four star Rating System from 1/2 stars= poor to Four stars = Best in Class

One of the top Italian restaurants in the Collingswood Southwest Jersey area

Decor is attractive, Italian rustic

The acoustics are poor, and on busy weekend nights and depending on patrons seated near you, you are apt to have to shout above the roar of the crowd to be heard.

Fare: Italian (Regional)

Price: Moderate - Expensive

Value:  Excellent

Noise Level:  Moderate - High

Dress: Casual
Recommended For:  Diners who enjoy well prepared Italian food made with quality ingredient, in an attractive setting.

Not Recommended For: Diners who prefer a low key setting with traditional Italian dishes made with heavy sauces and served in large portions.

Recommended dishes:  When available, The Fish of the Day, Branzino or Dover Sole; The Capellini e Granchio con Zucchini Angel hair sauteed with sun dried tomatoes, crab meat, fried zucchini, garlic & oil: and The the Calzone di Vitello Veal medallions stuffed with spinach, prosciutto, garlic and sharp provolone in a white wine reduction; and the Osso Bucco.

Liquor: BYOB

Restaurant Review

Nunzio Ristorante is a very popular BYOB restaurant serving well prepared Italian dishes using fresh and quality imported ingredients, in an attractive Italian Village setting

Downtown Collingswood has some excellent Italian restaurants and Nunzio Ristorante stands up shoulder to shoulder against the best.

Owner/ Executive Chef Nunzio Patruno has impressive culinary credentials and was formerly the chef at the upscale Monte Carlo Living Room in Philadelphia before leaving to open Nunzio Ristorante Rustico in downtown Collingswood. He has formal training as a culinary chef and in his early years honed his skills in the Italian Riviera, and later spent seven years in Monaco on the French Riviera.

The ambiance at Nunzio Ristorante is lively, rustic and casual. As you enter and pass through the large foyer, you will encounter a faux piazza with stucco walls in a pale adobe color that suggest doorways and windows surrounding the main square, distressed brick, and high blue-sky ceiling with white puffy clouds and seaside murals with charming trulli --- small white conical houses --- that are native to Apulia, Patruno's birthplace.

The restaurant accommodates 120 patrons and is spread over four dining rooms divided by half-walls.

This is not a place to come to for a cozy dinner and quiet conversation. It's biggest downside is the poor acoustics and closely spaced, crowded tables, that create a very high and sometimes deafening "noise level". Though not at all quiet, the least deafening seats in the restaurant are in the alcove immediately to the left of the foyer.

Nunzio Ristorante is also a great place for South Jersey people watching who come dressed in a variety of outfits, from discount store duds to designer finery.

Nunzio Ristorante serves up a menu of well prepared regional Italian favorites using quality, fresh local and imported ingredients, and homemade pastas.

Your dining experience begins with your server presenting you with an offering of freshly baked Italian foccaccia bread accompanied by pungent pesto dipping sauce.

Parking in downtown Collingswood is metered and sometimes difficult to find a spot, use of the public lots is recommended.

(updated: January, 2017)

How Do We Review (analyze) Restaurants?
New Jersey Leisure Guide strives to provide analytic restaurant reviews.
The methodology used is research, analysis driven --- as opposed to that of a single restaurant critic or a social media platform, viewer comment posting board.