Ninety Acres at Natirar, Peapack, NJ:
A Restaurant Review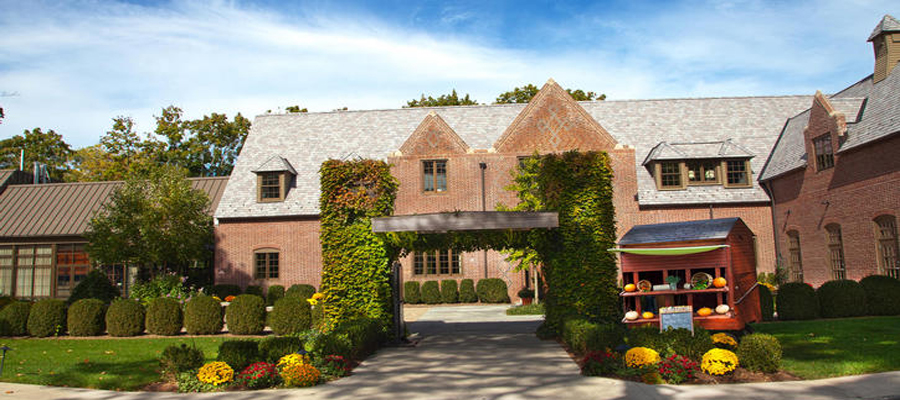 Ninety Acres at Natirar
Natirar Resort & Spa
2 Main St.
Peapack, NJ 07977
Website
Ninety Acres at Natirar: Restaurant Summary

Fare: New American

Price: Very Expensive

Food Quality: A well-executed, creative menu using local and sustainable food sources, with Vegan & Vegetarian options.

Service: Friendly and attentive, without being intrusive.

Ambiance/Decor: Elegant, romantic, yet casual, restored carriage house with original exposed bricks, dark wood flooring, walnut ceilings

Overall Rating: 3 Stars --- Classified as an upscale Chef-Inspired Casual Dining restaurant (* Note - See below restaurant classification for details)

Note: Four-star Rating System from 1/2 Star = poor to 4 stars = Best in Class

Noise Level: Moderate to high during peak times

Dress: Upscale Casual

Recommended For: Diners who enjoy excellent "fresh farm to table" food in a trendy setting with outstanding decor and ambiance.

Not Recommended For: Budget minded diners who may prefer simpler food, lower prices with less decor and ambiance

Recommended dishes: When available, The Colorado lamb shank; The Dry Aged Creekstone Farm Ribeye; and The Wild Caught Striped Bass.


Liquor: Extensive 42-page wine list, including  designated biodynamic, sustainable, or organic wines, and specialty cocktails. Bar scene is vibrant.

Restaurant Review

Located in the Natirar Resort & Spa, the 491-acre resort in the mountains of Peapack and within Somerset County parkland, the restaurant is in the Carriage House and Garage from the estate of the late Moroccan King Hassan II.

"Natirar" gets its name from the "Raritan" River spelled backwards that flows through the estate.

The Restaurant is part of the Ninety Acres culinary center that also contains a cooking school, wine school and working farm that breeds sheep, pigs, cattle, and chickens, and grows vegetables and herbs.

The restaurants kitchen is under the direction of Executive Chef Freddy Vargas. Chef Vargas received his formal culinary training at The Art Institute of New York City and began honing his culinary skills at Chef David Burke's "David Burke & Donatella" in NYC. He later served under famed Chef Scott Conant's Scarpetta restaurant also in NYC. where he continued working at Chef Conant's other restaurants in Miami, and Los Angeles, where he became the Executive Chef at the famed Scarpetta in the Montage in Beverly Hills. Prior to coming to Ninety Acres at Natirar, Chef Vargas served as the Corporate Chef for Groot Hospitality in Miami Beach, for David Grutman, a noted Florida Restaurant entrepreneur who owns several Florida based restaurants and night clubs.

Chef Vargas is adept at preparing creative dishes using local and sustainable food sources. many of the ingredients are sourced locally from their Farm at Natirar, a 12-acre all-natural sustainable farm with over two hundred varieties of produce and humanely raised, pasture-fed livestock including Berkshire pigs, poultry, and sheep.

Ninety Acres 70 seat main dining room has been elegantly restored around the carriage houses original exposed bricks using dark wood flooring, butternut mill work, walnut ceilings, walnut candle lit tables with leather seating, and equestrian themed banquette fabrics.

In the warmer months there is dining outdoors on the 50-seat patio with a fire pit, lit trees, and rich wooden tables, chairs, and sofas and a scenic backdrop of mountains. This is also a great setting for a cocktail before dinner, as well for dining just before sunset.

The dining patrons are mostly high income, aged 45+.

For a treat and to really get to experience the restaurant, try the BMF (Bring Me Food) section near the exposed kitchen adjacent to the main dining room. Here you get to put yourself in the chef's hands. It begins with the server letting the diners know what the nights ingredients are and the diners letting the servers know what their likes and dislikes are.

*Description of Restaurant Classification - Chef-Inspired Casual Dining:

The current trend of upscale, high quality food focused restaurants.
 Chef driven by chefs with impressive credentials including formal culinary education and skills honed at award winning restaurants.
Serves an approachable, more casual menu with creative food preparation.
Uses higher quality food ingredients such as imported items not available in the supermarket, with emphasis on local seasonal farm-to-table produce, wild caught seafood, & meats without the use of antibiotics and growth hormones.
Chic, trendy ambiance with a casual atmosphere and a casual dress code.
The wait staff is professional, knowledgeable, and attentive.
Can be BYOB or have an alcohol menu with a variety of wines, specialty cocktails, and beers.
Patrons are of all generations with medium to high incomes.


The most popular upscale restaurants in New Jersey, classified into three categories: Chef-Inspired Fine Dining, Chef-Inspired Casual Dining, and Contemporary Casual.
learn more about the three types of upscale restaurants and how reviews are created.

(updated: December 2021)