New Jersey Theatres and Venues for Performing Arts
Performing arts, Broadway musicals and plays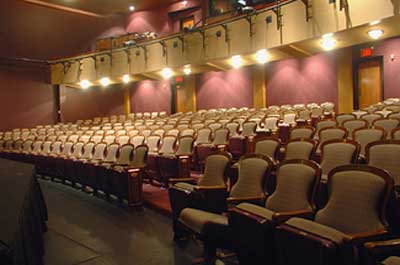 New Jersey theatres are numerous and of excellent quality as venues for the performing arts, Broadway musicals and plays, that can easily be accessible within a short drive of their home or a hotel stay.
Northern New Jersey Theatres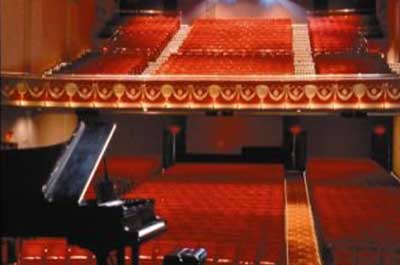 Bergen Performing Arts Center
30 North Van Brunt St.
Englewood, NJ
201-227-1030
Website
The Bergen Performing Arts Center (bergenPAC) is a theater of and for the community that it serves throughout northern New Jersey, by being a creative focus, educational resource, and engine of economic vitality. A not-for-profit organization, bergen PAC's mission is to make the live performing arts accessible to the entire population.
---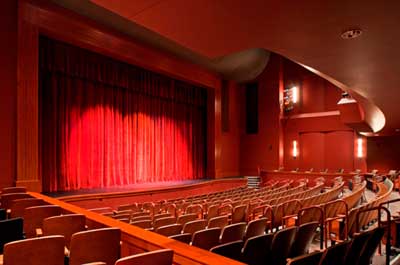 Centernary Stage Company
at the Sitnik Theater

The Carol and David Lackland Center
715 Grand Ave
Hackettstown, NJ
908-979-0900
Website
A 485-seat theater is located in
The Lackland Center is a cultural and educational destination with a variety of theatre and musical performances, lectures and other cultural and educational events. 
Stage performances on put on by the Centernary Stage Company.
A not-for-profit theatre dedicated to the performing arts,
---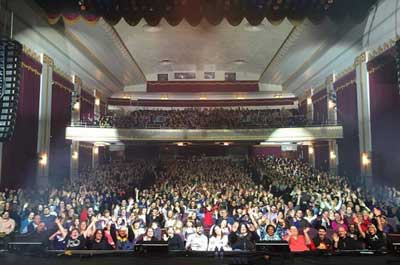 Mayo Center for the Performing Arts
100 South Street
Morristown, NJ
973-539-8008  
Website
The Mayo Center of Performing Arts, a non-profit organization offers a wide range of programs that entertain, enrich and educate the diverse population of the region and enhance the economic vitality of Northern New Jersey. Many of the performers have international recognition.
---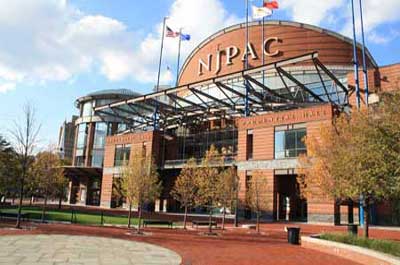 New Jersey Performing Arts Center

1 Center St
Newark, NJ 07102
(973) 642-2002
Website
An internationally acclaimed concert hall hosting top artists national and international artists and symphonies.The complex consists of the 2,750-seat Prudential Hall and the 514-seat Victoria Theater filled with some of the world's most cherished orchestral, dance, theater, and instrumental works, as well as the best performers from New Jersey's outstanding array of artists and performing companies.
---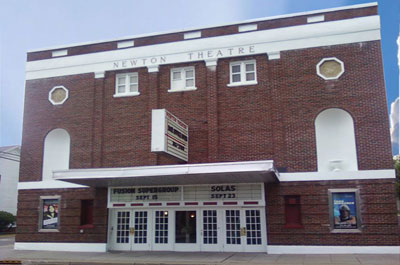 Newton Theatre
234 Spring St
Newton, NJ
(973) 383-3700
Website
Located in the county seat of Sussex County, this 605 seat performing arts theatre is dedicated to providing programs that educate, entertain and inspire all audiences regardless of ethnicity, age or income level
---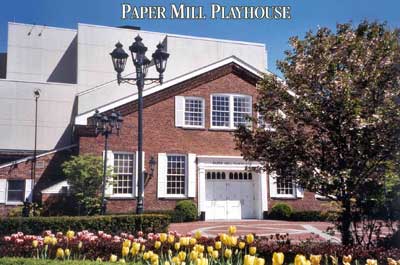 Paper Mill Playhouse
Brookside Drive
Millburn, NJ 07041
Website
The theatre is committed to rediscovering classic musicals and plays.The Paper Mill Playhouse is a leader in producing a wide range of plays, including World and American Premieres. The Paper Mill Playhouse was one of the first to begin the regional theatre movement in the United States. In 1972, Governor William Cahill proclaimed Paper Mill the Official State Theatre of New Jersey.
---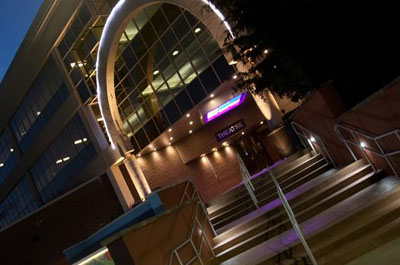 RVCCArts, The Theatre at Raritan Valley Community College
118 Lamington Road
Branchburg, NJ 08876
908-725-3420
Website
Presents a wide range of cultural programming by professional touring companies of regional, national and international stature—to a campus, a community and especially to children and youth.
---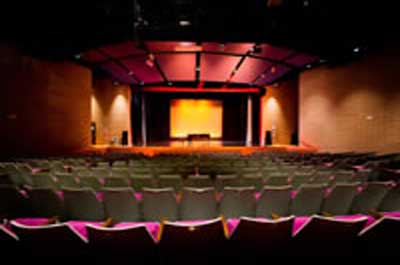 The Rosen Theatre at the Wayne YMCA
1 Pike Drive
Wayne, New Jersey
973-595-0100
Website
A 408 seat professional theater home to many special events including theater productions for youth, teens and adults, dance programs and special events.  The theater is also available to rent for companies producing or presenting theater, concerts, dance or film as well as for meeting spaces or conferences. 
---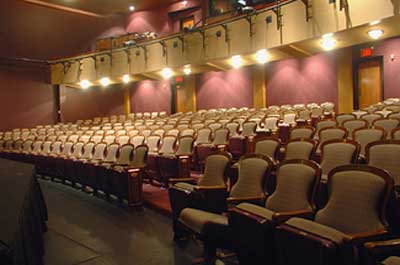 The Shakespeare Theatre of New Jersey
36 Madison Avenue
Madison, NJ
973-408-5600
Website
It is New Jersey's only professional theatre company dedicated to Shakespeare's classic masterworks and one of the leading Shakespeare theatres in the nation.
---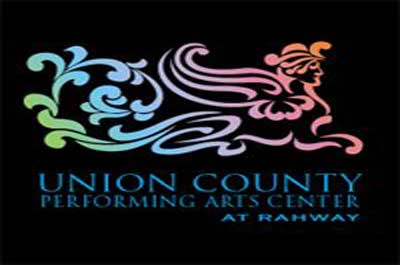 Union County Performing Arts Center

1601 Irving Street (Main Stage/The Loft)
360 Hamilton Street (Hamilton Stage
Rahway
732-499-8226
Website
The Union County Performing Arts Center provides exciting live performances that are educational, affordable and responsive to the diverse interests of our communities.UPAC consists of three theatres: The Main Stage, a restored vaudeville theater and silent movie palace. The loft locate on the 2nd floor above the Main Stage The Loft is a versatile, intimate black box performance space and rehearsal studio.And the Hamilton Stage hosting concerts, plays, ballets, readings, art galleries, benefits and classes The UCPAC is dedicated to making this landmark theatre the logical choice for the performing arts – for education, experimentation and entertainment. With 1,300 seats, the UCPAC is one of the largest theatres in Union County.
---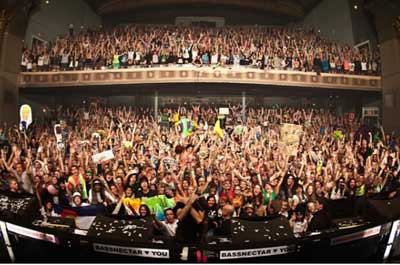 The Wellmont Theatre
5 Seymour Street
Montclair, NJ
(973) 783-9500
Website
Once an elegant movie house, the historic building underwent multimillion-dollar renovations to restore its glory. This bi-level venue has a spacious lobby, orchestra seating on two floors and beautiful bathrooms, plus top-of-the-line sound and lighting equipment and green rooms.

---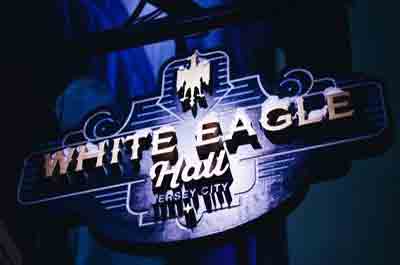 White Eagle Hall
337 Newark Avenue
Jersey City, NJ 07302
201-885-5166
Website
Built in 1910, White Eagle Hall is a newly restored and renovated historic theater located in the thriving nightlife scene of Downtown Jersey City. It provides live music, theatre, comedy, dance, film, family shows as well as other performances while serving food and drinks.
The venue features 8,000 square-foot flexible space with a capacity for 800 standing, 400 seating or 250 seated for dining; It's many historic features include wrought iron wrap-around balcony, a coffered tin ceiling with 2 large stained glass atriums at 28-feet high; has optimized acoustics and the latest in high quality lighting & sound technology.
White Eagle Hall was previously the home of the St. Anthony Friars, the basketball team of St. Anthony High School. Bob Hurley – Jersey City native – was the coach of this legendary team.
Central New Jersey Theatres



Algonquin Arts Theatre
173 Main St.
Manasquan
Website
Algonquin Arts, a 501(c)3 nonprofit corporation, was founded in 1991 to provide cultural enrichment for residents of Monmouth and Ocean Counties. This mission is accomplished by presenting a wide range of arts programming, including dramatic and musical theatre, dance, musical concerts and film representing a diversity of style and cultural influence, film and mixed media presentations.
---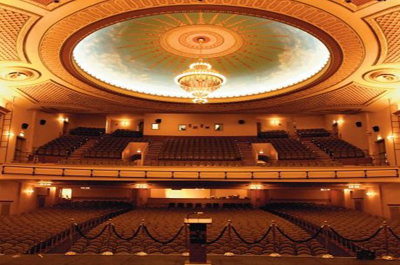 Count Basie Theatre
99 Monmouth St.
Red Bank, NJ
732-842-9000
Website
The Count Basie Theatre, a 1926 historic theatre, seats 1,550 and hosts top entertainers and concerts. It is located in the heart of downtown Red Bank, New Jersey.
Check out the restaurants near the theatre.
---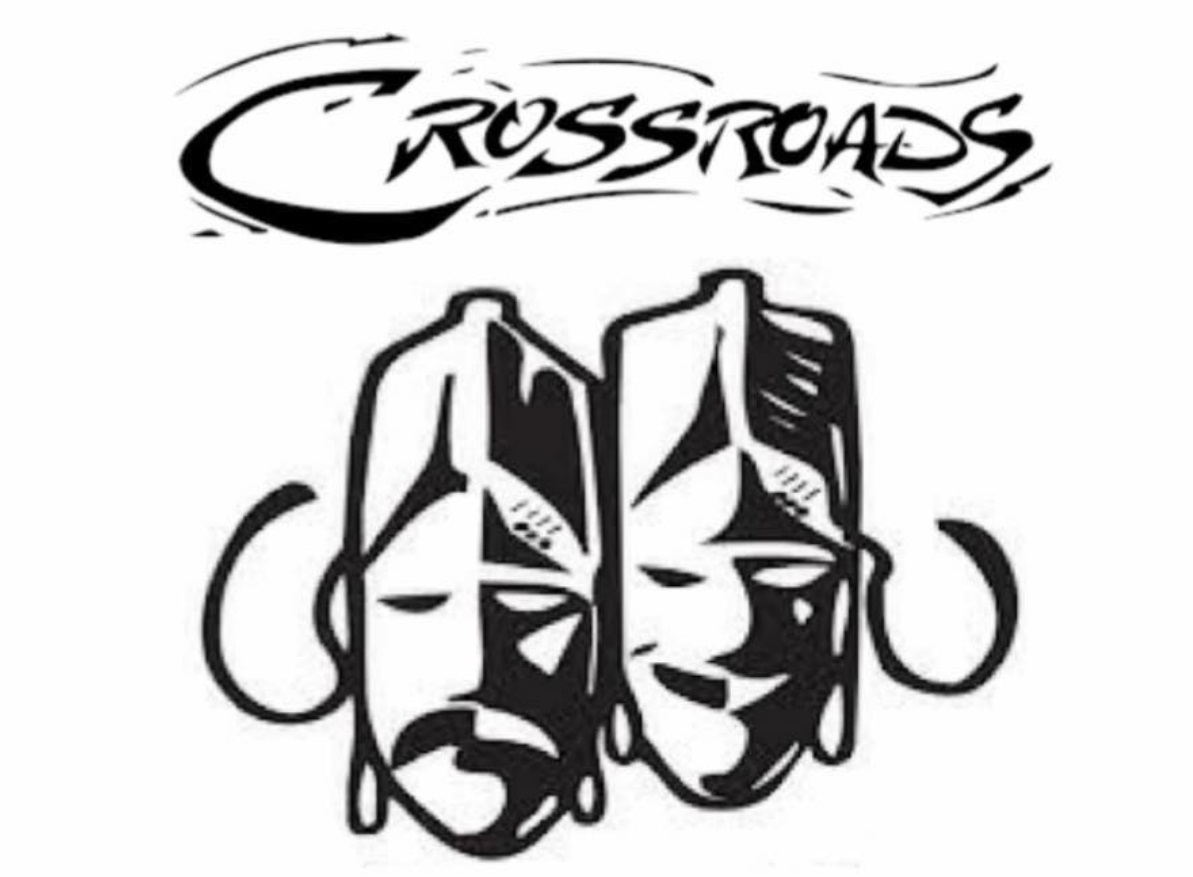 Crossroads Theatre Company
7 Livingston Avenue (Off George St.)
New Brunswick, NJ
732 545-8100
Website
Crossroads Theatre Company is the recipient of the 1999 Tony Award for Outstanding Regional Theatre in the United States and is the nation's premiere African American theater. They are the first African American theater to receive this honor in the 33-year history of this special award category.
---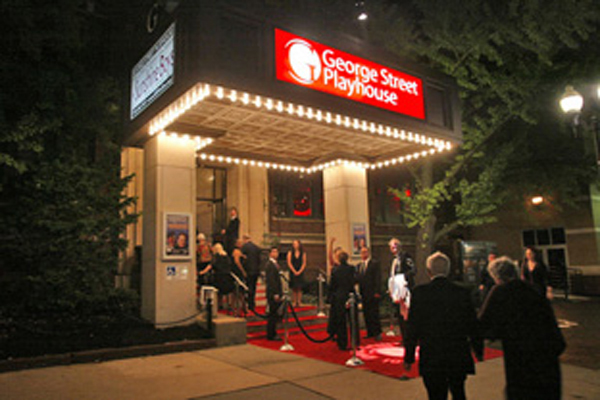 George Street Playhouse
9 Livingston Avenue
New Brunswick, NJ
(732) 846-2895
Website
The Playhouse produces five main stage plays each season from October through April and a next stage festival of new works in May. The theatre's seating capacity is 375. Each show runs for a minimum of 4 weeks or 32 performances.
---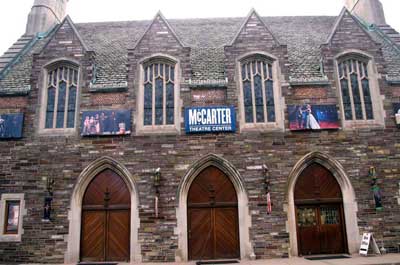 McCarter Theatre
91 University Place
Princeton, NJ
(609) 258-6500
Website
McCarter Theatre Center is one of the most active cultural centers in the nation offering over 200 performances of theater, dance, music and special events each year. The 1100 seat theatre was renovated and is adorned with new handcrafted imported lighting fixtures, rich velvet covered seats and new carpeting.
---

Spring Lake Community House
300 Madison Avenue
Spring Lake, NJ 07762
732-449-4530 
Website
Home of the Spring Lake Theatre Company. The theater with seating for over 350 patrons, is known for producing Broadway-quality musicals, comedies, and dramas, with professionally talented casts, lavish sets and costumes, and show-stopping performances. Each year, the Company puts on six different shows per season, with the opening night ticket sales of each donated to a different, well-deserving area charity.
---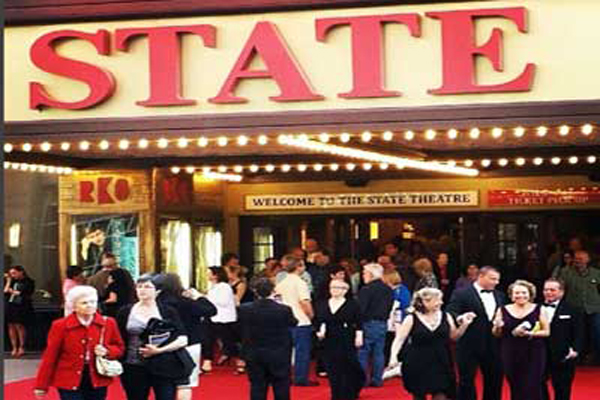 State Theatre
15 Livingston Avenue
New Brunswick, NJ
732-246-7469
Website
The historic State Theatre is a renovated 1921 vaudeville and silent film palace that is today a premier center for the performing arts. The State Theatre offers a variety of performances including; international orchestras, soulful jazz, Broadway musicals, world-class dance, stand-up comedy, nostalgic big bands, glorious opera, children's events, and educational programs.
---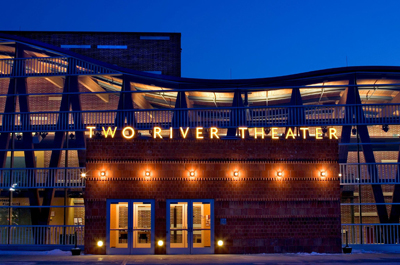 Two River Theater
21 Bridge Avenue
Red Bank, NJ
Website
Offers plays, programming, community conversations. and outstanding education programs for students and life-long learners. Their new, modern venue is easily accessible by car or NJ Transit train.
Southern New Jersey Theatres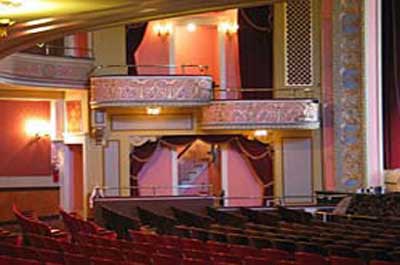 Broadway Theatre of Pitman
43 S. Broadway
Pitman, NJ 08071
856-384-8381
Website
The theatre is committed to productions written for a diverse audience. They bring this about by using the stage as a place where professional and aspiring actors can learn, explore, grow and produce excellence together.
---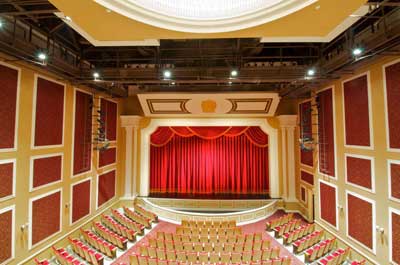 Levoy Theatre
126-130 N High St
Millville, NJ
(856) 327-6400
Website
A not-for-profit organization committed to reviving and continued operation of Millville's century old Levoy Theatre as a performing, screen arts and educational center serving Southern New Jersey and surrounding areas. The venue has a 1,100 seat lower level, a 400-seat balcony with box seating.Performances include concerts, Broadway style plays and musicals, and comedy.
---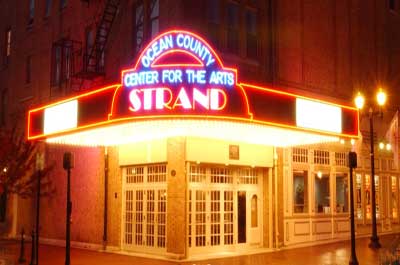 Strand Theatre
400 Clifton Ave
Lakewood, NJ
732-367-7789
Website
The Strand is an entertainment venue offering live entertainment including concerts, comedy shows and musicals.
---
---