Millbrook Village: Visitors Guide
An Historic Site Within
The Delaware Water Gap National Recreation Area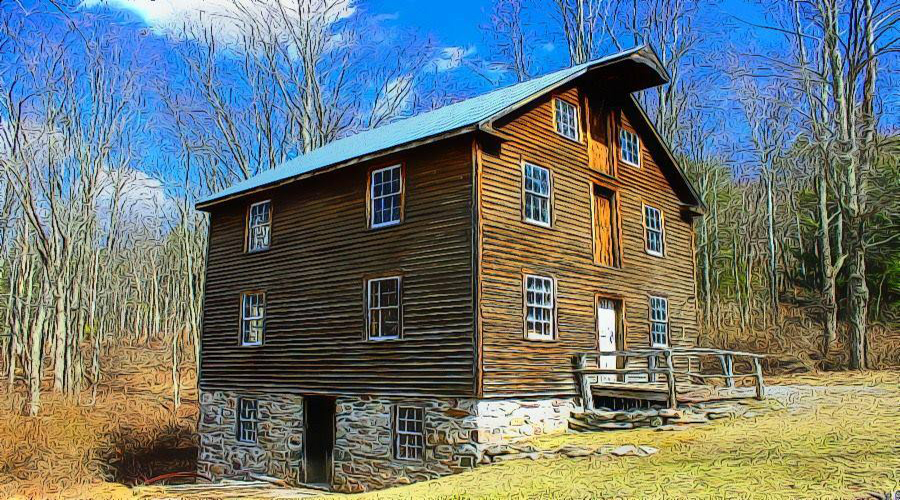 Delaware Water Gap National Recreation Area
Old Mine Road & Hardwick Road
Hardwick, NJ
GPS#s: 41.073683  -74.963117
(908) 841-9520
Facebook page
---
Millbrook Village is a re-creation of a turn-of-the-century village.

Together with the U.S. National Park Service, the Millbrook Village Society works to show the way of life of a typical village during the 1850-1900 time period.

Park rangers and volunteer crafts persons in period costume demonstrate period skills, and several original Millbrook structures are open for visits. School programs and tours can be accommodated as staffing permits.

Open from late June - October, Various buildings are open to the public between 10 AM and 4 PM. The number of buildings open for visitation is strictly dependent on the number of volunteers available on that day.

Being a part of the National Park Service, the village can be visited for a stroll thru all year for seven days a week. Between Memorial Day and Labor Day on Saturdays and Sundays a blend of NPS and volunteer personnel demonstrate crafts and activities of a typical village.

Millbrook Village has about the same number of buildings that it had around 1900. The roadbed of the old turnpike is now the main "street" running southwest to northeast through the village.

Many of the original buildings were replaced and, in the 1970s, other structures were moved here as outbuildings for the village.

In the 1950s, the Columbia–Walpack Turnpike was realigned to accommodate stream impoundments one mile south at Watergate, and the crossroads at the heart of the village was lost. Auto traffic now bypassed the village, following the paved route of today's Old Mine Road.

The village comes alive each year on the first weekend in the month of September for Millbrook Days, when more than 150 volunteers of the Millbrook Village Society demonstrate crafts and skills of rural living in the young nation. The event is held rain or shine.