The Melting Pot Fondue Restaurant, New Jersey:
A Restaurant Review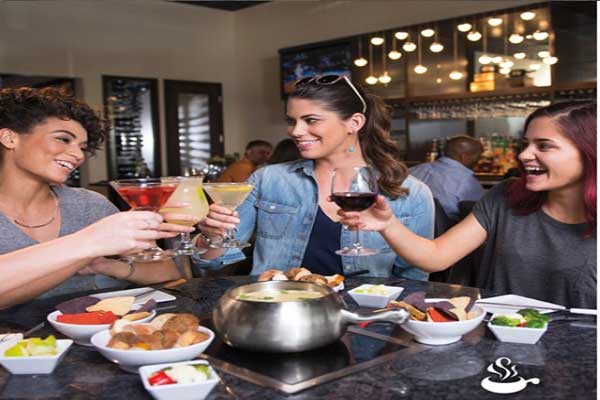 The Melting Pot

Four NJ Locations:
Pine Plaza Shopping Ctr.
831 Rte. 10 (Jefferson Rd.)
Whippany, NJ 07981
250 Center Avenue
Westwood, NJ 07675
190 W. Main St
Somerville, NJ 08876
584 Rt 38 East
Maple Shade, NJ
Website
---
Restaurant Highlights

Fare:  Fondue

Price:  Moderate

Value:  Good

A great place to have fun with a group or even for a quiet romantic date


Upscale, trendy atmosphere.


Service is excellent --- friendly and helpful in planning your meal.

Noise Level:  Moderate

Dress:  Casual

Recommended For:  Diners who enjoy a novel & fun dining experience with a different twist.

Not Recommended For:  Diners who prefer  traditional food with traditional wait staff service

Recommended dishes:  When available, for dinner entrees, The Teriyaki-Marinated Sirloin; The Memphis-Style BBQ Pork Medallion: and The Good Earth Vegetarian. For dessert, The decadent chocolate fondue

Liquor:  Full service bar

Restaurant Review

The Melting Pot, is a great place to go if you enjoy fondue and are looking for a fun night out, It's an upscale, trendy, franchise with four locations in New Jersey.

The decor is very attractive, and casually elegant.

The dining and seating options vary and are divided into various sections with seating adequately spaced apart to enjoy the feeling of having a private gathering. Many locations offer private dining room seating for special group occasions.

The food is provided raw prepared for dipping into oil, broths, cheeses and chocolate. Don't forget dessert for the grand finale try the decadent chocolate fondue.

The entree offerings include varieties of seafood, chicken, pork, and beef, ready to skewer and dunk in a simmering fondue pot. They also offer an extensive wine list with more than 250 selections. Most of the New Jersey locations offer vegetarian and gluten-free options. They offer choices of four-course prix fixe or à la carte.

The Melting Pot can accommodate a variety of dining options from an intimate, romantic dinner for two, to a large group gathering.

They are popular with diners looking for a fun night out to celebrate an anniversary, a date, a birthday, girls night out, a sweet sixteen party, bridal and baby Showers, bachelorette parties, rehearsal dinners, and more.

Be prepared to spend a while, at least two hours, to get the full benefit of the meal preparation and the "Fun" food dipping experience.

For a romantic date, ask to be seated in a private booth.

Suggest reservations, especially for weekends, Valentines Day, and other popular holidays.

(updated: January, 2018)


How Do We Review (analyze) Restaurants?
New Jersey Leisure Guide strives to provide analytic restaurant reviews .
The methodology used is research, analysis driven --- as opposed to that of a single restaurant critic or a viewer comment posting board.

Data is gathered from our viewers e-mail restaurant comments, Internet research, and professional restaurant critics. The data is sorted, (weeding out the obvious biased, "bone to pick",  and out of consensus comments), analyzed, and the review is created.

Learn More
---