Maple Sugaring in New Jersey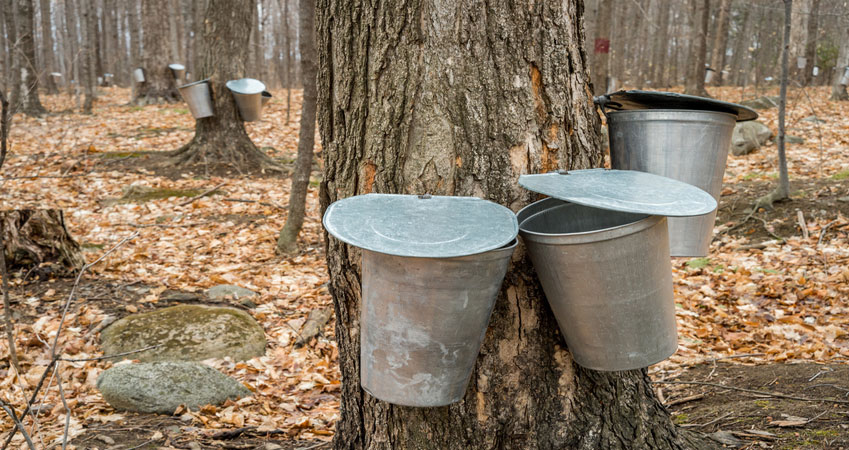 Discover The Top 2018 Events and Places
to Experience The Process
Maple sugaring has a history in New Jersey that began centuries ago with the Native Americans Indians and colonists.

This is an excellent winter family or kids group activity. In New Jersey, the maple sugaring season runs early February until mid-Mar
New Jersey is at the southern most region for the maple sugaring and as a result, today there are no commercial maple sugaring farms in NJ. While commercial farms are not available, New Jersey has a number of parks that conduct maple sugaring programs for education and demonstration purposes.

While the maple sugaring process was started by native American Indians, it later evolved in the mid nineteenth century by farmers who began to use metal spiles, metal buckets, and metal tanks for sap collection and storage.

There are still many places in New Jersey that are open to the public where visitors can get to experience and become involved with the nineteenth century process of tapping trees by hand and making maple syrup. The process begins with the tapping of Maple trees, collecting the sap, and then producing the syrup by boiling over an open fire and evaporating it down to the final product of Maple syrup. It takes 35 to 40 gallons of sap to make a gallon of syrup.
Note: This information is provided by event sponsors as a free service to our viewers. Sometimes conditions require cancellations or changes of dates, times and location which are not reflected in the original schedule. Before planning a trip to visit one of the listed events, it is suggested that you call the event sponsor to confirm the event schedule or for additional information on the event.

Maple Sugaring in Northern Jersey
Maple Sugaring Demo & Festival

January 20, 21, 27 & 28, February 3, 4, 10, 11, 17, 18, 24 & 25, 2018
Seatings: 1 p.m. - 2 p.m. or 2:30 p.m. - 3:30 p.m.
Great Swamp Outdoor Education Center .
247 Southern Boulevard
Chatham, NJ
Cost: $3 per person age 3 & up
973.635.6629. No registration is required, but seating is first come, first served. All ages welcome.
Website
Learn how to identify and tap maple trees, collect sap, and make syrup over a wood-fired evaporator. Taste-test different syrups at the end.
Maple Sugaring: Tap That Tree!
January 27, 2018; 10:00 am - 11:30am
Reeves-Reed Arboretum
165 Hobart Avenue
Summit, New Jersey
(908) 273-8787
Website
February marks the beginning of maple sugaring season. Join Director of Children's Education Jackie Kondel as she taps the Arboretum's maple trees in preparation for this season's sap flow. Not only will families learn the hows and whys behind tapping trees, but will also get first-hand experience actually helping us do it! Registration is required. for children ages 5 and up with an adult.
Please note that the cost is $10 per family for Members and $25 per family for Non-Members.
Maple Sugaring Living History Programs

Saturday, March 3, 2018: Rain date: Sunday, March 4
9:00 AM to 2:00 PM: Tours begin every 20 minutes and last about 1 hour. Pre-registration is not required
(check our website or call 782-1158 for cancellation information)
42 Lilac Drive
Flemingto, NJ
Visit Site
Experience first-hand the North American tradition of maple sugaring at Hunterdon County's Maple Sugaring Program. You'll take a trip through time to experience the art of the sugaring process. Along the way you will see an early American Frontiersman taping his trees, visit a sugar "farmer" at his evaporator, and enjoy a Native American story about the discovery of maple sap. At the end of your walk everyone will get a free taste of real maple syrup on a silver dollar pancake.
Also, at the same location:

Maple Tree Tapping
Saturday, January 27, 2018 1:00 PM to 2:30 PM
Maple Sap Collection
Saturday, February 10, 2018, 1:00 PM to 2:30 PM

Maple Sugaring
Sundays, February 4, 11, 18, 25, March 4, 11, 18, 25, 2018
Visitor Center
Tenafly Nature Center
313 Hudson Ave.
Tenafly, NJ
Website
This is a great, family outdoor winter experience. Learn how to identify a maple tree and the history of syrup making and how technology has changed the way we gather sap over the centuries. The group will check Tenafly Nature Center's tapped tree and boil down sap to make fresh, warm maple syrup, a sweet treat for all to taste. All ages are welcome.

Journey of Sap to Syrup
Saturday, February 17, 2018: 11:00 AM - 12:30 PM
Watchung Reservation
452 New Providence Road
Mountainside, NJ 07092
Registration

908-789-3670
See how 100% real maple syrup is made from the sap of a sugar maple tree. Find out what equipment is needed to collect sap and take part in a taste test to see if you can identify the real thing. Dress for the weather. There will be a short walk to the tapped tree.

Maple Sugaring at the Environmental Education Center
February 18, 19, 25, 26, March 4, 5, 11, 12: Saturdays - 10:00am, Noon, and 2:00pm Sundays - Noon and 2:00pm
The Environmental Education Center
190 Lord Stirling Road
Basking Ridge
Visit Site
Visitors will get see how trees are tapped, view sap-collecting methods past and present, and see the boiling process that produces delicious New Jersey maple syrup. This 90-minute program is conducted at our Sugar Shack, a ½-mile hike from the EEC.
Please arrive at the EEC 20-30 minutes before the program start time and dress appropriately for the weather conditions.
Boots are recommended as the trails can be wet, muddy, and/or covered by snow.
Organized groups (such as schools) may schedule weekday demonstrations by calling the EEC at 908 766-2489, ext. 332.

Maple Sugaring Fest
February 25th, 2018; Rain or shine
Reeves-Reed Arboretum
165 Hobart Ave.
Summit, NJ 07901
908-273-8787
Website
An outdoor family - friendly festival where attendees learn the steps involved in turning tree sap into delicious maple syrup. There will be tapping & cooking demonstrations, taste tests, guided hikes and games.
RRA members & children under 3 are free. Cost for Non-members is $5/person, $20/family.

Maple Sugaring Demonstration & Educational Program
Saturday, March 24 & Sunday, March 25, 2018; 10 am - 3pm
Lusscraft Farm
50 Neilson Road
Wantage, NJ
973-875-4800
Website
Come see how maple sugar is made from Sap! Lusscroft Farm is a part of High Point State Park. It is a symbol of our vanishing rural heritage, holding a unique place in the Garden State's agricultural history. It embraces some of our most inspiring scenic vistas, intriguing geology and interesting topography.



Maple Sugaring in Central Jersey
From Sap to Maple Syrup
Saturday, February 24, 10:00 AM-12:00 PM, & Sunday February 25, 2018 1:00-3:00 PM
Huber Woods Park
25 Brown's Dock Road
Locust (Middletown Twp.), NJ
Visit Site
(all ages, under 18 with adult)
Note: This program fills up fast. Please call for registration or wait list @ (732) 842--4000, ext 1
Winter is winding down and the sap is running in the trees which means its time to make maple syrup! Bring the whole family for some old-fashioned fun as we learn the history, technique and some of the science behind this delicious treat. Highlights include a syrup taste test,tree tapping demonstration and instruction, and winter tree identification. Dress for the weather and wear sturdy shoes or boots.

Maple Sugaring Brunch & Hike
Saturday, March 3, 2018; 2 sessions: 9:30 – 11:30AM OR 11:00AM – 1:00PM
The Watershed Center
31 Titus Mill Road
Pennington, NJ 08534
609-737-3735
Website
Join us at the Watershed Center for this popular annual event. Hike with the Teacher-Naturalists to our tapped trees, learn about the process to convert maple sap to syrup and visit the evaporation station. The highlight of the morning is a delicious pancake brunch, served with our homemade maple syrup made from trees on the Reserve! Part of this program is conducted outdoors – winter gear, including boots, is necessary. Sign up for one session – registration and prepayment are required. We accept VISA, MasterCard and Discover
Fee per adult: $22. (16. for members) Fee per child ages 3 -13: $15 ( 12. for members) No charge for children under age 3.

Sugar Maple Celebration
March 3, 4, 2018; 10am - 2pm
Duke Farms
1112 Dukes Parkway West
Hillsborough, NJ
Website & Registration
(908) 722-3700
Free Event
This event features an educational experience in learning how to tap a tree and enjoy the process of maple sugaring. Participants will engage in activities and nature hikes focused on wildlife, tree identification, best forestry practices, and climate change as it relates to the Sugar Maple and our native forests. You will also have the opportunity to take a taste of New Jersey maple syrup, visit a live sawmill demonstration.

Maple Sugaring
Saturday March 3, 1:00 - 2:30 p.m; Sunday March 4, 1:30 – 3:00 p.m, Saturday March 10, 1:00 – 2:30 p.m; & Sunday March 11, 1:30 – 3:00 p.m
Washington Crossing State Park Nature Center
355 Washington Crossing-Pennington Road
Titusville, NJ
(609) 737-0623
Website
Pre-registration required, Admission is free.
Visitors will learn and experience the history of maple sugaring by using homemade sumac spiles, crafted in the park. The program starts with an educational slide presentation on the history, folklore, mechanics, and science of maple sugaring. The group then hikes into the forest for a demonstration and some personal practice in sugar maple tree identification and tapping. There are extensive stands of sugar maple trees throughout the state park.



Maple Sugaring in Southern Jersey
Connect with Nature: Maple Sugaring
Sunday, February 18, 2018, 1:30pm – 3:00pm
Rancocas Nature Center
794 Rancocas Rd.
Westampton, NJ 08060
(609) 261-2495
Visit Site
What a tasty way to spend a winter afternoon! Bring the whole family and enjoy a program about maple sugaring, the oldest continuous industry in North America. Learn about the sugar maple tree and the history of maple sugaring, observe a tapping demonstration, and enjoy a maple syrup tasting. To ward off the chills, we'll have an old-fashioned campfire burning.
Preregister by calling RNC at 609-261-2495. Cost: RNC members, $7/person, $15/family (limit 5); nonmembers, $9/person, $21/family (limit 5)
---
---