Maple Sugaring in New Jersey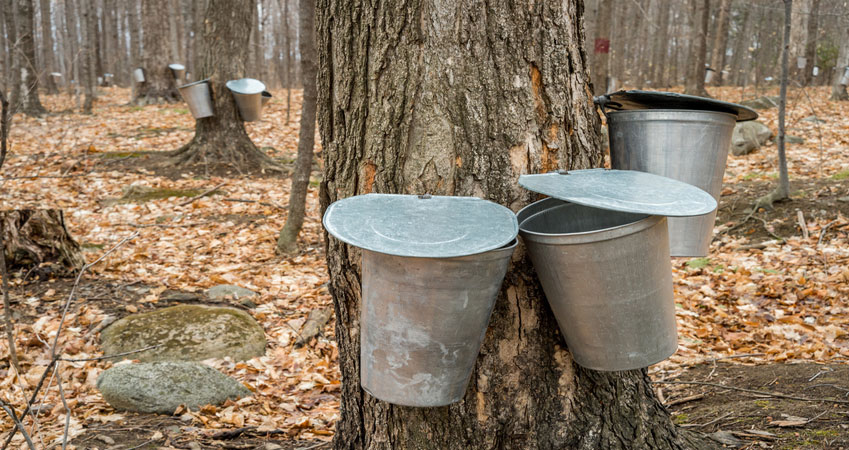 Discover The Best Places In New Jersey To Experience
The Process of Maple Sugaring.
Maple sugaring has a history in New Jersey that began centuries ago with the Native Americans Indians and colonists.

This is an excellent winter family or kids group activity. In New Jersey, the maple sugaring season runs from late January until mid-March.

While the maple sugaring process was started by native American Indians, it later evolved in the mid nineteenth century by farmers who began to use metal spikes, metal buckets, and metal tanks for sap collection and storage.

There are still many places in New Jersey that are open to the public where visitors can get to experience and become involved with the nineteenth century process of tapping trees by hand and making maple syrup. The process begins with the tapping of Maple trees, collecting the sap, and then producing the syrup by boiling over an open fire and evaporating it down to the final product of Maple syrup. It takes 35 to 80 gallons of sap to make a gallon of syrup.

---
Note: Sometimes conditions require cancellations or changes of dates, times and location which are not reflected in the original schedule. Before planning a trip to visit one of the listed events, it is suggested that you call the event sponsor to confirm the event schedule or for additional information on the event.
---
Maple Sugaring in Northern Jersey
Maple Sugaring Demo & Festival

Saturdays and Sundays: January 21 and 22, January 28 and 29, February 4 and 5, February 18 and 19, February 25 and 26, March 4 and 5, March 11 or 12, 2023
Great Swamp Outdoor Education Center .
247 Southern Boulevard
Chatham, NJ
Cost: $6 per person
Preregistration is required. For more information, 973.635.6629
Website/Registration
Learn how to identify and tap maple trees, collect sap, and make real maple syrup over a wood-fired evaporator. Finish with a syrup taste test! This program will be held entirely outdoors, so dress for the weather. Syrup will be available for purchase, while supplies last.
Maple Sugaring at the Environmental Education Center
Saturdays & Sundays, February 4, 5, 11, 12, 18. 19, 25, 26, 2023
190 Lord Stirling Road
Basking Ridge
Visit Site/registration
908-722-1200 ext.5002
Cost: $6 per student/senior $7 per adult
Visitors will get see how trees are tapped, view sap-collecting methods past and present, and see the boiling process that produces delicious New Jersey maple syrup. This 90-minute program is conducted at our Sugar Shack, a ½-mile hike from the EEC.
Please arrive at the EEC 20-30 minutes before the program start time and dress appropriately for the weather conditions.
Boots are recommended as the trails can be wet, muddy, and/or covered by snow.

Maple Sugaring
Sundays, February 5, 12, 19, 26, March 5, 12, 19, 26, 2023 (10am, 11:30 am & 1pm)
Visitor Center
Tenafly Nature Center
313 Hudson Ave.
Tenafly, NJ
Website/Pre-registration
Cost: Member – $8.00 Add additional attendees as guests ---Member-Family – $60.00 up to 6 people, Non-member – $12
This is a great, family outdoor winter experience. Learn how to identify a maple tree. Discover the history of syrup making and how technology has changed the way we gather sap over the centuries. The group will check Tenafly Nature Center's tapped tree and boil down sap to make fresh, warm maple syrup, a sweet treat for all to taste. All ages are welcome.
Maple Sugaring at the Hermitage
Saturday, February 18, 2023: 1:00 pm – 4:00pm (The rain or heavy-snow date for this event Sunday, February 19th.)
Hermitage Museum
335 North Franklin Turnpike
Ho-Ho-Kus, NJ
Website/Tickets
Family tickets are $35
Learn how to tap maple trees for syrup, like the indigenous Leni Lenape tribes may have done on this land. Includes one once bottle of syrup made in 2022 from the trees a The Hermitage. Also includes one kit per family of tap and tube and instructions for you to do this in your own back yard.
The Journey of Sap to Syrup
Saturday & Sunday, February 18, 19, 2023 @ 9:30 am & 11:30 am (Weather Permitting)
Trailside Nature & Science Center
452 New Providence Road
Mountainside, NJ 07092
Website
908-789-3670
Cost: $5 resident, $6 non-resident
This program is recommended for families with children ages four and older,
Pre-registration is required. Visitors will learn how real maple syrup is made from the sap of a sugar maple tree.
Maple Sugaring at the Van Fleck House
Saturday, March 4, 2023: Tour times: 10 – 11 am, 11 – 12 pm, 12:30 – 1:30 pm, 1:30 – 2:30 pm
Van Vleck House & Gardens
21 Van Vleck Street
Montclair, NJ
(973) 744-4752
On-line Registration
- Registration required
Cost:Member fee $25, Non member fee $35
Looking for a super sweet activity the whole family will love? Don't miss Van Vleck House & Gardens' annual Maple Sugaring event! Families are invited to learn how to identify a sugar maple tree, discover the steps for turning sap into syrup, and visit a tapped sugar maple tree in the Van Vleck Gardens.  This self-guided tour is entirely outdoors and will take you through several learning stations including activity sheets, informative displays and educators along the way.
Registration required – Please note: Register for a 1 hour arrival time slot.  You can arrive anytime during that 1 hour timeframe. Once you begin, the tour will last approximately 45 minutes – 1 hour.
Maple Sugaring Fest
Sunday, March 5, 2023 from 1:00 pm to 4:00 pm
Reeves-Reed Arboretum
165 Hobart Avenue
Summit, New Jersey
(908) 273-8787
Website
Cost: FREE for RRA Members and children under 3. The cost for Non-Members is $5 per person.
Enjoy a brisk winter afternoon learning how maple syrup is made. The whole family will enjoy spending the day outdoors, hiking on their trails, and partaking in their Maple Sugaring Challenge! Also enjoy some hot chocolate, maple vendors, and more. This event will be held rain or shine; no refunds. There will be staggered entry times at 1:00 pm and 2:30 pm. Please be sure that you sign up for the correct time slot, as changing will be based on availability.
Maple Sugaring Demonstration
Sunday, March 5, 2023; Three sessions @ 9:30am, 11am, & 1pm (rain or shine)
Schiff Nature Center
339 Pleasant Valley Road (Use 339 Schiff Dr in your GPS)
Mendham, 07945
Registration
973-543-6004
Cost: Free to Schiff members. Non-member fee is $5 per person ages 3 and up.
Please register in advance. Seating is first come, first served.
The public is welcome to come to Schiff to experience a hands-on demonstration of maple sugar production with members of Schiff's educational staff and Board. The tradition of maple sugaring began centuries ago with the Native Americans and early settlers and continues today as participants learn to identify, tap, and process the sap of Maple trees. The educational presentation will explain the history of maple sugaring, the seasonal life cycle of the sugar maple tree, and how 100% real maple syrup is made starting with identifying a maple tree through tapping the tree. Following the educational program, enthusiasts can view the wood-fired evaporator at work and then partake in sampling the final product. The best part is tasting fresh syrup made from our own Schiff maple trees. The day includes a maple baked goods sale so bring some cash so you can buy some treats in support of Schiff and enjoy them at home! An optional two-mile field walk to the working maple grove will be offered to see the tapping and collection operation. Please arrive at the Nature Center 15 minutes before the start time and dress appropriately for the weather conditions. Boots are recommended as the trails can be wet, muddy, and/or covered by snow.
Maple Sugar Sunday with Story Time and a Craft
Sunday, March 19, 2023: 2pm - 4pm
Miller-Cory House Museum
614 Mountain Avenue
Westfield, NJ
Website
Email:
[email protected]
Telephone: 908-232-1776
Cost: Admission is $5.00 for adults and children 13 and older, $3.00 for children ages 3 to 12 & free under age 3.
One of the seasonal tasks of farm life in colonial days was sugar making in the maple woods. Learn about the colonial techniques of maple sugaring, how the maple sap rises and flows, how it is collected using wooden buckets and handmade spiles, and how sugar and syrup are made from the sap. (Please note that no tree will actually be tapped.) Program includes a maple sugar story time and craft for the children. Our cooks will be showcasing open hearth cooking using period recipes and techniques. The grounds will be open for viewing and docents will be offering tours of the fully furnished c1740 farmhouse.
Maple Sugaring Demonstration & Educational Program

Saturday, March 25, 2023
Lusscraft Farm
50 Neilson Road
Wantage, NJ
973-288-2760
Website
Come see how maple sugar is made from Sap! Lusscroft Farm is a part of High Point State Park. It is a symbol of our vanishing rural heritage, holding a unique place in the Garden State's agricultural history. It embraces some of our most inspiring scenic vistas, intriguing geology and interesting topography.
Maple Sugaring in Central Jersey
Tap the Sugar Maples

Saturday, February 4, 2023: at 10:30, 11:00, 11:30, 12:00, 12:30, 1:00, 1:30, 2:00, 2:30, and 3:00
Howell Living Farms
70 Wooden's Lane
Lambertville, NJ 08530
Website
Cost: Free admission & parking; Please reserve your space for tree tapping
Hundreds of sugar maple trees line the banks of Moore's Creek and the nearby woods at the foot of Baldpate Mountain. Each year in February farmers begin the annual work of sap collection and maple syrup production.
Visitors can join Howell Farm's expert tree-tappers for a lesson in how to tap a backyard maple tree and make syrup at home. Outside activities include firewood cutting, rail splitting and, if conditions permit, a continuation of ice harvesting operations.

Maple Syrup Time at the Sugar Shack!

February 4th & 11th, 2023: - 10am, 11:30am & 1pm
The Sugar Shack
NJ State Forest Nursery
370 East Veterans Highway
Jackson, NJ 08527
Website/Registration
Come out and see a demonstration of tapping trees to collect sap, boiling down maple sap to make syrup. There will also be walks to see tapped trees and learn interesting facts about this amazing part of nature. Best Part? SAMPLES!!!! The event will be OUTSIDE, Rain or Shine.
Please remember to cancel if unable to attend

Nature Kids: Maple Sugaring
Sunday, February 11, 2023: 1 PM to 2:30 PM
Echo Hill Park
42 Lilac Drive
Flemington, NJ
(908) 782-1158
Website
Ages: 4 through 8 recommended (children must be accompanied by an adult)
Cost: $3 per pwerson; accompanying adult attends for free (pre-registration required)
Ages: 6 through adult (children must be accompanied by an adult)
Class size: 15 participants Instructor: Debra Reed, Park Naturalist Collecting the sap is a crucial step of the maple sugaring process! Many methods are used on commercial farms, but the basic idea is the same, moving the sap from the maple trees to the stove. Come participate in the process at Echo Hill! We will meet at the playground and then walk to the sugar bush (a five- or ten-minute walk).
Maple Sugaring Hike

Saturday, February 25, 2023; 10 am - 11 am & 2:00 PM - 3:00 PM
The Watershed Center
31 Titus Mill Road
Pennington, NJ 08534
609-737-3735

Website/registration
[email protected]
Cost: $10.00 per Adult; $10.00 per Child (5 years and up)
Discover the history, folklore, and science of maple sugaring. Visit our maple trees, find out how we tap them using drills and spiles, and try a sample of sweet maple sugar. Learn about the evaporation process and how sticky sap transforms into sweet maple syrup. The operation of our outdoor evaporator is dependent on the amount of sap the trees produce and the weather. It may not be running during all program sessions. Dress for both indoors and outdoors and wear your boots. Sign up for one session – registration and prepayment are required.
Sugar Shack Demonstration
March 11th & 12th, 18th & 19th, 2023 (weather permtting)
Happy Day Farm
106 Iron Ore Rd
Manalapan, NJ
Website
(732) 977-3607
Cost: $18 per person. Children 1 and under FREE. Cash only!
This is a great outdoor winter experience where attendees will take a tractor ride of their 130-acre farm. Pancakes and maple syrup will be available to purchase. Visitors will then see their 'sugar bush', find out what equipment is needed to collect sap, learn first hand how to identify maple trees, and lend Farmer Tim a hand in the tapping process. ​ In Olivia's Sugar Shack, visitors can see how sap is finally produced into their delicious maple syrup. The sap is boiled and evaporated in a wood-fired evaporator. They have over 700 maple trees and it takes about 80 gallons of sap to make a gallon of syrup. Goats and chickens will be available to feed.
Tours will take place at select times (10am, 11:15am, 12:30pm, 1:45pm, 3pm, 4:15pm). Last tour at 4:15pm. Tickets will be sold at the door only, no reservations are required. Please arrive 15 minutes prior to your desired time slot.
Maple Sugaring in Southern Jersey
Maple Sugaring
Sunday, February 19, 2023; 1:30pm – 4:30pm. Start times are staggered
Rancocas Nature Center
794 Rancocas Rd.
Westampton, NJ 08060
Website/registration
Cost: Member -$9 per person, $30 per family (limit 5 people). Non-Members: $11 per person, $40 per family (limit 5 people). Pay upon arrival on 2/19
What a tasty way to spend a winter afternoon! Bring the whole family and enjoy a program about maple sugaring, the oldest continuous industry in North America. On this self-guided hike, you'll follow a map and visit multiple interactive stations along the Rancocas trails. Learn about the Sugar Maple tree and the history of maple sugaring, observe a tapping demonstration, and enjoy a maple syrup tasting. To ward off the chills, we'll have an old-fashioned campfire burning.