Liberty House, Jersey City, NJ:
A Restaurant Review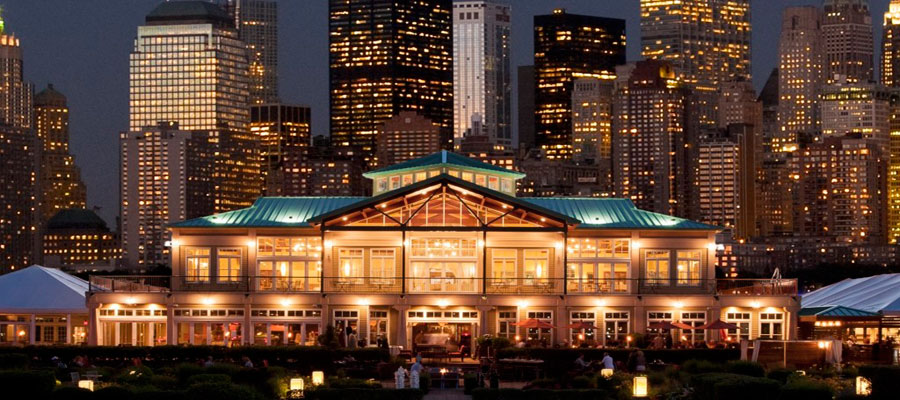 A Jersey City Special Occasion, Destination,  Dining Experience with Awesome Scenic NYC Skyline Views

Liberty House Restaurant
76 Audrey Zapp Drive
Jersey City
201-395-0300
Website
Liberty House: Restaurant Highlights

Fare: American Seafood

Price: Expensive

Food Quality: Very Good. Well executed menu, committed to using fresh, local farm to table ingredients.

Service: Friendly, attentive

Ambiance/Decor: Awesome scenic views of the skylines of Jersey City and Manhattan, (the Freedom Tower) are a major attraction. The interior is attractively done-up with earth tones reflected from the natural stone, woods, and rustic metals, with a seven-sided bar with a large raw bar and a sushi station.

Overall Rating: 21/2  Stars

Note: Four star Rating System from 1/2 Star = Poor to Four stars = Best in Class

Recommended For:  Diners who enjoy good food with a casual, trendy ambiance and awesome, scenic waterfront views

Not Recommended For:  Diners who may prefer a more formal setting with fine dining amenities and more complex, eclectic food.

Recommended dishes: When available, The Lamb Porterhouse Chops with Ratatouille Vegetables, Virgin Olive Oil & Aged Balsamic Mashed Potatoes, Salsify Chips, Madeira Jus; The Whole Mediterranean Branzino with a choice of Two Sides, Lemon & Caper Beurre Blanc; and The Pappardelle with Pork Bolognese Ragout of Mushrooms, crushed Tomatoes, Grana Padana Cheese, Spinach Bell Peppers, Brandy & Cream.

Liquor:  Good selection of reasonably priced wines and specialty cocktails. Bar scene is vibrant.

Restaurant Review

The Liberty House restaurant is a destination restaurant for celebrating special occasions, a romantic dining experience, and Sunday brunch without all the formal fine dining amenities. The scenic views of the skylines of Jersey City and Manhattan, (the Freedom Tower) are a major attraction.
Once entering this beautiful restaurant, with an interior of soothing earth tones reflected from the natural stone, woods, and rustic metals, you'll be fascinated by the seven-sided bar with a large raw bar and a sushi station.
Surrounded on three sides by water, most of the tables with a nice view of the marina and Jersey City skyline.
The Liberty House is owned by the husband wife team, Frank and Jeanne Cretella who have built a reputation of creating high end, restaurants in a trendy setting, including the Stone House at Stirling Ridge in Warren, Ryland Inn in Whitehouse Station, NJ
The kitchen is committed to using fresh, local farm to table ingredients. Many of these ingredients are sourced from their Dancing Goat Farm, operated by the Stone House Restaurant at Stirling Ridge
The raw bar features a wide assortment of oysters, clams, mussels and crayfish, while the sushi bar provides a view of your sushi being made to order.
The restaurant has an unusual glass-enclosed wine cellar that can be seen from the lobby.
The restaurant is child friendly, and in the summertime, outdoor dining on the terrace is a real treat.
Be forewarned, The Liberty House Restaurant is also a popular banquet house and weddings and other large functions can lend themselves to creating a noisy atmosphere.

Open Thursday to Friday : 5 P.M – 11 P.M
Saturday: 12 P.M – 3 P.M for Brunch, 5 P.M – 11 P.M for Dinner
Sunday: 12 P.M – 3 P.M for Brunch, and 5 P.M – 9 P.M for Dinner
Closed Monday to Wednesday
(Updated: March 2023)
How Do We Review (analyze) Restaurants?
New Jersey Leisure Guide strives to provide analytic restaurant reviews.
The methodology used is research, analysis driven --- as opposed to that of a single restaurant critic or a social media platform, viewer comment posting board.