Scenic Lakes and Rivers of New Jersey
With Things To Do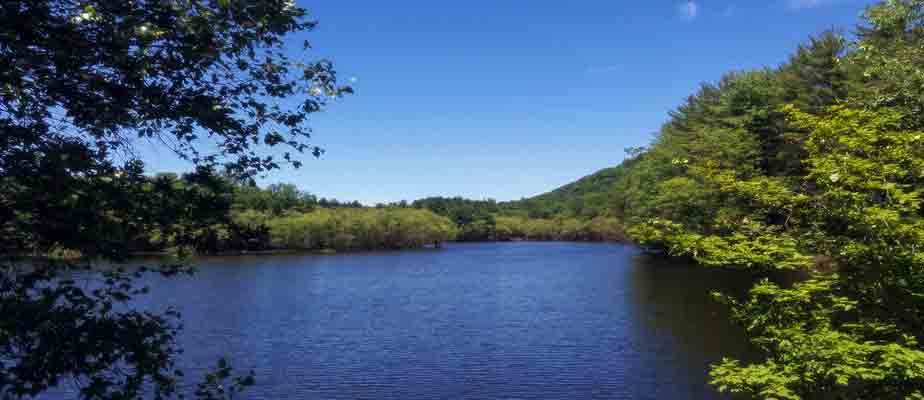 Wanaque River, Passaic, NJ

When NJ residents and visitors think about swimming, fishing, boating and other water sports, the first thought that usually comes to mind is the Jersey Shore. NJ is more than the Jersey shore.

There is a treasure of relatively unknown freshwater lakes and rivers in New Jersey that have excellent boating, fishing, swimming and touring.
North Jersey Lakes and Rivers
Lake Marcia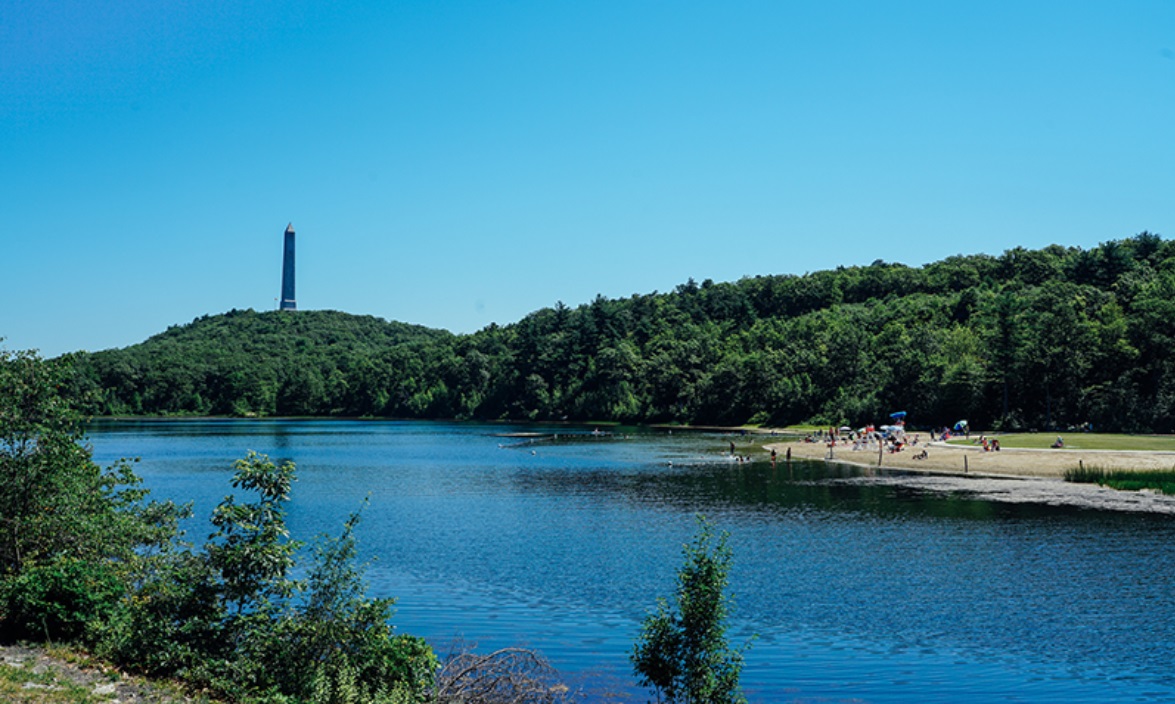 Photo courtesy New Jersey State Park Service

Located in High Point State Park with the highest elevation in the state of New Jersey, the spring-fed waters of the 20-acre Lake Marcia are cool and refreshing for swimmers. There are picnic tables and charcoal grills located adjacent to the beach, available on a first come-first serve basis. Canopies are permitted, maximum size is 12' x 12'. You may bring your own grill, however it must be elevated and can't be used on the beach. Swimming is only permitted during the summer months when lifeguards are on duty. Boats and personal watercraft, including kayaks and paddleboards, are not permitted in Lake Marcia.

Lake Marcia - Places to stay

The Appalachian &
Black Creek Sanctuary
Vernon, NJ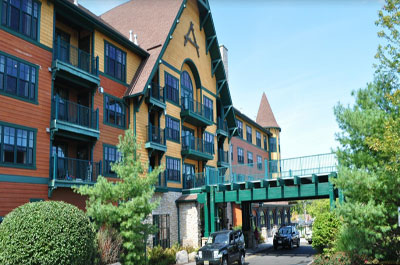 A luxury hotel and vacation condo rental for visitors to Mountain Creek and the surrounding area.
Reviews/Booking

Alpine Haus
Vernon, NJ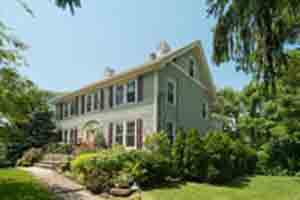 The covered porch offers a seasonal view of Vernon Valley and the Pochuck Mountains.

Reviews/booking
Campgrounds
High Point State Park
1480 State Route 23
Wantage, NJ
Website
973-875-4800
High Point State Park issss located at the summit of the Kittatinny Ridge--- at 1,803 feet above sea level --- the highest elevation in the state of New Jersey. The mountain has unrivaled views of three states and a scenic landscape where uncommon plants take root, animals find refuge, and people come to sightsee, play and relax.
Offers cabins and campsites (Group, family, and Pet friendly)
The Delaware River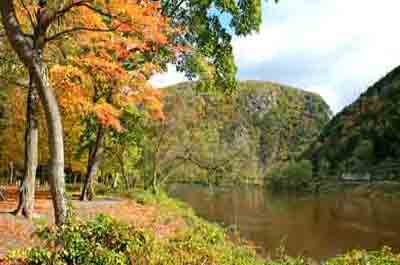 The Delaware River is the most popular river in New Jersey for recreational use. The New Jersey non-tidal section of the river runs from the border of New York/Pennsylvania downstream south to Trenton, just north of the Rt 1 over pass. The clean, clear waters of the River and it's cold tributary streams support a landscape rich in fish and wildlife and the scenic vistas of the Delaware Water Gap. It is also a vital natural resource for drinking water with over 15 million people — about 5 percent of the nation's population — relying on the Delaware River Basin for their drinking water. Popular recreational activities include: kayaking, canoeing, tubing, fishing, camping, and hiking.
Boat & Tubing rentals & River trips
Kittatinny Canoes (rentals, river trips, campsites
Dingmans Base
2130 State Route 739
Dingmans Ferry, PA 18328
800-356-2852
Website


Campgrounds
Delaware Water Gap - Worthington State Forest
Old Mine Road
Columbia NJ
(908) 841-9575
Website
There are 69 tent and trailer sites. Most sites have easy access to modern toilets and showers. Primitive camping sites are available only for boaters and canoeists traveling from one access point to another.
Camp Taylor Campground
Columbia, NJ
Website
Located on 400 acres adjacent to the Delaware Water Gap National Recreation Area and the Appalachian Trail, New Jersey's most majestic terrain. The heavily wooded mountain ridges provide large shaded sites with a remote wilderness setting and miles of hiking trails. They offer a variety of primitive, electric and water sites
Delaware River Area - Places to Stay

Greenwood Lake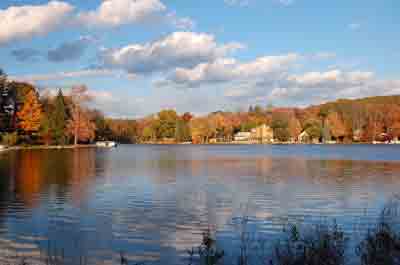 Photo Courtesy:  Luke Gordon from Greenwood Lake, NY
Greenwood Lake, located in West Milford, NJ, is a seven mile long lake straddling the border on New York & New Jersey with West Milford, NJ located at the southern end. A popular lake for boating and swimming. There are two public beaches for swimming on the New York side of the lake. 
---
Greenwood Lake Area - Places to stay

Lake Hopatcong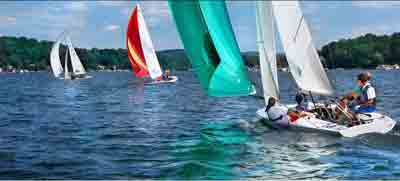 Photo Courtesy: Borough of Hopatcong & Brad Guice
Lake Hopatcong, located in Sussex & Morris Counties, is the largest freshwater lake in New Jersey.. About 4 square miles in area, the lake is in the state's northern mountains
A very popular lake with year round activities including boating (boat power boating and sailing) swimming, fishing including winter ice fishing & ice skating. They have an excellent marina and Sunday Sailboat regattas.
Campgrounds
Mahlon Dickerson Reservation
159 Weldon Rd
Jefferson Twp, NJ 07849
Website
(973) 697-3140
3,200 acres of near wilderness and recreational areas, with over 20 miles of multi-use trails. One of the Reservation s outstanding features is Headley Overlook, one of the highest points in the Morris County Park System. Along the Pine Swamp trail, the highest point in Morris County, at 1395 feet, can also be found. Mahlon Dickerson Reservation has four activity areas, beginning with two options for overnight stays. The first is a camping area with tent sites and Adirondack shelters, complete with platforms, picnic tables and fire rings. In addition, the Mahlon Dickerson trailer area, with paved sites, features electric and seasonal water hook-ups, picnic tables and charcoal grills.


Lake Hopatcong Area - Places to Stay

Lake Wawayanda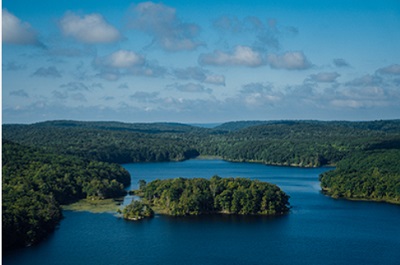 Photo Courtesy: State of New Jersey Division Parks and Forestry 
Located in Hewitt, NJ, the lake is known for its scenic forested hills, many trails (including part of the Appalachian Trail), and tranquil atmosphere. Swimmers love that the lake is crystal clear, offering glimpses of fish as they swim by. Adjacent to the beach are changing stations, restrooms, a first-aid station, and a concession stand. Visitors can also rent a variety of boats, including canoes, rowboats, and paddleboats. 
---
Campgrounds
Wawayanda State Park
885 Warwick Turnpike
Hewitt, NJ 07421
(973) 853-4462
Website
For Group Camping Only. Minimum group size 7 campers
White Lake Natural Resource Area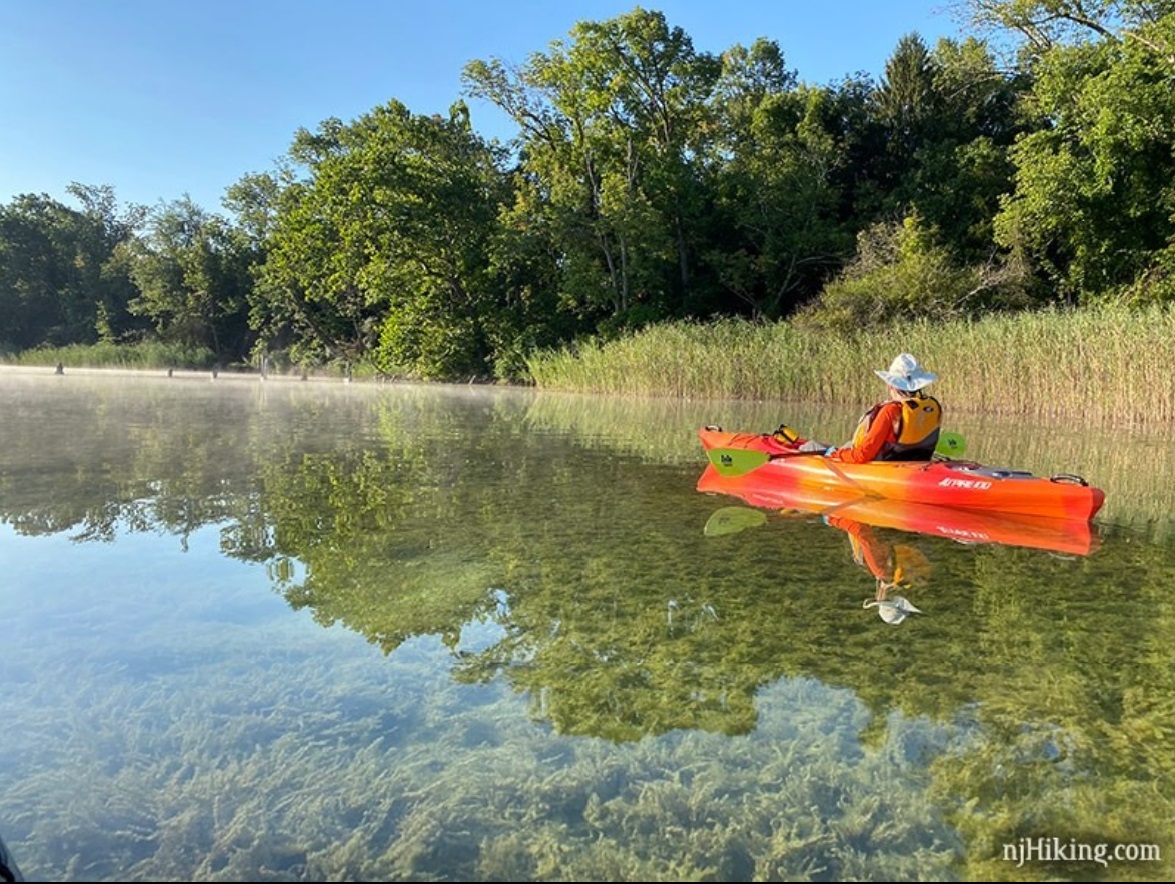 Photo courtesy njhiking.com
Located in Hardwick, NJ, this 394 acre preserve is owned by the County of Warren. White Lake itself is a deep 69-acre spring fed water body. Beneath the clear blue water lays a chalky marl bottom composed of freshwater mollusk shells and clay. Visitors can enjoy, hiking, biking, horseback riding, paddling, fishing, hunting (by permit only), and picnicking. An abundance of wildlife includes bald eagles, osprey, black bear, snakes, bobcats, and rare butterflies. Set out on your kayak or canoe and enjoy the crystal clear waters of the lake or go fishing for brown or rainbow trout, bass, sunfish, and even landlocked salmon.
The White Lake Natural Resource Area has been officially designated as a National Geographic Geotourism Destination.
Website
---
Campgrounds
Great Divide Campground
68 Phillips Road
Newton, NJ
973.383.4026
Website
They offer cabins and cable TV hookups. Prefer to 'unplug'? Choose a primitive campsite and enjoy sleeping under the stars. Their amenities include an olympic-sized pool, private lake, and a full schedule of family-friendly activities.
Central Jersey Lakes and Rivers
Frenchtown Area - Delaware river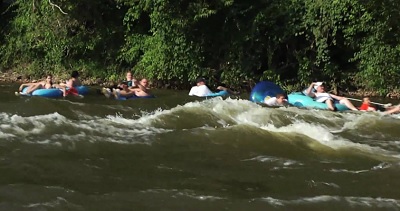 Photo Courtesy: Delaware River Tubing
The Victorian village of Frenchtown offers many river attractions. It's a scenic place for boating & tubing river trips, and to walk or bike the riverside canal paths.
---
Boat & Tubing rentals & River trips
Delaware River Tubing
778 Frenchtown RoaD
Milford, NJ 08825
Website
908-996-5386
Frenchtown Area - Places to Stay

Spruce Run Recreation Area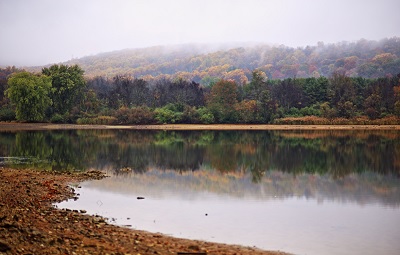 Photo Courtesy: State of New Jersey Division Parks and Forestry

Spruce Run Recreation Area, located in Clinton, NJ, (off Van Syckel's Road) is popular with picnickers, swimming, fishing, boating, camping and hiking. Operated by the state, it covers 1,290 acres with 15 miles of shoreline for recreation. Spruce Run is the third largest reservoir in the state after Round Valley and Wanaque reservoirs.

---
Campgrounds
Spruce Run Recreation Area
68 Van Syckel's Road
Clinton, NJ 08809
(908) 638-8572
Website
67 tent and trailer sites with picnic tables and fire rings. Flush toilets and showers are within walking distance. Open April 1 through October 31.
SPRUCE RUN RECREATION AREA - PLACES TO STAY

South Jersey Lakes and Rivers
Batsto River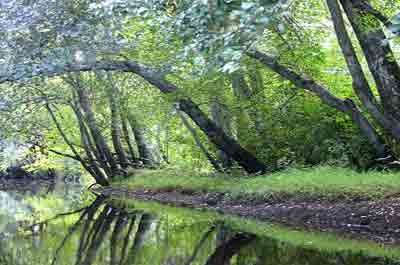 Photo Courtesy: CC BY-SA 3.0, https://commons.wikimedia.org/w/index.php?curid=524461

The Batsto River, located in Burlington County, is a 22 mile long tributary of the Mullica River flowing through the Pine Barrens and Wharton State Forest.. It is a popular recreation river for canoeing and kayaking for all skill levels and for summertime swimming. The Batsto River is known for having more variety than any other river in the Pine Barrens. Though of the four rivers that flow through the Wharton State Forest, it is the least accessible. It's ideal for people who seek solitude.

Mullica River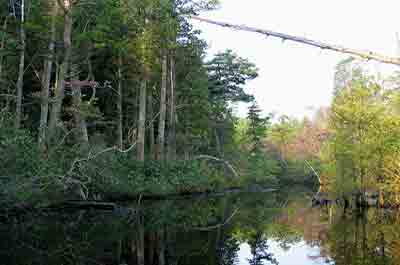 Photo Courtesy: CC BY-SA 3.0, https://commons.wikimedia.org/w/index.php?curid=524492

Mullica River is a 51 mile-long river flows from central Camden County, near Berlin and east-southeast across the state, crossing the Wharton State Forest. Near The Forks it connects with the Batsto River (above) and widens into a navigable river for 20 miles and emptying into Great Bay 10 miles north of Atlantic City. This is an excellent trip for paddling enthusiasts.

---
Boat Rentals and Campgrounds For the Batsto & Mullica Rivers

Pinelands Adventures Tours & Rentals
1005 Atsion Road
Atsion, NJ
609- 268 - 0189
Website
Belhaven Resort & Campground & Boat Rentals

Green Bank, NJ 08215
Website
Belhaven Lake RV Resort! Belhaven Lake RV Resort is a southern New Jersey RV park / resort campground offering seasonal RV camping in the Pine Barrens.
Wharton State Forest
4110 Nesco Road
Hammonton, NJ 08037
Batsto Office: (609) 561-0024
Website
Batsto & Mullica Rivers - Places to Stay