The Best Kayaking in New Jersey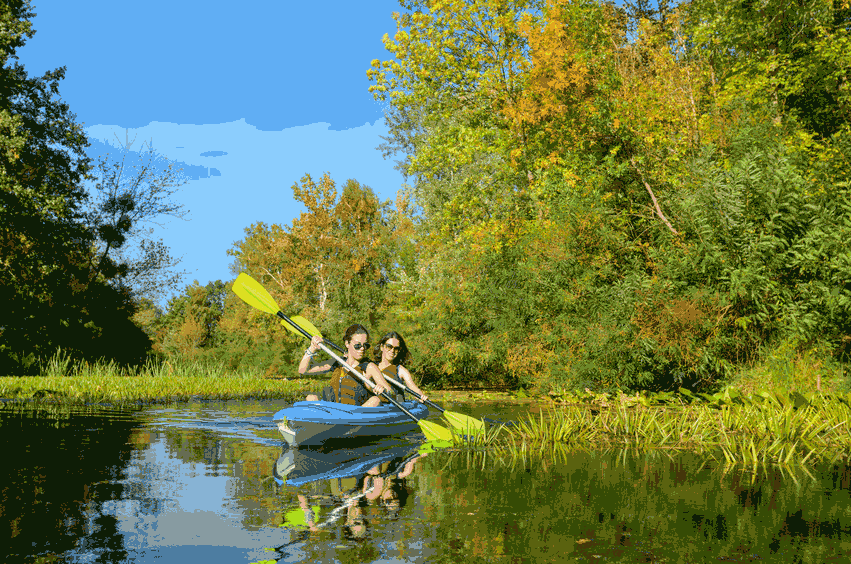 Discover The Best Kayaking  Launch Sites, Rivers, Lakes and Bays, Rentals, and Group Tours in New Jersey

Kayaking in NJ offers a wide variety of scenic and wildlife experiences, with a range water from easy flat water to the more intermediate, challenging rivers and beach areas.

Kayaks come in several shapes, including single and double, and sit-ins and sit-on's.

Sit-on kayaks have a slightly wider hull where paddlers sit higher up from the bottom.

Most sit-on-tops are built for recreational paddling, beginning paddlers, novice canoeists, and for people who have flexibility problems with the traditional kayaks.

Many public Kayak launch sites require permits to launch a kayak. Please contact the launch site in advance of your trip to find out about their launch policy.

Kayaking In Northern New Jersey
Cranberry Lake

Sussex County, NJ
(908) 852-3790
Website
Allamuchy State park borders the southern end and offers a remote and pristine exploration of coves and inlets, where mountains rise sharply from the lake. Bring your own Kayak. A three mile water trail on the Musconetcong River is available for canoes, kayaks and rowboats. The trail is between Waterloo Road at Route 80 and the Saxton Falls Dam.
A public boat launch is available at Cranberry Lake.
Lake Hopatcong
Jefferson Township
973-663-2935
Lakeview Marina Website
Being on New Jersey's largest lake means that there are plenty of places for kayakers to paddle and explore.
Lakeview offers Kayak rentals, and has a boat ramp for launching kayaks.


Delaware Water Gap National Recreation Area
Columbia, New Jersey
800-543-0271
Delaware River Rentals Website
Located in the northwest corner of New Jersey, the park runs along 40 miles of the Delaware River, including where it cuts through a ridge in the Appalachian Mountains to form the famed "gap." The park is a magnet for kayak enthusiasts.


Delaware River
Kittatinny to Belvidere
(908) 496-4458
Kittatinny Point Visitor Center Website
Comparable to the upper sections of the Delaware, you will paddle through a few more, and bigger, waves to add to the excitement. Count at least 7 sets of class II rapids throughout this trip.
The Kittatinny Ramp is near the visitor center, 100 yards upstream from the ramp, kayaks and canoes can be walked down to the river from the parking area.
Belvidere New Jersey Ramp is located on Front Street in Belvidere, NJ 50 yards South of the Delaware River Bridge. The ramp opens at 5:00 AM and closes at 9:00 PM with a locked cable.
Kayak East Tours
They offer tours for the novice up to experts, along the Delaware River, Statue of Liberty, Graveyard of Ships, Splitrock Reservoir, Meadowlands and more. They supply the boat, paddle, life jacket (PFD) and instruction.
Kayak East Website
1-866-529-2532

Hackensack River Water Trail
Laurel Hill County Park
Secaucus
Laurel Hill County Park Website
201-968-0808
Launch and retrieve kayaks at Laurel Hill County Park in Secaucus. River access is free and available to boaters with craft up to 24 feet in length. They offer fifty-two canoes and kayaks for rental.


Kayak on the Hudson River in Hoboken
Hoboken Cove Boathouse Website
[email protected]
Launch from the The Hoboken Cove Boathouse. All of their activities are free and open to the public. The kayaking season at Maxwell Place begins in late May and runs through September (weather permitting). They have free kayaking programs during the season. Kids under 16 can paddle with a parent or an adult over 18. They supply the kayaks, paddles, and life jackets. Located at the intersection of Frank Sinatra Drive and Maxwell Place on the Hoboken waterfront.


Meadowlands Commission's River Barge Park and Marina
260 Outwater Lane
Carlstadt, NJ
(201) 460-1700
River Barge Park & Marina Website
A 5.5-acre tract on the Hackensack River. The marina's launching ramp provides the first public boating access to the river's western shore in Bergen County. The park includes a boat ramp, docks, paddling and rowing launch points, a 17-slip marina, a scenic promenade with picnic tables, and paths lined by native plants.
There is also a launch point for canoes, kayaks, and sculls.

Merrill Creek Reservoir
34 Merrill Creek Road
Washington, NJ
(908) 454-1213
Website
Paddle past the red pine and cedar-lined shore forests and fields amongst wildlife and water fowl, where you will find mergansers, king fishers, pileated woodpeckers, bald eagles, white-tailed deer, muskrat, hawks and herons.
kayaks must be launched from the boat ramp on the east side of the reservoir. The Boat Ramp is open from Sunrise to Sunset. The ramp will remain open year round, unless it is inaccessible due to ice

Monksville Reservoir
Ringwood, NJ
(973) 962-7031)
Near Ringwood State Park, the undeveloped shores of this lake create a peaceful location for paddlers looking to get away from it all. In the northwest corner of the reservoir you can float through flooded standing timber, and experience in the now-weathered trunks.This horseshoe shaped reservoir with steep forested banks isolate you from the outside world as you paddle and enjoy the beautiful natural settings all around. It's especially scenic in the autumn when great walls of color make it especially beautiful.
For kayak tours, check out Kayak East
Launch site:
Greenwood Lake Turnpike (CR 511) at Long Pond Ironworks State Park, located  just south of the New York / New Jersey border by Ringwood just north of the Wanaque Reservoir. Parking is available at the north boat ramp


Overpeck Park Kayak Center
40 Fort Lee Road
Leonia, NJ
201-957-3085
Overpeck County Park Website
The park straddles Overpeck Creek, forming a lake. and is one of the best places to learn, because it's protected and calm. Canoe and kayak rentals are available.


Passaic River
Two Bridges Road
Lincoln Park
Bordered on both sides by The Great Piece Meadows, this section of the river is isolated where you will see plenty of wildlife such as hawks, herons, fox and deer. Do it in the fall with a great backdrop of all the fall colors.
Enter the Pompton River, proceed for a few yards, then turn right onto the Passaic River.
Warning: On the Passaic river, do not go beyond the first bridge where the two rivers meet. Â There is a waterfalls that can be dangerous.
Launch Site: Off Route 80, Exit 52, Lincoln Park/Fairfield/The Caldwells. Stay right at fork off exit and at stop sign turn left onto Two Bridges Road. Go 0.2 miles to stop sign. Park across road in dirt lot.


Passaic River
Great Swamp National Wildlife Refuge
Somerset County
Somerset County Kayak Website
Bordering the Great Swamp National Wildlife Refuge, this section of the Passaic river boasts some beautiful scenery and lots of wildlife. Along with numerous bird species found here it is also home to the endangered Bog Turtle as well as beaver, deer, fox and many more animals. They offer a variety of Kayak trips from beginners to intermediates

South Branch of the Raritan River - Ken Lockwood Gorge
The Ken Lockwood Gorge, just north of High Bridge, is one of the State's most picturesque wildlife management areas The river is mostly Class 1 except for the short stretch in starting in Califon known as Ken Lockwood Gorge.
The paddling the gorge is for the moew experienced kayaker. It consists of about 3 miles of class III mixed boulder garden and ledge rapids.
There are no boat liveries on the South Branch so you must come prepared with your own boats and shuttle system.
Suggested access points: Put-in: 40.706402 ,-74.861801 Take out 40.681801 ,-74.877899
Hoffman's Crossing Bridge has a gravel parking spots and is the typical put-in. You can also put in about 1/4 mile downstream on river left. There is a State Park parking area with a few spots. For take out, paddle down to Lake Solitude. There is a gravel parking spot along river road at the head of the lake,

Split Rock Reservoir
Splitrock Road
Boonton, NJ
Website

The Split Rock reservoir is a scenic water body ringed by hills and rock cliffs, with several islands. It's approximately 4 miles at it's widest point, with a dam/bridge on the south side, and a large island about halfway in.
The reservoir and surrounding land is owned by the State of New Jersey and the public may access the water body for kayaking from the public access parking area located near the dam.
Directions: Route 80 to exit Hibernia 37. Go north on Green Pond Road for 6.7 miles. (Pass Lake Telemark on left). Turn right onto Upper Hibernia Road (across from Marcella Community Center on left). After 1 mile, turn left onto Split Rock Road. Drive 1.2 miles to parking lot and put in location which is shortly after crossing over the dam. Split Rock Road is unpaved, with many potholes. Drive carefully.

Swartswood Lake
Newton, NJ
(973) 383-5230
Website
Swartswood Lake Boat Rentals Website
Paddle the perimeter of this glacially-formed lake for 5-6 miles and get to see two small islands, an old grist mill, a few homes and perhaps a Bald Eagle

Wallkill River National Wildlife Refuge
Wallkill River Website
(973) 702-7266
Experience the great diversity of habitats that makes the refuge unique. Paddle through beautiful floodplain forests, wet meadows which are maintained by seasonal flooding, and under tall rock cliffs. Access points are where Rt. 642 crosses the Wallkill River in Wantage, Rt. 565 (Glenwood Road) in Vernon, New Jersey, about one-half mile north of the Rt. 23/Rt. 565 intersection.

Wawayanda Lake
885 Warwick Turnpike
Hewitt, NJ
973-853-4462
Website
Paddle this lake in the fall and experience this glacially formed lake in an Atlantic white cedar swamp and mixed oak-hardwood forest at it's best with scenic fall foliage. It is also home to many animals including deer, beaver, black bear and river otter.
Launch Site: From Route 23 north to Union Valley Road, Follow Union Valley Road about 6 miles to stop sign, At stop sign, proceed to second traffic light, Turn left, proceed ahead approx. 2 miles, to fork in road, bear left about 1/2 mile to Warwick Turnpike, turn left on Warwick Turnpike, proceed 4 miles, the park entrance is on the left, proceed approx 1.5 miles, and turn left into first parking area. Go past the first parking area and follow road to boat ramp parking area.

White Lake Natural Resource Area
120 Stillwater Rd
Hardwick, NJ
Website
(973)937-8748
White lake is a NJ spring fed lake treasure! This easy paddle with exceptionally clear blue water down to the white bottom will feel like your in another land.
Continue down the driveway past the parking lot to drop your boat at the launch, and then park your vehicle back at the lot. Restrooms: Portable toilet in the parking lot.
The park offers a limited number of kayaks by reservation only (free).
This 394 acre preserve is owned by the County of Warren. White Lake itself is a deep 69-acre spring fed water body. Beneath the clear blue water lays a chalky marl bottom composed of freshwater mollusk shells and clay. Set out on your kayak or canoe and enjoy the crystal clear waters of the lake..
The White Lake Natural Resource Area has been officially designated as a National Geographic Geotourism Destination.





Kayaking In Central New Jersey
The D&R Canal - Griggstown

Griggstown Canoe & Kayak Rental
1076 Canal Rd
Griggstown
908 359-5970
Website
Enjoy the beauty of this once busy waterway. With only a slight current, its great for beginners and families. The more adventurous can try the Millstone River D&R Canal Loops.
D&R Canal - Princeton
(
Byram, Kingwood, Lambertville, Bull's Island, and Fireman's Eddy
)
Princeton Canoe & Kayak Rental
483 Alexander St
Princeton, NJ
609 452-2403
Kayaks can be launched in Byram, Kingwood, Lambertville, Bull's Island, and Fireman's Eddy. See
Website
for launch info.
Begin your journey at Princeton Turning Basin Park, paddle directly to the D&R Canal. A short portage brings you to the Stoney Brook and Lake Carnegie.
Forge Pond - Metedeconk River

Brick, NJ
Launch at Forge Pond
Parking is found directly off Rt 70, just south of the Jersey Paddler.
There are two small lots that offer cartop and small trailer boat launches.
Forge Pond is a good kayaking spot for beginners and families.
After launching at Forge Pond, paddle upriver where the river narrows. This is a tranquil route, and in season, there is an abundance of turtles, snakes and bird life, including some very large Great Blue Heron.
For the more experienced paddlers, you can take the lower Metedeconk River down about 4 miles into the Barnegat Bay. This route can be somewhat challenging for a beginner or novice paddler, depending on weather and tide conditions. The lower river is wider, tidal and is prone to high winds and heavy, sometimes choppy water. There is a mild tidal current as Forge Pond flows into Barnegat Bay, about 3.5 miles down the narrow river.
Mercer Lake

Mercer Park Marina & Boathouse
334 S Post Rd
West Windsor Township, NJ
Website
(609) 448-4004
This is a good lake for beginner & family kayakers. The marina boat ramp is open for public use seven days a week sunrise to sunset weather permitting. Kayaks may be rented Memorial Day through Labor Day. Occassionally they offer kayak tours. Surrounding the marina is a recreational area consisting of picnic tables, a 5-mile bike trail, playgrounds, grills and 4 new sand volleyball courts.
Manasquan River
Howell, NJ
River Access locations - Website
This preserved open space provides river access for kayakers. Begin at the pristine upper section of this coastal river with marsh grass and cedar trees, and paddle down towards the ocean through a serene and larger river lined with marinas and picturesque homes. Sections of the river may be challenging and/or require numerous portages due to natural obstructions and fluctuating water levels.
Navesink River
Oceanic Marina
8 Washington St.
Rumson, NJ
732-842-1194
Website
This shallow tidal river is best known for the picturesque homes of the rich and famous that dot its shores.
A free hand public access Kayak launcng area is located at Maple Cove at the end of Maple Avenue on the Navesink River

Sandy Hook Bay
&
Shrewsbury River
Blackberry Bay Park
430 Port au Peck Avenue
Oceanport, NJ
732) 222-8221
Launch your Kayak in Blackberry Bay Park, There is a boat launch area at the rear and parking. For less experienced kayakers, paddle out the Bay/cove and head inland to Old Wharf Park in Oceanport. Dolphins, though rare are spotted in this section of the Shrewsbury. Scenery is mostly private homes and docks. For more experienced kayakers, follow the Shrewsbury out to the bay at Sandy Hook.
Warning, the currents and the tides under the bridges can be swift. Paddle on to explore some of the islands, coves and estuaries that are seldom visited by others. You'll also see some of the old military ruins from the time when Sandy Hook played an important role in protecting NY Harbor. Paddle up the, Shrewsbury River, one of Sandy Hook Bay's most important estuaries. Its marshes and coves provide perfect cover for many juvenile marine species.
Point Pleasant Beach
The north end is a kayak zone with nice 3- to 6-foot curlers at high tide when winds are from the east.
During the off season, on the north side of the Manasquan Inlet, Manasquan Beach has an off-shore break that's great after the crowds leave for the season.
There is also a public boat ramp located in a condominium complex at the end of Bay Ave in Point Pleasant. Drive through the complex and follow signs for the ramp.
Sedge Island, Island Beach State Park
Yakkity Yaks Kayak Rental
Island Beach State Marina
24th Ave
732-830-1835
Website
Explore the pristine Sedge Islands on Barnegat Bay. You'll experience nature and wildlife with a variety of birds, marine life and plants. At Yakkity Yaks, you can rent and have your kayaks delivered into the state park, or they can include you in a guided group eco tour.
Kayaking In Southern New Jersey
Atlantic City

Jackson Ave. Beach
Kayaking and Windsurfing are permitted.
This is a no bathing zone designated for Kayaking & Windsurfing only. There are no rentals at this location so you must bring your own equipment.
Edwin B. Forsythe National Wildlife Refuge
Scotts Landing Road
Oceanville, NJ
(609) 652-1665
This is coastal Kayaking at it's best. Plenty of bird viewing.
There is a public boat launch area at Scott's landing that is maintained as part of Edwin B. Forsythe National Wildlife Refuge.
Scotts Landing Road winds through dense cedar and maple swamp before emerging at a scenic overlook on Landing Creek where salt marsh wildlife can be found. This is a great area to launch a canoe or kayak and explore the winding creeks.
Long Beach Island
Ship Bottom Municipal Ramp
11th and Shore Avenues
Ship Bottom, NJ
 (609) 494-9819
A public boat ramp for launching
Maurice River
-
Parvin State Park
Al & Sam's Canoe & Boat Rentals
2626 W Weymouth Rd
Newfield NJ 08344
856-692-8440
Website
For experienced kayakers. THis a charming run upstream, into Willow Grove Lake; several sandy beaches are in the middle section; and the lower end has most of the debris. The Maurice runs a difficult route through mostly deciduous forest and it could have many blow downs
If you are camping at Parvins State Park, Al & Sam's rentals can drop a kayak off at your site.
Wharton State Forest - Wading and Oswego Rivers in the Pine Barrens
Micks Pine Barrens Canoe and Kayak Rental
3107 Route 563
Chatsworth
800-281-1380
Website
Paddle past remnants of colonial settlers, towering pitch pines and beaver dams. The river has gentle waterswith scenic Pine Barrens forest bordering the river.
You can rent at Micks Pine Barrens Canoe and Kayak Rental and have  them take you to you to the starting point and pick you up on your return
The Rancocas State Park BlueTrail
Rancocas Pathways, Inc.
Melpine Landing
Rancocas State Park.
Contact: 609-876-3086
[email protected]
Website
Offers Kayak rentals and year-round kayak eco-safaris
Explore one of NJ's best and little known multi-use water trails.
With its headwaters in the Pine Barrens, it flows west and empties into the Delaware River. Unlike many popular New Jersey creeks with commwercial businesses that lined their banks, the Rancocas Creek is a little known gem that meanders though an undeveloped waterway with a history dating back to the 18th century.
Seaside Heights
Cranberry Inlet Marina
Barnegat Bay
421 Bayside Terrace
Seaside Heights, NJ
732-793-4434
A public boat ramp for launching

Spicer Creek - Cape May
170 Wissahickon Avenue
Cape May , NJ
609-292-2965
Offers beautiful back bay kayaking.
The only public launch ramp in area,
Has limited parking during peak summer season
Sterling Harbor, Wildwood
Sterling Harbor Bait & Tackle
Richardson Channel
Wildwood
609- 729-1425
Website
This area takes you away from rivers and woodlands and places you in an area of open water. This location is particularly popular among those who like to joy ride in their kayak and watch boats.