The Hottest Jersey Shore Bars
The "Go To" bars for the 2017, New Jersey summer season
The Jersey Shore with 127 miles of scenic beachfront is attracting crowds who come to enjoy getting outdoors to take in some Jersey Shore vibes with good high energy music, alcoholic drinks, and typical Jersey Shore food.

Monmouth County - Hottest Summertime Bars
Anchor's Bend

1300 Ocean Ave
Asbury Park, NJ
(732) 455-8500
Facebook page
A casual bar & grill located at the North East corner of the Grand Arcade within Asbury Park's historic Convention Hall. It's the only bar on the beach in Asbury Park you can enjoy your drinks and sit with your toes in the sand. They have both an inside and outdoor bar right on the beach.They are known for their killer rum bucket.
9th Avenue Pier
905 Route 35 South
Belmar
Website
Located on the water with great views of the Shark River and the marina. The entire bar is outside along the river. A good menu of comfort food, good drinks, try their Rum bucket drink. Enjoy a spectacular view from the pier with live entertainment from their stage.
Beach Bar at Convention Hall
1300 Ocean Avenue
Asbury Park
Facebook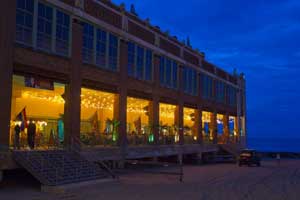 A great location on the beach and a great spot to have some drinks and take in the Friday night bonfires on the beach. Also a good spot for people watching and the Asbury Park fireworks. Don't miss their 32 oz rum buckets. They have live band & Dj music with a different theme for each night.
Bar Anticipation
703 16th Ave.
Lake Como, NJ
Website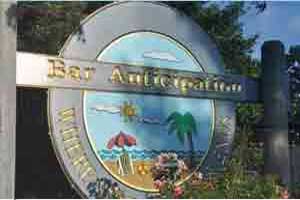 One of the most popular Jersey Shore bars. They have events every night of the week with a great happy hour of Friday's great bands on Fridays and DJ and dancing on Saturdays. There is an awesome outside bar and volley ball courts.




Donovan's Reef
1171 Ocean Ave
Sea Bright, NJ
Website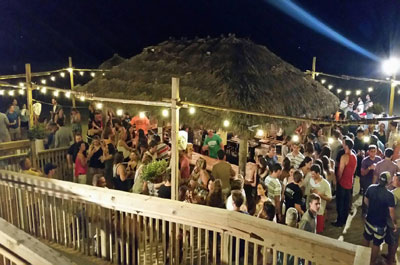 Re-opened Memorial Day Weekend, 2017 after being destroyed by Hurricane Sandy, this iconic Monmouth County Jersey Shore bar, located on a private beach, is one of the most popular spots with live bands performing on the beach. This new structure is larger than the old one.
Donovan's now has three bars -- an indoor bar, a bar on the patio, and a bar directly on the sand. It continues to be a hot summer destination for a wide cross-section of patrons including college students, commercial fishermen, construction workers, musicians, and high income Millennials.
D' Jais at Belmar
1801 Ocean Avenue
Belmar, NJ 07719
Website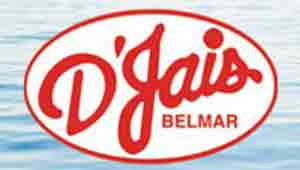 D'Jais is a high energy bar known for it's diverse atmosphere in which different music can be heard seven nights a week. With sounds ranging from live classic rock & roll, reggae bands and the Tri-State's best DJ's Spinning the latest dance & club. Plus Special events by top billboard artists & Celebrity guest appearances.
The Stone Pony - Summer Stage
913 Ocean Avenue
Asbury Park, NJ 07712
732-502-0600
Website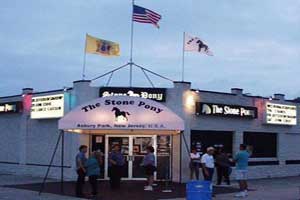 The Stone Pony, one of the world's best known music venues, received notoriety with appearances by Bruce Springsteen, members of the E Street Band, Ronnie Spector, Santana, and Lee Dorsey, brought The Stone Pony and Asbury Park to the national spotlight. Their outdoor summer stage overlooks the beach; open from May to September as it plays hosts to many big artists.
The Parker House
290 1st Ave
Sea Girt
Website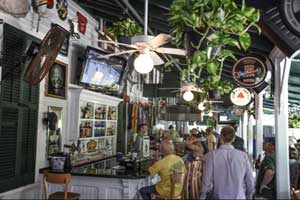 This longtime popular Jersey Shore bar continues to shine. آ Located in an attractive Victorian house, this is popular spot on Friday nights. It's a large place with several bar areas that get packed on weekends. They have live band music Try their famed raw bar with dinner on the porch.


The Osprey
201 1st Ave
Manasquan
Website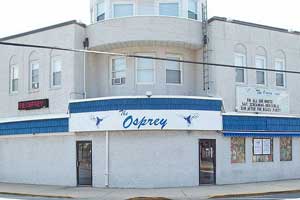 This longtime favorite Jersey shore bar is a popular spot with a capacity for more than 1,100. They have major cover bands . There are three areas with different music and bar themes including an area for a live band in the main room, a sports bar, and a techno/DJ. This is the spot where Bruce Springsteen had his first legal drink, during a Bo Diddley performance at the club. The scene is immortalized in Springsteen's "Seaside Bar Song."




The Wonder Bar
5th and Ocean
Asbury Park, NJ
732-502-8886
Website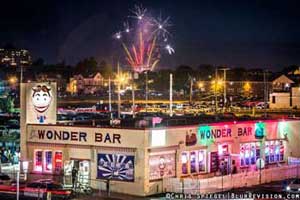 A Blues, Rock, and Roots Music venue with a great history. Many of the performers who have appeared at the Stony Pony also have received their start here. "Tillie's Landing" outside deck and bar is a huge draw during the summer months and combined with the indoor venue they have a capacity to hold 2,000 patrons.
Ocean County - Hottest Summertime Bars
Jenkinson's Pavilion
300 Ocean Ave
Point Pleasant Beach
Website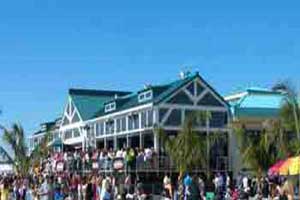 A top Jersey Shore Hot spot with high energy and a mix of Live Bands and DJ's. Lot's of fist pumpers and fist pumping music In the summer their awesome beach bar is open with a good selection of craft and imported beers, wine, and cocktails along with comfort foods.





Martell's Tiki Bar
308 Boardwalk
Point Pleasant Beach, NJ
Website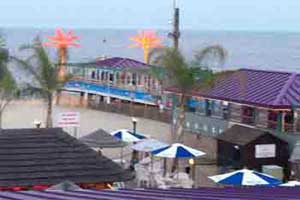 A great beach summer bar with live music during the day and night. They feature a large stage on a pier out over the water. They have a private beach and beach club allows you to sun, swim and with access to the Tiki Bar.




Wharfside Patio Bar
101 Channel Drive
Point Pleasant
Website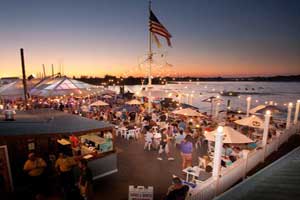 Good location with a scenic spot on the Manasquan River. Live band on most nights, Wednesday nights feature name, cover bands. Menu is typical Jersey shore limited menu with a raw bar, fried and boiled seafood, and burgers. Convenient for boaters who can pull up and dock.






Atlantic County - Hottest Summertime Bars
Bally's Beach Bar
1900 Pacific Ave
Atlantic City
Website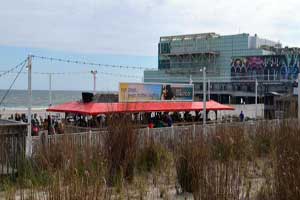 A great location on the beach, and a great spot to take in the beach atmosphere in AC with live bands, DJ's. Typical Jersey Shore, limited beach menu, served by bikini- clad waitresses.

The Deck at the Golden Nugget
Huron & Brigantine Ave
Atlantic City
Website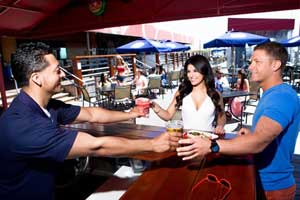 Has a scenic harbor view of the marina over looking the bay and downtown Atlantic City. Good sunset views. Great place for drinks on a patio and listening and dancing to live band music.


Cape May County - Hottest Summertime Bars

Angelsea Pub

North Wildwood
(609) 729-1133
Facebook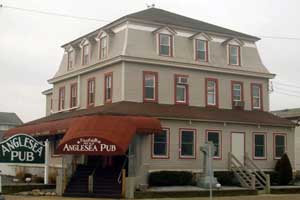 An Irish pub with a colorful history dating back to when it was the Hotel Germantown in 1885. Great Friday Happy Hour's with good Irish live band music.
Keenan's Irish Pub
113 Olde Jersey Avenue
North Wildwood, NJ
Website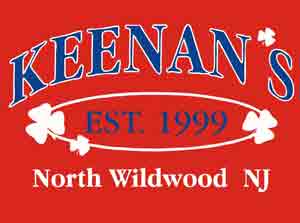 A popular place with the Philly Irish-American summer vacationing crowd. Live bands and nightly food and drink specials and no cover charge with a dance floor and nice patio bar.



---