Jersey Girl Drinks and Dining, Wildwood, NJ:
A Restaurant Review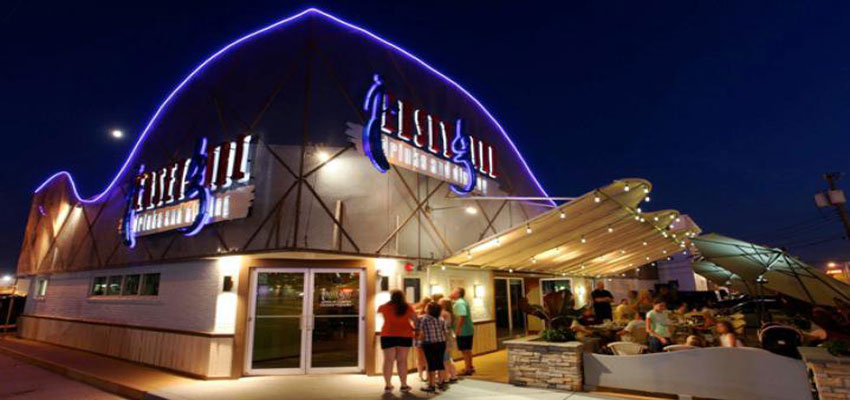 Jersey Girl Drinks and Dining
3601 Atlantic Avenue
Wildwood, NJ 08260
609-523-1800
Website
Restaurant Highlights

Fare:  New American with a Greek Influence

Price: Moderate

Food Quality:  2 1/2 Stars

Service:  2 1/2 Stars

Decor:  2 1/2 Stars

Overall Rating:  2 1/2 Stars

Note: Four star Rating System from 1/2 Star = poor to Four stars = Best in Class


One of the Top Restaurants in Wildwood


Serves creative dishes with fresh local ingredients.

Value:  Very Good

Noise Level:  Moderate to high on busy evenings

Dress:  Casual

Recommended For:  Diners who enjoy well prepared food in a more upscale ambiance compared with other Wildwood "touristy" casual family restaurants

Not Recommended For: Diners who prefer a menu high on comfort food in a low key casual, family setting.

Recommended dishes:  The Whole Bronzino prepared Mediterranean style, whole grilled w/greens & rice; The Veal Porterhouse W/ mushroom & pearl onion veal demi 'verjus. rice & greens; and The Lamb Shank cooked 4 hours, slow braised. W/rice & greens

Liquor:  Extensive beer selections, wine list, and specialty cocktails. Bar scene is vibrant.

Restaurant Review

The Jersey Girl Bar and Restaurant is one of the few upscale restaurants in Wildwood. It's a departure from many of the cookie cutter family " touristy restaurants" in Wildwood.

Located at the foot of Morey's Pier and Mariner's Landing, one block from the beach, It's upscale, contemporary atmosphere is unique among the many other restaurants in Wildwood.

In 2018, Jersey Girl came under new management. It is now owned and operated by brothers George Mallous and Executive Chef, Argie Mallous. Prior to taking over Jersey Girl, the brothers owned and operated the  closed, popular Pier House restaurant in Cape May. Chef Argie received his formal culinary training at the Johnson & Whales Culinary Institute, while brother George attended the prestigious Culinary Institute of America.

The menu at Jersey Girl has a decidedly "Old Pier House" touch to it, consisting mostly of well prepared Seafood & Meats. You would be hard pressed to find a pasta dish on the menu.

The interior of both the bar and dining room have an attractive contemporary decor. There is live music in the bar area.

Jersey Girl has outdoor patio dining and validated complimentary parking across the street.

Jersey Girl takes reservations.

Open during the summer season for dinner beginning on Memorial Day weekend for 7 days/week, 5 PM to 10pm

(updated June, 2018)


How Do We Review (analyze) Restaurants?
New Jersey Leisure Guide strives to provide analytic restaurant reviews .
The methodology used is research, analysis driven --- as opposed to that of a single restaurant critic or a viewer comment posting board.

Data is gathered from our viewers e-mail restaurant comments, Internet research, and professional restaurant critics. The data is sorted, (weeding out the obvious biased, "bone to pick",  and out of consensus comments), analyzed, and the review is created.

Learn More
---