Il Giardinello Ristorante, Toms River, NJ:
A Restaurant Review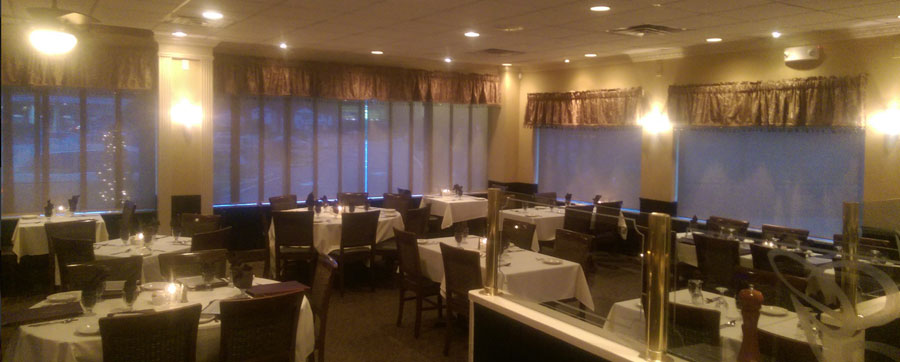 Il Giardinello Ristorante

1232 Route 166
Toms River, NJ 08753
(732) 286-9111
Website
Restaurant Highlights
Fare: Traditional Italian

Price:  Moderate Expensive

Food Quality: 2 Stars

Service: 2 Stars

Decor: 2 Stars

Overall Rating: 2 Stars

Note: Four star Rating System from 1/2 Star = Poor to Four stars = Best in Class

It's a notch above many other Toms River area traditional Italian restaurants


On busy weekend nights the small waiting area can get cramped.

Value:  Excellent

Noise Level:  Moderate

Dress:  casual

Recommended For: Diners who enjoy well prepared classical Italian food with fresh ingredients served in generous portions.

Not Recommended For: Diners who prefer eclectic menu items.

Recommended dishes: Beef Braciola Pizzaiola; the Chef's Special Pasta; and the Filet Mignon Pepino.

Liquor: BYOB

Restaurant Review

Il Giardinello is a popular BYOB Italian restaurant and one of the better Italian restaurants in the Toms River area. Located off Route 9 in Toms River in an old strip mall, don't be dissuaded by your initial reaction to the location and the decor, be seated and you will be ready for an enjoyable Italian "Old World" traditional dining experience of affordably priced selections prepared with tasty fresh ingredients.

The restaurant is relatively small with 25 tables set with white linen and very modest silverware. On busy weekend evenings the small waiting area can get crowded.

Il Giardinello is owned and operate by Paterson, NJ natives Joe Pisacreta and his wife Colleen. The Northern Italian menu comes with a modest selection of traditional Italian dishes complemented by several daily specials of diverse and more upscale dishes.

The Pisacreta's strive to use top ingredients such as olive oils from Italy, as well as locally sourced fresh vegetables and fish --- prepared and cooked in separate pans.

The dining experience starts off with a less than impressive beginning as the server presents a serving of uninspiring bread accompanied by packets of diner styled butter. However, from there the dining experience improves with well prepared salads, appetizers, entrees and desserts,

While the menu while well prepared, it lacks creativity in the absence of any inspirational dishes. It's barely a notch above many other Toms River area traditional Italian restaurants

Bathrooms are small accommodating one person at a time

Reservations are not accepted for parties under 6, but you can call up to half an hour ahead to put your name on the list.

On site parking is available.

Il Giardinello can accommodate private parties up to 90 people.

They are Open 7 Days a Week, and most Holidays

Updated: November, 2018

How Do We Review (analyze) Restaurants?
New Jersey Leisure Guide strives to provide analytic restaurant reviews.
The methodology used is research, analysis driven --- as opposed to that of a single restaurant critic or a social media platform, viewer comment posting board.